Arms of Sir Edmund Wyndham; Jacob Schwytzer and his wife Elsbett Lochmann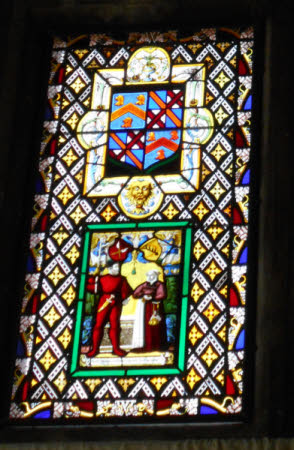 Category
Stained glass
Date
circa 1571 - circa 1850
Materials
Stained glass panel
Place of origin
England
Order this image
Collection
Felbrigg, Norfolk (Accredited Museum)
NT 1399165.3.11
Caption
In the 1840s the Great Hall was radically altered. Heavy oak door-cases were installed, a new ceiling with huge wooden pendants was fitted and these stained glass windows dating from 1450 to the 19th century were added. Today the glass creates beautiful patterns on the walls and floor in the afternoon sunlight.
Summary
A stained glass panel; Victorian arms of Sir Edmund Wyndham (c.1496-d.1569) in a continental surround of fragments c.1600, above a Swiss panel of 1571 showing Jacob Schwytzer and his wife Elsbett Lochmann. It is attributed to Fridly Burkhart (1536-1572) and derived from two portraits by Tobias Stimmer (1539-1584) in the Kunstmuseum, Basle. Both set in Victorian diaper fields. Tobias Stimmer was a Swiss painter and illustrator, best-known for the paintings on the Strasbourg astronomical clock, and the wall paintings on the 'House zum Ritter' in Schaffhausen. Sir Edmund Wyndham, the son of Sir Thomas Wyndham of Felbrigg, entered Cardinal Wolsey's household c,1525. In 1532 Wyndham went in the 3rd Duke of Norfolk's suite to Calais for Henry VIII's meeting with Francis I. He was nominated for the knighthood in 1539, the year he attended the duke at the reception of Anne of Cleves. In 1542 Wyndham served under Norfolk on the Scottish border and two years later at the siege of Boulogne. With the fall of the Howards he seems to have confined himself to his own and his county's affairs. During the succession crisis of 1553 he attempted, at least momentarily, to rally support for Jane Grey. Although Wyndham remained active in local affairs under Mary it was only at the accession of Elizabeth that he reappeared in Parliament. He remained an important figure in Norfolk until his death on 23 July 1569.
Provenance
Part of the stained glass collection amassed in the mid-nineteenth century by William Howe Windham (1802-1854) Part of the Windham Collection. The hall and contents were bequeathed to the National Trust in 1969 by Robert Wyndham Ketton-Cremer (1906-1969).
View more details