Queen Catherine Parr (1512–1548) (after Master John)
British (English) School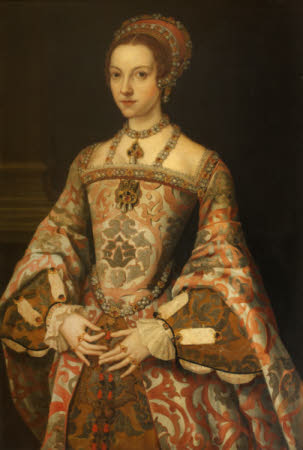 Category
Art / Oil paintings
Date
1600 - 1770
Materials
Oil on canvas
Measurements
980 x 670 mm
Place of origin
England
Order this image
Collection
Seaton Delaval Hall, Northumberland
NT 1276906
Caption
The Seaton Delaval portrait of a young woman, owned by Delaval Astley, 23rd Baron Hastings has been in his family since at least 1770. By tradition, it originally came from Astley Castle, Nuneaton in Warwickshire, once a seat of Lady Jane Grey's father, Henry Grey, 1st Duke of Suffolk, 3rd Marquess of Dorset (1517 – 1554) but this is probably incorrect. It is a seventeenth-century copy of a lost portrait once in the Royal Collection. It seems to be the same sitter as the full-length portrait in the National Portrait Gallery, London (NPG 4451), attributed to Master John. It was once suggested as being of Lady Jane Grey (1537 – 1553), who descended from Lady Katherine Neville's first marriage to Lord Harrington (Sir William Bonville). However, it is more likely to be Queen Catherine Parr (1512-1548), sixth queen of Henry VIII . Lady Katherine Neville, whose second husband was the 1st Baron, Sir William Hastings, was Parr's great grandmother's sister. The style of the costume, from the middle of the 1640s, and the crown-shaped brooch in both paintings, which appears to be that described in a 1550 list of royal jewels, supports the traditional identification.
Summary
Oil painting on canvas, Queen Catherine Parr (1512–1548) (after Master John), English School, 17th or 18th century. A three-quarter-length portrait, standing, hands clasped in front of her, and wearing a sumptuous brocade dress and jewellery. This is a cut-down seventeeenth or eighteenth copy of a lost portrait once in the Royal Collection and a full-length version, attributed to Master John, of the same sitter is in the National Portrait Gallery, London (NPG4451).
Full description
The sixth and last wife of Henry VIII (m.1543). Daughter of Sir Thomas Parr of Kendal, Master of the Wards and Comptroller of the Household of Henry VIII, she was first married to Edward Borough (d.1529), son of the third Baron Borough of Gainsborough and then, in 1533, to John Neville, third Baron Latimer (d.1542). After her second husband's death she became Lady-in-Waiting to Princess Mary, and was there spotted and admired by King Henry VIII. Although she wanted to marry Sir Thomas Seymour, brother of Queen Jane Seymour, she was compelled to marry the King. Her patronage extended to many of the architects of religious and educational reform; her active interest in the latter is demonstrated in her role in the foundation of Trinity College, Cambridge. Politically, she contributed to the re-establishment of her stepdaughters, Mary and Elizabeth, in the line of succession, and her exercise of power as Queen Regent in 1544 may have furnished a model for the latter. An enthusiastic patron of the arts in the fields of drama, miniature painting, and music, she was herself the first known Englishwoman to publish a work of prose (Prayers or Meditations), as well as being an energetic advocate of the publication of affordable vernacular religious writings. Her commitment to religious reform in particular made her a singularly important player in the power politics of the last three years of Henry VIII's reign. After his death she then went on to marry Sir Thomas Seymour, by then Lord Seymour of Sudeley, in secret, and died shortly after the death of their first child. ADL: this appears to be the portrait of a young woman, the original of which was painted in the 1540s; Catherine Parr was thrice married, and would have appeared much older. That she does in the destroyed variant of this portrait formerly in the Jersey collection, which was perhaps a more honest portrayal, whereas both the original of this and the whole-length in the NPG clearly idealised the sitter. In 1965 Roy Strong identified the sitter in the National Portrait Gallery picture as Lady Jane Grey (which from its discovery in the 18th century at Glendon Hall, seat of Sir Ralph Lane who had married the heiress of Catherine Parr's uncle, had always been known as of her), largely because she is shown wearing the coroneted pendant jewel seen in the engraved portrait of Lady Jane in Henry Holland's Herwologia (1620). He supposed that the Seaton Delaval picture was a close copy of a now lost Tudor picture. Surely, however, a picture of Lady Jane Grey on this scale would have been destroyed? (but there was a portrait of her – size unspecified – in the Lumley Collection in 1590; possibly the one with a Lumley cartellino later in the collection of Hugh Wontner: Strong, p.79 & pl.145). Susan James re-identified NPG 4451 and identified the Seaton Delaval picture, as of Catherine Parr ('Lady Jane Grey or Queen Kateryn Parr?', Burlington Magazine, vol.138, no.1114, 1996, pp.20-24). The coroneted jewel appears to be that described in a 1550 list of royal jewels which had belonged to Catherine Howard: 'one ouche or flower [brooch] with a crown contained two diamonds, one ruby, one emerald, the crown being garnished with diamonds, [and] three pearls pendant' [actually, this description does not correspond exactly to the jewel shown in this picture, though composed of similar elements]. During Henry VIII's reign, the bestowing of the previous queen's royal jewelry on the next consort was fairly common. The style of the sitter's costume indicates a date of creation in the middle of the 1540s, when Jane Grey was not yet ten years old. The Tudor roses are deployed in such striking numbers in the jewellery that it is difficult to consider the sitter as anyone but a member of Henry's immediate family, and Catherine Parr is the only plausible candidate. The family would have wanted to have a portrait of Lady Jane Grey, because of the marriage of Sir John Astley (1505-1639) with the daughter of her similarly beheaded brother, Lord Thomas Grey (d.1554). Related objects: a whole-length now attributed to 'Master John' in the NPG (no. 4451; Strong, pp.75-9, with col.pl. & pl.142, as 'Lady Jane Dudley'); and the differently dressed, older, but identical ¾ - length sitter in the same pose, formerly in the collection of the Earl of Jersey (destroyed by fire), illus. in Strong, 1969, vol.II, pl.148, which was impossibly known as Mary I.
Provenance
From the Astley seat, Hill Morton, Warwickshire, in 1770, and by tradition, originally from Astley Castle (a seat of Lady Jane Grey's father); in 1928 at Melton Constable Hall, Norwich as Lady Jane Grey by Lucas de Heere; thence by descent; on loan from Lord Hastings.
Credit line
Seaton Delaval, The Hastings Collection (National Trust)
Marks and inscriptions
Verso: Framer's label: 45 London St. Norwich / W. Boswell
Makers and roles
British (English) School, artist previously catalogued as attributed to Master John (active 1544-1545), artist previously catalogued as attributed to Hans Eworth (Antwerp c.1525 – ?London after 1578), artist Lucas de Heere (Ghent c.1534 -c.1584) , artist
References
Duleep Singh 1928 Prince Frederick Duleep Singh. Portraits in Norfolk houses. Ed. Edmund Farrer. 2 vols. Norwich: Jarrold, [1928]. , 'Melton Constable Hall', Norwich, 1928, no.133 [as Lady Jane Grey by Lucas de Heere] Strong 1969 Roy Strong, Tudor and Jacobean Portraits, National Portrait Gallery, London 1969 [2 vols], vol.I, pp.75-6 [under cat.no. 4451] & vol.II, pl.147
View more details