Ela, Countess of Salisbury
Victor Alexander Sederbach (fl.1755-1756)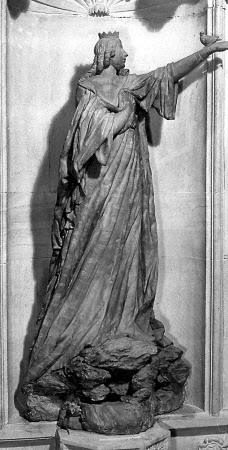 Category
Art / Sculpture
Date
1755
Materials
Terracotta
Place of origin
Lacock
Order this image
Collection
Lacock, Wiltshire
NT 996399
Caption
This unusual terracotta sculpture depicts Ela, Countess of Salisbury who founded Lacock Abbey in 1232 and went on to became its first abbess. She is one of 27 figures that were commissioned in 1755 by John Ivory Talbot to decorate the interior of his newly built Gothick Great Hall. The figures were made and fired in the grounds of Lacock by Austrian sculptor Victor Alexander Sederbach.
Summary
Statue - One of 27 terracotta sculptures, by Victor Alexander Sederbach, 1755. Ela, Countess of Salisbury, with bird.
Provenance
Listed in 1827 inventory in the Great Hall, also recorded in Fox Talbot's photographs.
Makers and roles
Victor Alexander Sederbach (fl.1755-1756), sculpter
View more details