Self-portrait
William Dobson (London 1611 – London 1646)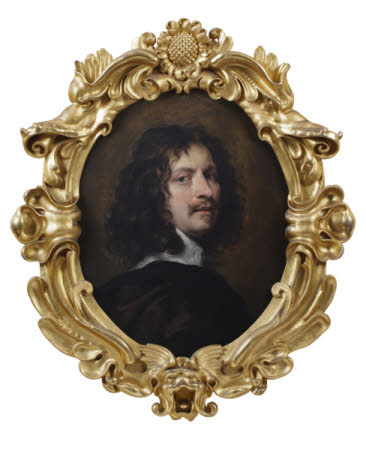 Category
Art / Oil paintings
Date
circa 1645 - 1646
Materials
Oil on canvas (oval)
Measurements
597 x 457 mm (23 1/2 x 18 in)
Place of origin
London
Order this image
Collection
Osterley Park and House, London (Accredited Museum)
NT 773374
Summary
Oil painting on canvas (oval), Self-portrait by William Dobson (1611–1646). A head-and-shoulders portrait, wearing a black doublet and white collar.The carved auricular frame, crested with the sunflower motif, is made to the same design as that used for Van Dyck's last self-portrait. Both were owned by Dobson's first biographer, Richard Graham, and were sold as pair in his sale on 6 March 1712, when they were both bough by 'Mr Child'. The Van Dyck painting is now in the National Portrait Gallery.
Full description
This insightful self-portrait, painted around 1645, although quite simple in conception, is one of the finest works of the talented and enigmatic portraitist William Dobson (1611-46). Dobson was described as 'a fair middle-sized man, of ready wit and a pleasing conversation', and the picture gives the viewers some sense of his character. The artist's unfussy clothes, comprising a dark mantle and plain collar, allow us to focus on his face. Open-mouthed as if about to speak, and looking over his shoulder at the viewer with a penetrating gaze, Dobson deliberately references a late self-portrait by Van Dyck (National Portrait Gallery). The historian Richard Graham, who wrote the first biography of Dobson, owned this self-portrait as well as the earlier self-portrait by Van Dyck, and he displayed them as a pair, in exuberant carved and gilded auricular frames, each surmounted by a sunflower (a flower that prominently appears in another Van Dyck self-portrait). They were bought in the sale of Graham's pictures in 1721 by 'Mr Child' and by 1782 they hung as a pair in the Drawing Room at Osterley. The portraits passed by descent through the family entering the collection of the Earls of Jersey when Sarah Sophia Child married George Villiers, the 5th Earl, in 1804, but remained at Osterley, appearing in photographs of the late nineteenth century and in the inventory of 1915. William Dobson was one of the first native-born English painters to be celebrated for his artistic merit. For two centuries émigré artists, such as Hans Holbein the Younger and Sir Anthony van Dyck, had dominated artistic production in England, so Dobson's rise to fame means he is now recognised as an important artist, not just because of his skill, but also in terms of his nationality. Referring to both, the historian and natural philosopher John Aubrey described him in his book Brief Lives, written at the end of the seventeenth century, as 'the most excellent painter that England hath yet bred'. We know little of Dobson's early life and only about 60 of his works survive, most of which were painted in the short period between Van Dyck's death in 1641 and his own in 1646. Dobson was apparently apprenticed to William Peake (son of the artist Robert Peake) a print seller and picture dealer, and afterwards was made a freeman of the Painters-Stainers' Company. He was the neighbour of another artist attached to the court, Daniel Mytens, whom he likely observed painting in his studio. Dobson knew Abraham Van der Doort, the Surveyor of the King's Pictures, through whom he gained access to Charles I's celebrated art collection, and where he is said to have copied works by Van Dyck, Titian, Tintoretto and Veronese. He also apparently assisted in the studio of the German artist Franz Cleyn, helping design tapestry borders for the famous Mortlake factory. Dobson set himself up as independent painter, and he followed the court to Oxford at the start of the Civil War. How Dobson came to the king's attention is unknown – it was recorded that Van Dyck introduced Dobson to the king and that 'King Charles took Him [Dobson] into his immediate Protection, kept him in Oxford all the while his Majesty continued in that city; sat several times to him for his picture, and obliged the Prince of Wales, Prince Rupert and most of the Lords of his Court to do the like'. However, it seems unlikely that Van Dyck introduced the two (nor did the younger artist work in the Flemish master's studio as has often been suggested) – it was probably a courtier with connoisseurial interests, such as Endymion Porter, one of the king's grooms of the bedchamber, who presented the artist to the king. Dobson became the most important artist at court, and he is now best known for the ruddy-faced depictions of royalist soldiers that he painted during this time. By 1643 it seems that Charles I had created him Sarjeant Painter, as engraved copies of his self-portrait described him as 'His Majestie's Painter', and he may also have been appointed a groom of the privy chamber. The esteem in which Dobson's contemporaries held him was noted by the medallist and playwright Thomas Rawlins, who wrote a eulogy to him in his collection of poems 'Calanthe', describing him as 'the very Soul of Art, the Prince and Prime of Painters'. However, Dobson's increasing fame and prominence as an artist coincided with the unrest caused by the civil war. In Oxford, he set up a studio at St John's College, where he was busy enough to employ a studio assistant, called Hesketh. As the war continued, Dobson's work suffered from the increasing lack of appropriate materials and his portraits became characterised by the thin application of paint, on poor quality, un-primed canvas. Payments for Dobson's portraits must have also suffered during his time in Oxford, as records survive that suggest a court official released him from a debtor's prison. He returned to London in 1646 where, despite his former fame, he died suddenly and in poverty, aged only thirty-five. David Taylor, 2019
Provenance
Richard Graham (fl.1695-1727), his sale, London, Peletier, 6 March 1712, lot 42, bought by 'Mr Child' for 20 guineas; recorded in the collection of Sir Robert Child (1674-1721) and in the Drawing Room of his house at 42 Lincoln's Inn Fields; thence by descent, engraved for Wapole's 'Anecdotes' in 1762 and recorded in the Drawing Room at Osterley in 1782 and 1915; on loan from the Earldom of Jersey Trust.
Credit line
Osterley Park, The Jersey Collection
Makers and roles
William Dobson (London 1611 – London 1646), artist
References
Murdoch 1998 Tessa Murdoch, 'Jean, René and Thomas Pelletier, a Huguenot family of carvers and gilders in England 1682-1726', Burlington Magazine, vol.139, 1997, pp.732-42, vol.140, 1998, pp.363-74
View more details