Osterley Park's 'Japanned Cabinet on a gilt frame' - circa 1675-1700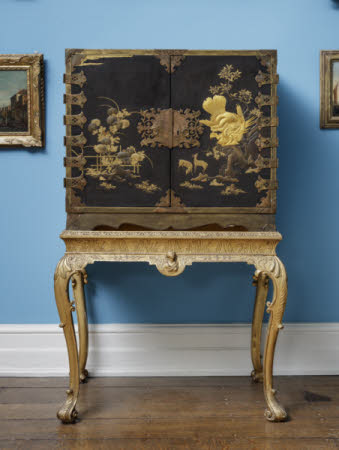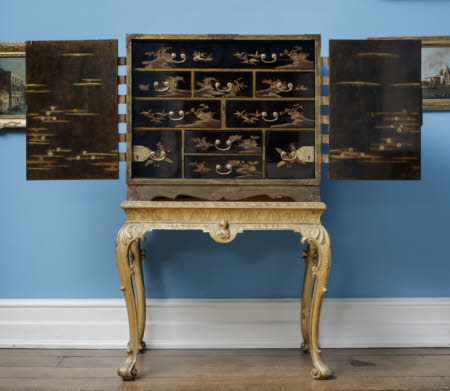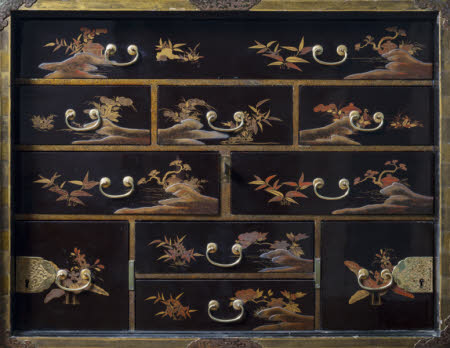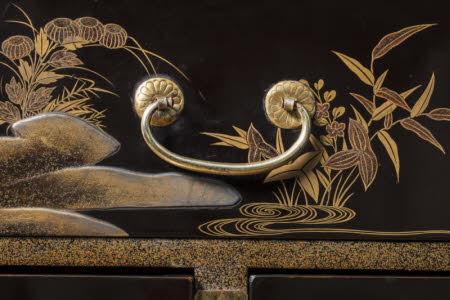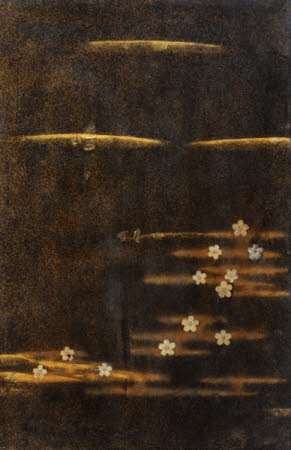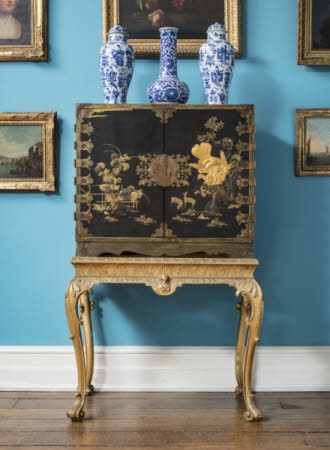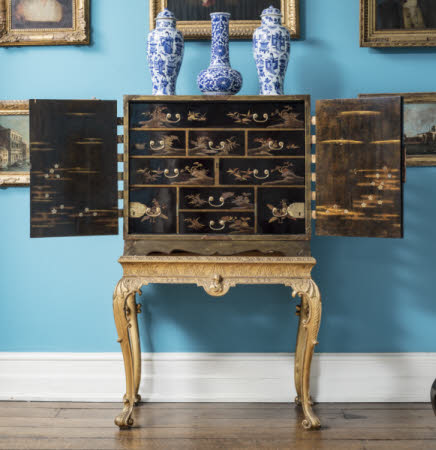 Category
Furniture
Date
circa 1675 - 1700 (the cabinet; the stand later)
Materials
Softwood, urushi lacquer, gilding, gilt copper, brass
Measurements
79.0 x 91.0 x 52.0 cm
Place of origin
Japan
Order this image
Collection
Osterley Park and House, London (Accredited Museum)
NT 771821
Summary
A lacquered cabinet, Japanese Export, circa 1675-1700, raised on a giltwood stand, English, circa 1720. The cabinet fitted with a pair of doors, decorated in flat (hiramaki-e) and raised (takamaki-e) lacquer with chrysanthemums growing against a fence, deer among rocks and trees and a bird of prey attacking a pheasant (the last motif probably a European addition or repair). The doors decorated to the interior with scattered flowers and enclosing an arrangement of ten drawers (one long, three short, two short, and two short flanked by a square drawer with locking mechanism), all decorated with rocks, trees and foliage (some of the designs repeated) and all with gilt brass bale handles with small circular backplates. The two square drawers with engraved and shaped lockplates. The drawers all spaced by rails decorated with gold dust. The top and sides of the cabinet covered in black lacquer but otherwise plain. The sides each with a gilt brass bale handle. The hinges and corner clasps of engraved copper, and all on a low flared and shaped apron or plinth-type base. Raised on a gilt-softwood stand with moulded upper edge, a concave frieze with a punched ground and stylised acanthus leaves. The flared, convex apron centred by a pendant lunette carved with a female bust. All four legs of cabriole form and carved with shells to the knee. The feet fashioned as under-scrolling acanthus leaves.
Full description
Traditionally identified as the 'handsome Japanned Chest of Draws' listed in 'Mr Child's Bed Chamber' in the inventory taken at Osterley in 1782, but more likely - if it was then, like now, raised on a stand - to be the 'Japanned Cabinet on a gilt frame' included amongst the contents of the 'Blue India Paper Dressing Room', alongside other 'japannned' and 'India' pieces[1] At Osterley, then, by 1782, we do not know when the Childs acquired it, but it is precisely this type of cabinet that a wealthy, fashion-conscious family would have sought to own between about 1650 and 1730, when the Childs were amassing and enjoying their fortune. The stand is in the English style of circa 1720, which may indicate that the Childs bought the cabinet around that time, when they also acquired the large set of Chinese Export lacquer furniture still at Osterley [NT 771891]. Lacquer became available to European elites in the sixteenth century, when Portuguese explorers established new sea passages to Asia. Thereafter, to capitalise on the potential for trade in exotic commodities, the Dutch and English East India Companies - both founded around the turn of the seventeenth century - began to bring goods to markets in Amsterdam and London. By 1700, many European country houses and palaces contained examples of East Asian export lacquer. In turn, to feed the growing demand from Europe, the Chinese and Japanese soon began to make lacquered objects specifically for export, in forms and styles to suit Western tastes. This cabinet was almost certainly exported from Japan by the Dutch East India Company (or VOC, Verenigde Oostindische Compagnie) which dominated the Japanese trade. Japanese lacquer - considered as superior in quality to all others - was highly prized. Chinese Export lacquer wares - the trade in which was monopolised by the British East India Company - and which the Childs also bought, evolved to copy Japanese pictorial styles, so that - to the untrained eye - they look very similar. Most English buyers probably could not - or did not care to - discriminate between Japanese and Chinese goods, and the term 'japan' (and sometimes 'India') was used as a catch-all term to describe lacquered wares. It follows that the meaning behind the myriad ancient Japanese and Chinese symbols and scenes on export lacquer was mostly lost on a European audience. Westerners did appreciate, however, the significance of this form of cabinet with doors enclosing numerous drawers. A derivation of the room (called a cabinet, Kunstammer or studiolo) in which discerning sixteenth and seventeenth century scholars and aristocrats displayed and secured their treasures and books. Like the ebony cabinet [NT 771816] which is also at Osterley, these cabinets acquired a meaning which they have lost today. They had a dual function, serving both as treasures themselves and as a store for other, smaller rarities, curios and specimens. In 1694, an inventory of the goods at the homes of John Evelyn (1620-1706), the diarist, and his wife Mary (1635-1709) noted that her 'Japan Cabinet' contained many pieces of rare Asian porcelain including two enamelled jars and covers, two enamelled boxes, four enamelled cups, one large blue and white bottle and two white teapots.[2] In the Japanese tradition, the chrysanthemums and deer depicted on the exterior of the doors both evoke poetic seclusion and autumnal melancholy. The symbolism of chrysanthemums ultimately goes back to lines by the Chinese poet Tao Yuanming (365-427): 'I pick chrysanthemums by the eastern hedge / See the southern mountain, calm and still.' In subsequent centuries chrysanthemums were regularly used in East Asian art to suggest an introspective mood.[3] The motif of the deer refers to a poem from the Kokinshū, an early-10th-century Japanese poetic anthology: 奥山に Okuyama ni 紅葉ふみわけ Momiji fumiwake 鳴く鹿の Naku shika no 声きく時ぞ Koe kiku toki zo 秋は悲しき Aki wa kanashiki When I hear the voice Of the stag crying for his mate Stepping through the fallen leaves Deep in the mountains—this is the time That autumn is saddest.[4] The motif of a bird of prey attacking a pheasant appears to be slightly out of proportion to the surrounding scenery, in a slightly different style and more brightly gilded, so this would appear to be a European addition or repair. A Japanese lacquer cabinet with similarly decorated doors has been recorded at Drayton House, Northamptonshire: the composition and style of the scenery is comparable and in both cases the imagery is not framed by a decorative border, which does occur on many other cabinets.[5] The less elaborately decorated interiors of the doors show a pattern of cherry blossoms floating on water. This is a symbol of the evanescence of youth and beauty and, like the decoration of the exterior, evokes a poetically melancholic atmosphere. The drawers are again decorated with chrysanthemums and pampas grass, but also with bamboo (symbolising resilience) pine trees (symbolising longevity) and a rustic hut or pavilion (evoking poetic seclusion). The hut-beneath-a-pine motif has also been engraved on the lockplate on the exterior. Megan Wheeler and Emile de Bruijn, September, 2019 [1] M. Tomlin, 'The 1782 Inventory of Osterley Park' in Furniture History XXII (1986), 114 and 116. [2] Kyoungjin Bae, Joints of Utility, Crafts of Knowledge: The Material Culture of the Sino-British Furniture Trade during the Long Eighteenth Century (PhD Thesis, Columbia University, 2016), pp. 144-5. [3] Barbara Teri Okada, Symbol and Substance In Japanese Lacquer: Laquer Boxes from the Collection of Elaine Ehrenkranz (New York, Weatherhill, 1995), p. 72. For Tao Yuanming's association with chrysanthemums, see also Susan E. Nelson, 'Revisiting the Eastern Fence: Tao Qian's Chrysanthemums', in The Art Bulletin, vol. 83, no. 3 (September 2001), pp. 437–60. [4] Teri Okada (1995), p. 86. [5] Oliver Impey and Christiaan Jörg, Japanese Export Lacquer 1580–1850 (Amsterdam, Hotei publishing, 2005), cat. 268, pp. 132–3.
Provenance
Listed in the inventory taken at Osterley in the 'Blue India Paper Dressing Room' in 1782. Thence by descent and purchased from George Child-Villiers, 9th Earl of Jersey (1910-1998) by HM Government in 1949 for the Nation and vested in the Victoria and Albert Museum; transferred to the National Trust in 2002.
References
Tomlin, 1986: Maurice Tomlin. "The 1782 inventory of Osterley Park." Furniture History 22 (1986): pp.107-134., 114 and 116 Bae, K (2016), Joints of Utility, Crafts of Knowledge: The Material Culture of the Sino-British Furniture Trade during the Long Eighteenth Century (PhD Thesis, Columbia University, 2016), pp.144-5 Teri Okado, Barbara (1995), Symbol and Substance in Japanese Lacquer: Lacquer Boxes from the Collection of Elaine Ehrenkranz (New York, 1995), p. 72 and 86 Nelson, Susan E. (2001), 'Revisiting the Eastern Fence: Tao Qian's Chrysanthemums', in The Art Bulletin Vol. 83, No. 3 (September, 2001), 437-60 Jörg, Christiaan and Impey, Oliver 'Japanese Export Lacquer 1580-1850' Amsterdam 2005, Cat. 268, pp. 132-3
View more details