Sir Abraham Elton, 1st Bt MP (1654 - 1727)
Johan Van Diest (1695-1757)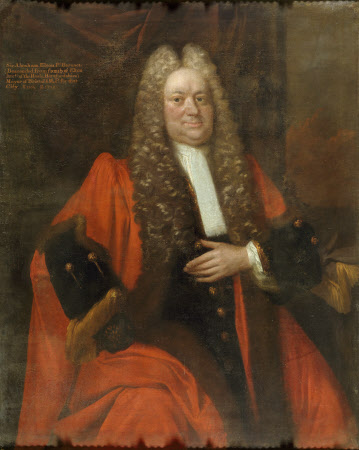 Category
Art / Oil paintings
Date
circa 1720
Materials
Oil on canvas
Measurements
1264 x 1013 mm (49 3/4 x 39 7/8 in)
Order this image
Collection
Clevedon Court, North Somerset
NT 624132
Caption
Amassing huge fortune from the Bristol brass industry and other enterprises, Sir Abraham bought Clevedon Court in 1709.
Summary
Oil painting on canvas, Sir Abraham Elton, 1st Bt (1654 - 1727) by Johan Van Diest (1695-1757), circa 1720. Lengthy inscription top left: ..... A portrait of Sir Abraham Elton as a stout elderly man, seated, three-quarter-length, turned slightly to the right, gazing at the spectator, his left arm resting on a cushioned table, his left hand on his chest and his gloved right fist on his right knee, in a long full-bottomed wig, and wearing scarlet mayoral robes and a long white stock. A large dark-red drape in the background bears the inscription. He was the second son of Isaac Elton and Elizabeth (?); married Mary Jefferies, daughter of Robert Jefferies As a wealthy Bristol merchant he bought Clevedon Court and land around Clevedon.
Provenance
Purchased from Lady Margaret Ann Elton (1915 – 1995), 1981 with the help of grants from the V&A Purchase Fund and the NHMF
Credit line
Killerton, The Acland Collection (accepted in lieu by HM Government and transferred to the National Trust in 1995)
Makers and roles
Johan Van Diest (1695-1757), artist
References
Clevedon Court [The National Trust] revised 1972, 1974, 1977, 1979, p.26. "From the wall of the Great Hall, facing the gallery, Sir Abraham Elton I looks down with plump satisfaction in his scarlet robes as Mayor Bristol in a portrait by Johann van Diest, who specialised in local notabilities in Bristol and Bath."
View more details