A Peasant, resting on his staff
Italian (Florentine) School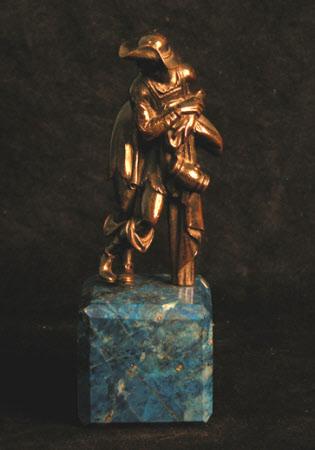 Category
Art / Sculpture
Date
c. 1600 - 1630
Materials
Bronze
Measurements
178 mm (Height)
Place of origin
Florence
Order this image
Collection
Anglesey Abbey, Cambridgeshire
NT 515066
Summary
Bronze, a peasant resting on his staff, Italian (Florentine) School, after a model by Giovanni Bologna (Giambologna, 1529-1608), c. 1600-30. A small bronze statuette of a peasant traveller, who rests upon his staff, covered with his cloak, feet crossed, looking out towards his right. Wears a short tunic, boots with floppy tops and a broad rimmed hat; a small pack on his back, and a small water barrel suspended from a carrying string. Very carefully worked in places, underside of his cloak delineated with tiny stippling, edges of other side of cloak decorated, water barrel. The figure is an early 17th-century cast, made in Florence, of a model by Giovanni Bologna (Giambologna, 1529-1608). Mounted on rectangular base of lapis lazuli, the edges bevelled.
Full description
Wearing a rough tunic made from animal skin, boots with floppy tops and a broad-brimmed hat to give protection from the hot Tuscan sun, this little figure represents a stock image of a peasant (Italian contadino) such as would have been a familiar sight throughout Florence, Tuscany and further afield in Italy in the seventeenth century. It is one of a small group of genre compositions associated with Giambologna, which in their focus on daily life are quite different in character from his more idealising figures, such as his many essays on the subject of a bathing woman (for an example at Anglesey Abbey, NT 515035). Other models in this group include a seated peasant playing the bagpipes, which may have been conceived as a pair to the standing figure of the peasant, and a girl with a duck. In the 1570s Giambologna was working on sculptural decorations for the enormous garden cum park at Pratolino, outside Florence, which was being constructed to the orders Grand Duke Francesco I. His biographer Filippo Baldinucci recorded the sculptor as having made statues of 'peasants in stone', none of which survive. However, the small bronzes may well reflect the original small models that Giambologna would certainly have produced in preparation for such a project. Although the model is therefore likely to have originated in the 1570s, the earliest reference to the peasant resting on his staff dates from 1601, when an example in silver was one of four silver statuettes sent on loan to Antonio Susini, Giambologna's former assistant, presumably to serve as models for reproduction in bronze: 'a little figure in silver of a peasant with his hat and a staff, leaning upon his staff' ['Una figuretta d'arg(en)to di un villano co(n) Capello co(n) bastoncino che sappoggia il su il bastone'; cited in Giambologna 1529–1608: Sculptor to the Medici, p. 165). The silver statuette no longer exists, but numerous examples in bronze are known today. There are further records of the model from the early seventeenth century. An example is recorded in the inventory of the Holy Roman Emperor Rudolf II in Prague, drawn up between 1607 and 1611 ('Ein bawrsmändl mit einer lagl, so sich auf seinen stab und mantel stewrt, von metal'; Rotraud Bauer and Herbert Haupt, 'Das Kunstkammerinventar Kaiser Rudolfs II. 1607–1611', Jahrbuch der Kunsthistorischen Sammlungen in Wien, 72 (1976), p. 102, no. 1936), whilst 'a shepherd who leans upon a staff and has a little barrel' was among the group of fifteen casts of works by Giambologna sent in March 1611 as gifts from the Grand Duke of Tuscany as gifts for Henry Prince of Wales, the short-lived elder brother of the future King Charles I ('Uno pastore che s'appoggia a uno bastone, e à una barletta'; Katharine Watson and Charles Avery, 'Medici and Stuart: a grand ducal gift of "Giovanni Bologna" bronzes for Henry Prince of Wales (1612)', The Burlington Magazine, 115 (1973), pp. 493–507, p. 507, no. 14). The bronze reappeared in the inventories of Charles I's collection drawn up in the later 1630s by Abraham van der Doort, but presumably left the royal collections in the sales carried out during the Commonwealth. In versions with a good claim to be early casts, the figure is set on a small oval base and there is a separate staff in front of the tree trunk covered with drapery, against which the peasant rests. Examples in this form include those in the Museo Nazionale del Palazzo di Venezia in Rome (Inv. 10809; . P. Cannata, Museo Nazionale del Palazzo di Venezia. Sculture in Bronzo (Roma. Il Palazzo di Venezia e le sue collezioni di scultura, III), Rome 2011, pp. 76-77, no. 81), in the Quentin collection (Manfred Leithe-Jasper and Patricia Wengraf, European Bronzes from the Quentin Collection, exh. cat., Frick Collection, New York 2004, pp. 158-61, no. 13) and in a private collection (Giambologna 1529–1608: Sculptor to the Medici, no. 138). The very precise modelling of these casts, with the folds in the drapery looking as if they were cast in wood, is characteristic of Antonio Susini, who was presumably the first to produce the small bronze versions. The Anglesey Abbey cast is a variant of the early type, without an integral base and with the peasant's staff concealed within his cloak, the folds of which are simplified, especially at the back. Other examples of this type are in the Staatliche Museen Berlin (Inv. 5030; Wilhelm von Bode, Staatliche Museen zu Berlin: Die Italienische Bildwerke der Renaissance und des Barock, vol. 2: Bronzestatuetten, Büsten und Gebrauchsgegenstände, 4th edn, Berlin 1930, p. 37, no. 176, Tafel 56) and in the Fitzwilliam Museum, Cambridge (Inv. M.2-1973; Victoria Avery, Renaissance and Baroque Bronzes from the Fitzwilliam Museum, Cambridge, exh. cat. (Daniel Katz Gallery; Frick Collection, New York), London 2002, p. 307, no. 5). In the Berlin figure, the facture of which is close to the Anglesey Abbey version, the upturned brim of the hat is decorated with a pilgrim's shell, changing the meaning of the figure. Another version in the Victoria & Albert Museum (A.19-1971) is rougher in its facture than the Anglesey Abbey figure, and is thought possibly to be a reprise by the Florentine sculptor Francesco Fanelli (1557-c. 1661?), who worked in England in the 1630s for King Charles I and made a series of distinctively vigorous small bronzes. Another later cast in the V&A (A.60-1956), gilded and heavily worked in the surfaces, is likely to have been made in Northern Europe. A large-scale marble version of the figure, made by the Florentine sculptor Romolo Ferrucci del Tadda (1544-1621) for a fountain in the Tuscan port city of Livorno, is on the Florentine art market (Dimitrios Zikos, Romolo Ferrucci del Tadda. The Villano for Livorno. A case for the success of a Giambologna model in Tuscany, Bacarelli Botticelli, Florence 2019). A large-scale version of the same composition in Portland stone, thought to have been made in Britain in the eighteenth century, is in the gardens at Anglesey Abbey (NT 516658). Jeremy Warren 2019
Provenance
Bequeathed to the National Trust by Huttleston Rogers Broughton, 1st Lord Fairhaven (1896-1966) with the house and the rest of the contents.
Credit line
Anglesey Abbey, The Fairhaven Collection (The National Trust)
Makers and roles
Italian (Florentine) School, sculptor after Giambologna (Douai 1529 - Florence 1608), sculptor
References
Avery and Radcliffe 1978: Charles Avery and Anthony Radcliffe, Giambologna, 1529-1608: sculptor to the Medici, exh.cat. venues: Royal Scottish Museum, Edinburgh, Victoria & Albert Museum, London, Kunsthistorisches Museum, Vienna 1978, p. 165, nos. 137-38. Avery 1987: Charles Avery, Giambologna, The Complete Sculpture, Oxford 1987, p. 266, no. 111, pl. 42. Christie, Manson & Woods 1971: The National Trust, Anglesey Abbey, Cambridge. Inventory: Furniture, Textiles, Porcelain, Bronzes, Sculpture and Garden Ornaments', 1971, p. 129.
View more details