Horse Race at Newmarket (The Duke of Bolton's 'Bay Bolton' defeating the Duke of Somerset's Grey 'Windham' at Newmarket on either 12th November 1712 or 4th April 1713)
John Wootton (Snitterfield c.1682 – London 1765)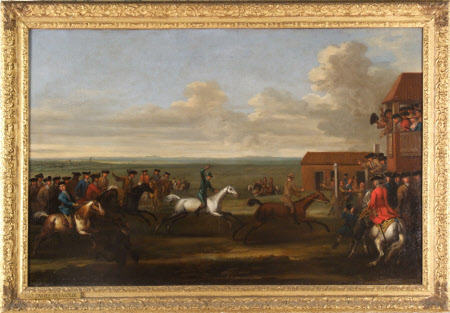 Category
Art / Oil paintings
Date
1712 - 1713 - 1765
Materials
Oil on canvas
Measurements
760 x 1170 mm
Place of origin
England.
Order this image
Collection
Petworth House and Park, West Sussex
NT 486283
Summary
Oil painting on canvas, Horse Race at Newmarket (The Duke of Bolton's 'Bay Bolton' defeating the Duke of Somerset's Grey 'Windham' at Newmarket on either 12th November 1712 or 4th April 1713) by John Wootton (Snitterfield c.1682 – London 1765), 1712 or 1713. A horse-race at Newmarket, with at the centre, a grey, and on the left-hand side a group of horses and a bay. In the right-hand corner can be seen a man in red on a white horse, below the grandstand. Wootton was working for Edward Harley, Earl of Oxford at Newmarket during the period of this painting.
Provenance
In the collection of the 3rd Earl of Egremont (1751-1837) by 1835; thence by descent, until the death in 1952 of the 3rd Lord Leconfield, who had given Petworth to the National Trust in 1947, and whose nephew and heir, John Wyndham, 6th Lord Leconfield and 1st Lord Egremont (1920-72) arranged for the acceptance of the major portion of the collections at Petworth in lieu of death duties (the first ever such arrangement) in 1956 by H.M.Treasury.
Credit line
Petworth, The Egremont Collection (National Trust)
Makers and roles
John Wootton (Snitterfield c.1682 – London 1765), artist previously catalogued as attributed to James Seymour (London 1702 – London 1752), artist previously catalogued as attributed to John Wootton (Snitterfield c.1682 – London 1765), artist
References
Collins Baker 1920 C.H.Collins Baker, Catalogue of the Petworth Collection of Pictures, in the possession of Lord Leconfield, privately printed by the Medici Society, London, 1920, p.115
View more details