Stand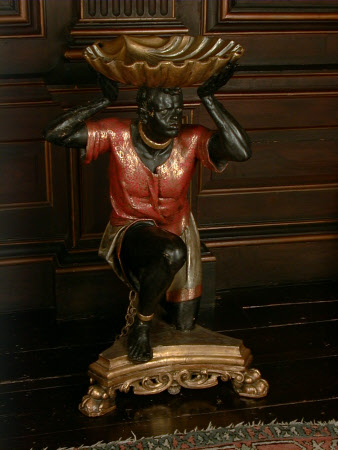 Category
Furniture
Date
1680 - 1700
Materials
Painted and giltwood, probably beech
Measurements
98 x 64 x 56 cm
Place of origin
England.
Order this image
Collection
Dyrham, Gloucestershire
NT 452977
Summary
A pair of giltwood and polychrome painted stands, English, late 17th century. Each stand depicts an enslaved figure, kneeling and chained at the ankle and the neck holding aloft a scallop shell and raised on a tri-form plinth with moulded edge and scroll carved pierced apron to each of the three sides.
Full description
The stands were sent to Dyrham Park in 1700 from house owner William Blathwayt's uncle, Thomas Povey, but they may be of earlier date. They have historically been described as 'Black Boys' (i), 'Blacks' (ii) and 'stands for flowers' (iii). For many years, they were catalogued as 'blackamoor stands' until 2019 when they were re-catalogued as stands. The motif of the 'blackamoor' has existed in European decorative art since the late medieval period, but developed into a recognisable type during the Venetian Renaissance. In early modern European and English literature, the term 'blackamoor' was an ill-defined stereotype of an African Muslim – a conflation of the notion of an Arab or Muslim with that of a black African. In material culture, it was used to describe representations of unnamed non-European peoples, especially Africans, as figures of adornment in glass, jewellery, ceramics, silver, furniture and architectural features. The bodies of these figures are sometimes incorporated into furniture, forming a support for a chair, a table or lamp; in the Dyrham stands, the figures kneel and support a shell, designed to hold some form of offering, probably food. Integrated into furniture in this way, the 'blackamoor' represents a double objectification, employed as a figure of ornamentation on the one hand and a figure of literal physical support on the other. The stands evoke contemporary aristocratic culture that sought young black male household attendants, and here recreated through near life-sized sculptural furniture. As an ornamental figure, the 'blackamoor' reflects the deepening association of black bodies with European trade, wealth and prosperity. Indeed, these figures – dressed in costly attire and jewellery – informed the visual language of luxury and aristocratic identity in European households from the 16th through 20th centuries, emerging precisely at the moment European economies were increasingly dependent upon colonial expansion and the transatlantic slave trade. Depictions of the 'blackamoor' typically rely upon a strict sartorial code: brightly coloured garments, white turban, gold earrings. The Dyrham stands deviate from this code with the inclusion of chains which link slave collars around the necks to the ankles of the figures. In this way, the Dyrham stands evoke not only the brightly adorned 'moor' motif in European decorative art but speak to the active enslavement of West Africans underway at the time of their manufacture. The original owner of the stands, Thomas Povey (c.1613–c.1705), was a leading proponent of colonialism during the seventeenth century. In the 1650s he and merchant Martin Noell were greatly involved in the 'Western Design' which resulted in the capture of the island of Jamaica from the Spanish. His brother Richard Povey sailed with the fleet and became the island's secretary and Council member, and local agent for Noel's plantations. Another brother William Povey was Provost Marshal of Barbados. Thomas Povey first proposed a Council of Trade on which he then sat and became the most active member of the Council for Foreign Plantations. He became a member of the Royal African Company when re-chartered in 1663. In the context of Povey's career the stands become an overt and contemporary statement of his professional interests. Povey was also a well-known aesthete, according to his diarist friends Samuel Pepys and John Evelyn. Thomas Povey brought-up his nephew William Blathwayt (c.1649-1717) to follow in his colonial career. Blathwayt eclipsed his uncle to become the leading colonial administrator of his age, in addition to other governmental roles. His career brought great wealth and enabled the construction and furnishing of Dyrham Park. Blathwayt purchased paintings and books from his uncle Povey at the same time the stands arrived in the house. The stands first occupied the Balcony Room, a space reserved for polite entertainment, especially the consumption of tea, coffee and chocolate. They likely performed a similar function for Blathwayt, ostensibly expressing his professional and cultural status when receiving guests. (Gabriella de la Rosa, with Rupert Goulding, 2020) Notes (i) John Povey's letter to Thomas Povey describing the 'Balcony Roome', dated 5 December 1700: 'In these several Apartments your pictures have a Great share in the Decoration as the two Black Boys have a Proper Place on Each side of an Indian Tambour in one of the Best Rooms…' (Letter from John Povey, nephew and clerk to William Blathwayt, to Thomas Povey. Gloucestershire Archives No. D1799/E240.) (ii) In the 1710 Inventory, they are described as 'Blacks' in the Balcony Room, alongside the red and black lacquer and gilded tea table, Javanese, late 17th century (NT 45298). In 'An Inventory of the Goods and Furniture in Mr Blathwayt's House at Dirham as taken in November 1710', 'a large black Japan tea Table & 2: Blacks' are described in the Balcony Room. Transcribed and published in Karin-M. Walton, 'An Inventory of 1710 from Dyrham Park', in Furniture History, Volume XXII, 1986. (iii) 1871 inventory (Gloucestershire Archives D1799/E261)
Provenance
The stands were sent to Dyrham from William Blathwayt's uncle Thomas Povey in 1700. They form part of the indigenous collection purchased by Ministry of Works and given to Dyrham Park in 1961.
References
Bowett 2002: Adam Bowett, English Furniture 1660-1714, 2002, pg. 125
View more details