Portrait of a Dominican Friar
Lorenzo Lotto (Venice c.1480 – Loreto 1556)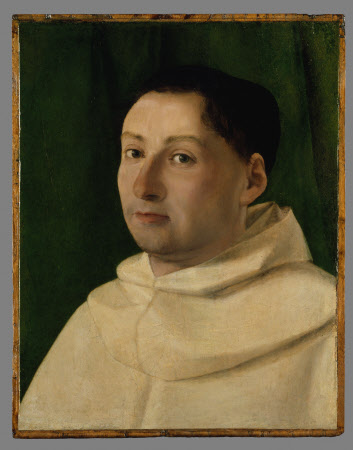 Category
Art / Oil paintings
Date
circa 1505
Materials
Oil on panel (poplar)
Measurements
328 x 255 x 15 mm
Order this image
Collection
Upton House, Warwickshire
NT 446819
Summary
Oil painting on poplar panel, Portrait of a Dominican Friar by Lorenzo Lotto (Venice c.1480 – Loreto 1556), circa 1505. A head-and-shoulders portrait of a young Friar, body facing slightly left, head turned towards the spectator, wearing a ivory-white robe and black cap against a dark green background.
Full description
This is one of the least known of Lorenzo Lotto's early portraits. It was last exhibited in 1953 in the major lotto exhibition at the Palazzo Ducale in Venice, but has not been included in any of the numerous shows devoted to the painter since then. Portrayed is a young religious figure – traditionally identified as a 'Dominican' – aged between 25 and 30 wearing a white cowl. He is slightly turned towards his right, but gazes at the viewer. Behind him is an emerald green curtain, akin to that in Lotto's portrait of Bishop Bernardo de' Rossi of 1505 ( Museo e Gallerie Nazionali di Capodimonte) and his Portrait of a Women of 1505-6 (Musée des Beaux-Arts, Dijon). The picture is first recorded in the home of Count Leon Pininsky in Lemberg, then in the Austro-Hungarian Empire, now in the Ukraine (Glück 1910), after which it entered the collection of Stefan von Auspitz (1869-1945) in Vienna (Berenson 1932) in 1932. That same year, however, Von Auspitz went bankrupt and the greater part of his notable collection of paintings found its way into the hands of the Dutch collector Daniël George van Beuningen (1877-1955). By 1935, if not before, the painting was in the Bachstiz Gallery at the Hague (Bachstiz 1935), whence Lord Walter Horace Samuel (1882-1949), 2nd Viscount Bearsted, purchased it and placed it in the family home in Upton House, Oxfordshire (Bearsted 1950, 1964). The first to recognise Lotto's hand in the painting was Max Dvořák, but it was Glück (1910) who published it, correctly placing it in the artist's youthful corpus. The attribution has since been unanimously accepted in the scholarship, albeit with some differences with regards to chronology: disagreement persists as to whether it dates to the period of the artist's debut in the Veneto (before mid-1506) or to the time he spent in the Marches while working on the Recanati altarpiece of 1506-8 (Museo Civico Villa Colloredo Mels). Boschetto (1953) asserts that 'It is unquestionably a youthful work, dated no later than 1510', though at the top of the entry he specifies a date of around 1508. Palluchini (1965-66) advances a slightly earlier date on the grounds of a comparison with the Portrait of a Woman in Dijon [i] (usually dated to around 1505-6 in view of the overt Dürerian influence), while according to Lucco (1980) the work is 'slightly more archaic' than the French exemplar, 'and as such it should be slightly backdated'. In the final edition of his Lotto monograph of 1955, Berenson notes that the subject resembles the young Saint Louis in the Asolo altarpiece of 1506 (Chiesea propositurale e collegiate di Santa Maria Assunta) and he wonders about the reasons: 'Lotto possibly took this monk as a model, or he may have painted his portrait just before. Having his face still fixed in his visual memory, he may have reproduced it unconsciously, as occurs not infrequently, though in ways not often so patent'.[ii] Zampetti (1953), instead, proposed that he is one of the friars from the convent in Recanati, where Lotto resided from June 1506 to 1508; Mariani Canova (1975) and Pedrocco (1994) express views along the same lines. The latter suggests ascribing another Dominican friar in a panel in a private Venetian collection to the painter in Recanati in 1506-8; however, this attribution has not gained traction among other scholars. The painting, on poplar wood, is in good condition, with some loss of the paint film, which must have been brighter, with subtler glazing than what remains today. In spite of this, we cannot help but share the opinion of Bianconi (1955) who, describing it as 'one of the most exquisite portraits of this period', remarks on the refined tones of the sitter's 'rosy face above a warm, ivory-hued cowl, against a verdant curtain of the kind frequently seen in Lotto's portraits' during that period. Without wishing to add any rhetorical emphasis, the painting stands out for its very sensitive interpretation of the live model, who is delicately analysed in the handling of the surfaces: observe the artist's skill at depicting the recently shaven, but evidently resprouting beard, and the definition of such details as wrinkles and eyebrows. The figure is traditionally identified as a Dominican in view of the type of scapula that he is wearing, as well as his halo-like tonsure (as opposed to the crown preferred by Camaldolese or Cistercian monks).[iii] As Lucco (1980) indicates, the style of the painting suggests it was made in Treviso in 1505, more or less at the same time as the Santa Cristina al Tiverone altarpiece of 1504-6. [iv] We cannot exclude the idea, however, that it may be the portrait of a young mendicant friar gravitating around the church of San Nicolò in Treviso, or the church of Santi Giovanni e Paolo in Venice, and thus part of a context where the artist is commonly known to have spent a great deal of time. Notes [i] Pallucchini 1965-66, p. 30. [ii] Cited here from the English edition, Berenson, 1956, p. 6. [iii] This precious information on the friar's attire was furnished by Don Paolo Barbisan, Director of the Office of Cultural Heritage of the Curia of Treviso, and Don Claudio Ubaldo Cortoni OSB Librarian and Archivist of Camaldoli. [iv] On Lotto's contacts in Santa Cristina, see Liberali 963, pp. 7-13, and Manzato 1981. Text adapted from Enrico Maria Dal Pazzolo, Lorenzo Lotto: Portraits (exh. cat.), Madrid: Museo Nacional del Prado, 2018, cat. 6, pp. 199 – 200.
Makers and roles
Lorenzo Lotto (Venice c.1480 – Loreto 1556), artist
References
Dal Pozzolo and Falomir 2018: Enrico Maria Dal Pozzolo and Miguel Falomir (eds.), Lorenzo Lotto: Portraits (exh. cat.), Madrid: Museo Nacional del Prado, 2018., cat. 6, pp. 199-200 Gluck 1910: Gluck, Gustav. 'Ein Neugefundenes Jugendwerk Lorenzo Lottos'. Kunstgeschichtliches Jahrbuch 4 (1910), pp. 212-27. Bachstitz 1935: Bachstitz, Kurt Walter, ed. Bulletin of the Bachstitz Gallery. The Hague, Backstitz Galerie, 1935. National Trust (Great Britain), Catalogue of Pictures and Porcelain at Upton House., 1950 Bearsted 1964: Upton House: The Bearsted Collection, Pictures. Rev. ed. London, National Trust, 1964. Lucco 1980: Lucco, Mauro. 'Riflessi Lombardi nel Veneto (un abbozzo di ricerca sui precedent culturali del Lotto)' in Gianvittorio Dillon (ed.), Lorenzo Lotto a Treviso: ricerche e restauri (exh. cat.), Treviso, Canova, 1980.
View more details
Related articles