The Duet ('Le corset bleu')
Gabriel Metsu (Leyden 1629 – Amsterdam 1667)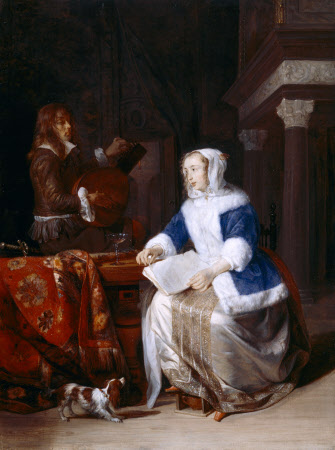 Category
Art / Oil paintings
Date
circa 1660
Materials
Oil on panel (oak)
Measurements
394 x 292 mm (15 1/2 x 11 1/2 in)
Place of origin
Holland
Order this image
Collection
Upton House, Warwickshire
NT 446725
Summary
Oil painting on oak panel, The Duet ('Le corset bleu'), Gabriel Metsu (Leyden 1629 - Amsterdam 1667) c.1660, signed at the bottom of the sheet of music: G. Metsu. A cabinet picture depicting a young woman wearing a blue velvet jacket edged with ermine and a white satin skirt trimmed with gold braid, sitting beside a table which is partly covered by a carpet. She holds a musical score on her lap and turns to look at a young man who sits on the table tuning his lute, an instrument of love. A glass of wine stands between them, to the right is a large chimney-piece supported on columns, and in the foreground a small dog.
Full description
The Duet, dated c. 1660, is among the highlight of Gabriel Metsu's mature work. The painting demonstrates the utter perfection of his rendering of various materials. It takes its title from the elegant young woman who holds a musical score – on which the painter placed his signature, upside down – and is apparently about to sing to the accompaniment of the lute played by the young man. Her colourful attire immediately attracts attention – a gleaming satin dress and a blue velvet jacket trimmed with white fur along the edges and cuffs. This blue jacket is such a striking feature that it provided the painting with a name, Le corset bleu, when it was engraved as part of the celebrated collection of Pierre-Louis Randon de Boisset (1708–1776) in Paris. The woman's white head-cloth conceals most of her curls. Her feet rest on a footwarmer. She has pushed aside the costly Persian carpet in order to lean on the table, where a large glass of wine is within reach. Completely immersed in her thoughts,she stares straight ahead, avoiding the gaze of the man behind the table. Looking towards her, he sits on the table while tuning his lute. The hilt of his sword is just visible at left. The woman's lapdog is depicted in the foreground, looking at its mistress, as if providing commentary on the scene. We can only speculate about the relationship between the woman and the man: are they already married, or still courting? The presence of a lute is significant, for emblem literature and contemporary painting both portrayed it as the instrument most evocative of love. In the course of his career, Metsu produced a number of thematically related compositions, in which men attempt to attract the attention of women making music. Sometimes the import of such pictures is fairly obvious. In Metsu's Woman at the Virginal with a Man Offering a Drink (London, English Heritage, Ranger's House), for example, the woman seems to be in two minds about the man's offering. Should she accept the glass of wine and, implicitly, his love? The Duet is a variation on the theme of courtship, inviting the viewer to wonder about the woman's availability. These people are members of the social elite, indicated by their splendid clothing and the room's luxurious furnishings. Behind the figures, a large tapestry has been pulled aside to reveal the open door behind it, allowing us a view of the rest of the house. The scene depicted on the tapestry is difficult to identify. The most striking feature of this sumptuous interior is the chimneypiece at right. Metsu based it on the monumental example in the Burgomasters' Chamber of the newly completed Amsterdam Town Hall. Designed by Jacob van Campen, this building (now the Royal Palace on Dam Square) had been festively inaugurated in 1655 and was considered by the city's inhabitants to be one of the Seven Wonders of the world. From around 1660 the Amsterdam painter Pieter de Hooch produced several paintings that feature rooms in the town hall. Apparently Metsu, also a resident of Amsterdam, was similarly impressed by the building's grand interior, since he included its richly decorated chimneypieces in at least eight other genre scenes, including a painting in the Mauritshuis. The chimneypiece depicted in this painting was created for the town hall in 1654 by the Flemish sculptor Artus Quellinus. Metsu faithfully reproduced its general design, including the sculptured frieze, but left out its figures, horses and chariots. He also took some liberty with the colour scheme, by painting the load-bearing marble columns and other elements of the chimneypiece in red, whereas the original was executed entirely in white marble. The biggest change to the original setting involved the overmantel. The Royal Palace still has a large history painting of 1656 by Jan Lievens hanging here, but Metsu replaced it with a blurry scene that was never meant to be legible. Dutch genre painting reached its apex in the third quarter of the seventeenth century, the period in which this work originated. Artists such as Gerard ter Borch, Gerrit Dou, Pieter de Hooch, Frans van Mieris the Elder, Jan Steen and Johannes Vermeer were working in a number of different cities in Holland, but they seem to have been very well informed about one another's work. The luxurious atmosphere of The Duet is related to several high-life scenes by Ter Borch, a very influential master. For artistic and commercial reasons, Metsu continually engaged with the latest trends, which resulted in an oeuvre that displays great diversity in style and subject-matter. He also continued to adapt his technique. His earliest works are painted in rather broad brushstrokes that betray the influence of his Utrecht teacher Nicolaus Knupfer, as well as that of another Utrecht painter, Jan Baptist Weenix. After moving from his native city of Leiden to Amsterdam in 1654, Metsu began to work in the smooth and meticulous manner of the Leiden 'fine painters'. The elegant scene discussed here is generally thought to have originated in the last years of his life. On stylistic grounds it can be dated to around 1660, a time when Metsu was working in an extremely refined technique. His brushstrokes are so subtle that they can be detected only by scrutinising the paint surface. The refined rendering of the clothing worn by the woman recalls the work of Frans van Mieris the Elder. Like Metsu's central figure, the women in Van Mieris's paintings are often dressed in fur-trimmed, red velvet jackets and dresses of satin. His finely painted work was tremendously popular. Metsu probably hoped to capture a share of this market by imitating his successful colleague's technique as closely as possible. The art-historical literature of the seventeenth century stresses that a good painter must be able to make a distinction between various fabrics and materials. For example, the Leiden painter Philips Angel stated in his 'Lof der Schilder-Konst' ('In Praise of Painting'), published in 1642, that 'a painter worthy of praise should be able to render this variety in the most pleasing way for all eyes with his brushwork, distinguishing between harsh, rough clothiness and smooth, satiny evenness'. Metsu succeeded admirably in fulfilling this requirement. The elements in the foreground are highly finished, generally built up in opaque paint layers with successive glazing, whereas the background is essentially sketchy and more thinly painted. The contrast between the treatment of the two faces illustrates this clearly: the man's features are loosely and economically applied with translucent glazing, whereas the woman's face is built up more gradually with opaque highlights. Scenes of this type could command large sums of money. Metsu would certainly have been able to insist on a high price for this painting, as indicated by research into the market for his work in the seventeenth century. Unfortunately, though, nothing is known about the first owners of the Duet. The work's provenance cannot be traced back further than 1746, when the work was described in an Amsterdam sale catalogue as 'a woman wearing a satin dress, who makes music with a gentleman, tender and first-rate by Gabriel Metsu'. After passing through the hands of various owners in France, one of whom had it put in its splendid Rococo frame, The Duet came into the possession of Lionel de Rothschild and his heirs in the winter of 1878, after which it was purchased in 1925 by Walter Horace Samuel, 2nd Viscount Bearsted (1882–1948). In 1948, he bequeathed it as part of Upton House to the National Trust, together with paintings by such artists as Jan Lievens, Pieter Saenredam and Jan Steen (NT 446728; NT 446733; NT 446735). Quentin Buvelot 2018 Adapted from 'Prized Possessions: Dutch Paintings from National Trust Houses' (exh. cat.), pp.136–40, cat. 15.
Provenance
Possibly Lambert Witsen sale, Amsterdam, 25 May 1746, lot 5; bought by [?Jan Mauritz] Quinkhard (1688 - 1772); Pierre-Louis Randon de Boisset (1708-1776), Paris; his posthumouis sale held by Pierre Rey and others in his house in rue Neuve des Capucines, 27 February ff. 1777, lot 81; bought by de Morimières or Perrin (with 'Le corset rouge'); Destouches sale, Paris, 21 March 1794, lot 42; bought by J.-B.-P. Le Brun (with 'Le corset rouge'); Le comte Wautier sale, Paris, 9 June ff, 1797, lot 11; bought by Le Rouge [sic]) with 'Le corset rouge'); G. Robit sale, Paris, 21 May 1801, lot 70; bought Lafontaine for Michael Bryan (with lots 71 & 72, 'Le corset rouge' and The Cello-player [Royal Collection]), on behalf of George Hibbert, MP (1757 - 1837), Clapham, to whom sold for 700 gns; his sale Christie's 13 June 1829, lot 65; with Joseph Neeld (1789- 1856), Grittleton House Wiltshire, by 1831; with John Neeld, 1st Bt (1805-91), in 1878; probably sold during the winter of 1878-9 to Baron Lionel de Rothschild (1808 -79); by division in 1882 to his son, Alfred de Rothschild (1842 - 1918), by whom ?originally kept at Halton Bucks but by 1903 at 1 Seymore Place; by him bequeathed to Almina, Countess of Carnaervon ( 1876/7 - 1969); by whom sold to Knoedler, London; by whom sold in 1924 to Walter Samuel (1882 - 1948);given with Upton House to the National Trust by Walter Samuel, 2nd Viscount Bearsted (1882 – 1948), in 1948, shortly before his death.
Credit line
Upton House (The Bearsted Collection) National Trust
Marks and inscriptions
Bottom of sheet of music: G. Metsu
Makers and roles
Gabriel Metsu (Leyden 1629 – Amsterdam 1667), artist
Exhibition history
New Light on Old Masters, Squash Court Gallery, 2013 In Trust for the Nation, National Gallery, London, 1995 - 1996, no.65
References
Hoet 1752: Gerard Hoet, Catalogus of Naamlyst van Schilderyen, The Hague, 1752, vol.II [1752], p.186 Bryan 1802 Michael Bryan, Catalogue of the Robit Collection, Mr Bryan's Gallery, 88 and 118 Pall Mall, 1801-2, no.23 Buchanan 1824 W. Buchanan, Memoirs of Paintings, 2 vols., London, 1824, vol.II, pp.54—55, no.70 & p.67 no.23 Smith 1829-42 John Smith, A Catalogue Raisonné of the Works of the Most Eminent Dutch, Flemish, and French Painters, 8 vols and supplement, London, 1829-42, vol.IV (1833), p.77, no.8 Waagen 1854-7: Gustav Waagen, Treasures of Art in Great Britain, 3 vols. (translated by Lady Eastlake) with a supplementary volume: Galleries and Cabinets of Art in Great Britain, London, 1854-7, vol.II, p.246 Blanc 1857 & 1861 Charles Blanc, Le trésors de la curiosité, Paris, 1857 & 1861, vol.I, p.356 Davis 1884 Charles Davis, A Description of the Works of Art forming the collection of Alfred de Rothschild, London, 1884, vol.I: Pictures, no.19 Erskine 1902 Mrs Steuart Erskine, 'The Collection of Alfred de Rothschild in Seamore Place', The Connoisseur, vol.III (June 1902), p.74 Cust 1905 Sir Lionel Cust, M.V.O., The Royal Collection of Paintings, Buckingham Palace, 1905, i, under 'Metsu' Hofstede de Groot 1907-28 Cornelis Hofstede de Groot, Beschreibendes und Kritisches Verzeichnis der Werke der hervorragendsten Holländischen Maler des XVII Jahrhunderts,1907-28, no. 149 Gore 1964: F. St John Gore, Upton House, The Bearsted Collection: Pictures National Trust, 1964, no.120, pp.34—35 & pl.IIIc [calling it The Duet or 'Le corsage Bleu' Robinson 1974 Franklin M. Robinson, Gabriel Metsu (1629 - 1667) A Study of his Place in Dutch Genre Painting in the Golden Age, New York, 1974, p.85 n.103 & fig. 203 [dating it to the 1660s, miscalling it 'Le corsage bleu', and bizarrely relegating it to the endnotes and appendix illustrations Waiboer 2012 Adriaan E. Waiboer, Gabriel Metsu Life and Work, 2012 Gabriel Metsu ed. Adriaan Waiboer (exh. cat.), National Gallery of Ireland, Dublin, September 4 - December 5, 2010, Rijksmuseum, Amsterdam, December 16, 2010- March 20, 2011, and National Gallery of Art, Washington, D.C. April 17-July 24, 2011 Prized Possessions: Dutch Paintings from National Trust Houses (exh. cat.), Holburne Museum, Bath 25 May - 16 Sep 2018; Mauritshuis, The Hague, 11 Oct 2018 - 6 Jan 2019; Petworth House, West Sussex, 26 Jan - 24 Mar 2019., pp. 136-40, no. 15
View more details
Related articles