A Gentleman holding a Transverse Flute
attributed to James Cole (fl.1710-1743) or John Cole (fl.1719)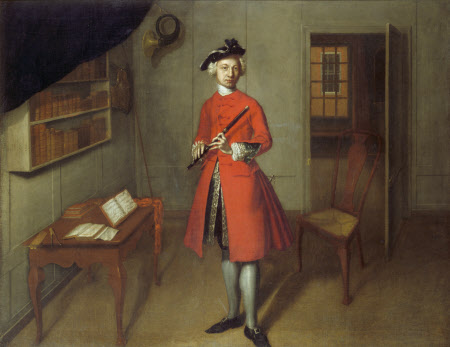 Category
Art / Oil paintings
Date
circa 1735
Materials
Oil on canvas
Measurements
705 x 902 mm (27 3/4 x 35 1/2 in)
Place of origin
England.
Order this image
Collection
Upton House, Warwickshire
NT 446661
Caption
The German, or transverse flute, shown here, was the most fashionable instrument in amateur music circles at the time that this picture was painted, in around 1735. It replaced the original flute or recorder, and was a novelty in the country at this date. It has been the matter of debate as to whether this picture is a genre piece, or a portrait. The details in the picture suggest that it is the latter: his dress and the cuirass in the corner of the room suggest military associations, while his sword, dress and cane suggest he was a gentleman. It seems likeliest that he was indeed a gentleman, but who perhaps played in the band of a city militia.
Summary
Oil painting on canvas, A Gentleman holding a Transverse Flute, attributed to James Cole (fl.before 1720 - 1744) or John Cole (fl.1719), as if carved into hanging bookcase): I. Cole, circa 1735. A full-length portrait of a youngish man standing in the centre of the sparsely furnished panelled room of a town house, wearing a long red surcoat, over a brocade-edged coat and a black tricorn hat edged with gold, facing the spectator, about to play a flute. On the right a chair is placed by an open door, through which another room is visible and a house beyond; on the left, a table, on which are some music scores; a ruler and dividers stand against the wall beneath a hanging bookcase; on the far wall hangs a French horn; a cuirass hangs between this and the bookcase.
Provenance
With Agnew, 1943, from whom acquired by Lord Bearsted, for 320 gns; given with Upton House to the National Trust by Walter Samuel, 2nd Viscount Bearsted (1882 – 1948), in 1948, shortly before his death
Credit line
Upton House, The Bearsted Collection (National Trust)
Marks and inscriptions
I.Cole (as if carved onto hanging bookcase)
Makers and roles
attributed to James Cole (fl.1710-1743) or John Cole (fl.1719), artist James Cole (fl.1720-1743), artist John Zacchary Cole (fl.1719), artist
References
Smith, 1956: Clifford Smith,'Flute Players of the 18th Century', Country Life, CXXII, 1956, p.615 Gore 1964: F. St John Gore, Upton House, The Bearsted Collection: Pictures National Trust, 1964, p.10, no.6 Saumarez-Smith 1993: Charles Saumarez Smith, Eighteenth Century Decoration: Design and the Domestic Interior in England, New York, 1993, p. 119 Leppart 1985 Richard Leppert, "Men, Women and Music at Home...", Imago Musicae, 1985, pp. 54-56
View more details