The Belton Conversation Piece
Philippe Mercier (Berlin 1689 – London 1760)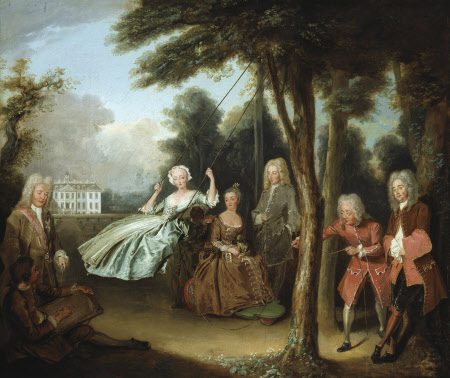 Category
Art / Oil paintings
Date
circa 1725 - circa 1726
Materials
Oil on canvas
Measurements
648 x 756 mm (25 1/2 x 29 3/4 in)
Place of origin
England
Order this image
Collection
Belton House, Lincolnshire
NT 436045
Summary
Oil painting on canvas, The Belton Conversation Piece by Philippe Mercier (Berlin 1689 – London 1760), signed: Ph. Mercier Pinxit, circa 1725-26. See NT 438057 for a preparatory drawing for this painting. Eight full-length portraits of figures in the park at Belton with south front of Belton House in the left background. The figures are, left to right: Philippe Mercier seated on the ground facing right, his right leg outstretched, a sketchpad on his lap, a drawing implement in his right hand. Above him stands Sir John Brownlow, Viscount Tyrconnel, a cane in his left hand, dressed in a fawn velvet suit, wearing the sash of the Order of the Bath and its insignia. Mrs Frances Dayrell, Lady Tyrconnel's cousin is seated in a swing wearing a pale green satin closed gown with a muslin apron and a muslin kerchief with pink bows on the bodice and a white muslin cap also with pink bows; A young boy, dressed as a page, stands behind her. He wears a metal collar and turban and is dressed in a dark brown suit with gold buttons and gold edging to his coat, brown breeches and brown stockings. Lady Tyrconnel is seated in a wheeled chair set on a green platform with red wheels, a dog on her lap. She is dressed in a closed gown comprising a brown satin bodice and skirt both decorated with gold military style frogging. She also wears an ornament (jewelled?) of flowers in her hair. Francis Dayrell stands next to her, his left hand in his pocket, his right hand tucked into his open grey coat which is buttoned at the waist; Savile Cockayne Cust pulls a rope attached to the swing and wears a pink coat buttoned to the neck trimmed with silver edging. William Brownlow, Lord Tyrconnel's brother, leaned against a tree trunk, his left leg crossed over his right, wearing a pale brown coat, unbuttoned, with deep pink cuffs and a matching pink waistcoat. He also wears pink stockings. With the exception of the young boy, all the men wear shoulder-length powdered wigs parted in the centre.Note on the young boy dressed as a page: That the page is a child of African descent wearing a metal collar indicates he was enslaved. It is not known if the child was included by the artist as a trope or as a portrait of a real individual.
Full description
This is Mercier's masterpiece, the picture in which he successfully fused his practice of the Watteauesque fête galante with the traditions of the Netherlandish family portrait. The result is the English conversation-piece, a type of portrait that would come to be commissioned by the elite of Georgian society to document their elevated status and their daily rituals of sociability. Perhaps in recognition of this invention, the artist has included an apparently idealised portrait of himself sketching the scene. The picture was painted in 1725–6, some ten years after his arrival in England, but is one of the earliest of his paintings to survive and be identified. The picture is set in the park at Belton with the south front of Belton House in the left background. On the left is Sir John Brownlow, Viscount Tyrconnel (1690–1754), commissioner of the picture and the owner of Belton, wearing the ribbon and star of the newly-revived Order of the Bath, of which he was one of the first new knights. His first wife, his cousin Eleanor Brownlow (1691–1730), sits in a wheeled chair, which is pushed by a young page of African descent. If the page is a portrait of a real person and not merely an artistic flourish (as was sometimes the case), then it is likely that the page was enslaved because of his youth and because of the silver slave collar around his neck. Seated in the swing is Elizabeth Whitcombe, Mrs Francis Dayrell (1700/01–1768), first cousin to Viscountess Tyrconnel. Looking at her, and standing behind Lady Tyrconnel, is her husband, Francis Dayrell (d.1760). Holding the rope of the swing is Savile Cockayne Cust (1698–1772), a constant and welcome guest at Belton and Grantham. He is also included in Enoch Seeman's Cust Family Piece, also at Belton (see NT 436139). Finally, looking out at the right, is William Brownlow, Lord Tyrconnel's only brother (1699–1726). He was something of a sportsman, and no doubt enjoyed Belton for that reason. But he had also come badly out of speculation in the 'South Sea Bubble', and was to leave only £607 net, when he died on 28 July 1726. Indeed, the two brothers act as the repoussoirs of the picture. William catches the eye of the spectator with his own, focusing attention on the carefree scene at its centre. Lord Tyrconnel's early patronage of Mercier was to be particularly significant, because the peer was to become a member of the circle of Frederick, Prince of Wales after the latter's arrival in England in December 1728. Mercier was appointed Principal Painter to the Prince in February of the next year, and almost immediately started on a whole-length state portrait of him, ultimately going on to paint a series of much less formal images of him. Tyrconnel also obtained a further picture from Mercier, a 'Prospect of Belton' that was recorded in his house in Arlington Street in 1738. If, as seems likely, this is The Park at Belton House (NT 436156) that now hangs in the Breakfast Room at Belton, then Mercier – who never seems to have painted pure landscapes – probably restricted his role to the insertion of the figures. Tyrconnel's collecting and patronage of artists was not restricted to Mercier. He was, in fact, the first of the three collectors whose acquisitions made the collections at Belton (and later, Ashridge) amongst the finest in the country. Sadly, after successive sales, both of individual pictures, and of whole slices of the collection – notably at Christie's in 1923 and 1929 – only a shadow of these former glories remains. Tyrconnel's taste does not seem to have been particularly enterprising, but is probably very representative of what it was possible to acquire from 'Picture Marchants in London': a miscellaneous mixture of Dutch, Flemish, and Italian flower-pictures, views, and religious subjects, etc. In a way that was characteristic of the time, however, the Old Masters formed the bulk of the 152 pictures that are recorded as having hung in his London house in 1738, whereas the 196 pictures recorded at Belton in 1737 chiefly comprised – largely inherited – family portraits. Curiously, however, the present picture, neither appears in either of these lists, nor in the posthumous inventory of the house in Arlington Street – which was still virtually devoid of family portraits.
Provenance
Presumably commissioned by Viscount Tyrconnel, but not apparently recorded either at Belton in 1737 or in his house in Arlington Street in 1738, nor in posthumous inventory at the latter on 2 April in 1754; Frances Bankes. Lady Brownlow (1756 - 1847), Hill St; given by her to John, 2nd Baron and 1st Earl Brownlow some time after the death of her husband, the 1st Baron, in 1807 (recorded in Cust catalogue); thence by descent; acquired by the National Trust from 7th Lord Brownlow in 1984 at the same time as he gave Belton, its garden and many of its contents with aid from the National Heritage Memorial Fund.
Credit line
Belton House, The Brownlow Collection (acquired with the help of the National Heritage Memorial Fund by the National Trust in 1984)
Makers and roles
Philippe Mercier (Berlin 1689 – London 1760), artist
Exhibition history
In Trust for the Nation, National Gallery, London, 1995 - 1996, no.17 The Treasure Houses of Britain, National Gallery of Art, Washington, USA, 1985 - 1986, no.166
View more details