Captain Sir Thomas Hyde Page (1746-1821) holding a Plan of Fort Landguard and seen in the distance
James Northcote, RA (Plymouth 1746 – London 1831)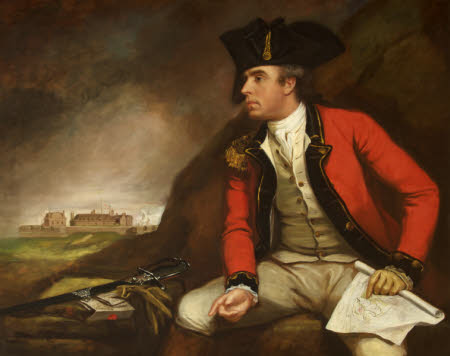 Category
Art / Oil paintings
Date
1783 - 1821
Materials
Oil on canvas
Measurements
991 x 1245 mm (39 x 49 in)
Order this image
Collection
Tyntesfield, North Somerset
NT 20897
Summary
Oil painting on canvas, Captain Sir Thomas Hyde Page, FRS (1746-1821) holding a Plan of Fort Landguard and seen in the distance by James Northcote, RA (Plymouth 1746 – London 1831), 1783. A seated three-quarter-length portrait, in the uniform of the Royal Regiment of Engineers, holding a plan of new works at Languard Fort, and inscribed thus, in his left hand, with Landguard Fort, Suffolk beyond. The plans underneath his sword with the red seal are inscribed: Townshend Fort [Sheerness, Kent] and Languard [Suffolk] and the plan on top is inscribed: Amherst [Chatham, Kent]. In 1777 he married Susanna, daughter of Sir Thomas Crawley-Boevey, 1st Bt (1709-1769), widow of Edmund Bastard of South Warnford, Devon whom she had married in 1766. In 1783 he married Mary Albinia (d. 1794), daughter of John Woodward (formerly Captain in the 70th regiment) of Ringwould, Kent, and they had five children. Their daughter, Mary Albinia, married Sir Thomas Crawley-Boevey, 3rd Baronet (1769–1847).
Provenance
Presumably Sir Francis Crawley-Boevey, 6nd Bt (1868–1928) of Flaxley Abbey, Gloucestershire, by inheritance through the marriage of the sitter's daughter, Mary Albinia (b.1785 - 1835) to her step-cousin, Thomas Crawley-Boevey, 3rd Bt (1769–1847); with Leggatt Brothers, London by 1955; anon. sale Sotheby's, 20 November 1968, lot 83; with Frost and Reed from whom bought by Lord Wraxall for £7,800 in 1972; purchased by the National Trust from the estate of the late George Richard Lawley Gibbs, 2nd Baron Wraxall (1928 – 2001) with the assistance of the NHMF, Art Fund and donations from members and supporters in 2002.
Credit line
Tyntesfield, The Gibbs Collection (National Trust)
Marks and inscriptions
Verso: 1) label with the following information - F.R. [It is important that this label should never br destroyed. The evidence it bears of the registered stock number has in the past proved to be of the very great value for purposes of identification and authenticity. ] Registered number - 43857. Verso: 2)label with the following information, E.Facon Watson, artist and picture restorer. No. 201 Piccadilly, opposite St. Jame's Hall, London. Verso: 3) label with the following information, Exhibition of fine paintings, Bath Festival 1969, Artist, James Northcote, R.A, Title, Portrait of Sir Thomas Hyde Page 1746-1821, Victoria Art Gallery, Bath.
Makers and roles
James Northcote, RA (Plymouth 1746 – London 1831), artist
References
Victoria Art Gallery, Bath, 1969: Bath, Victoria Art Gallery, 1969
View more details