Night: Rocky Inlet with Fisherfolk setting their Nets, cooking and drinking
Claude-Joseph Vernet (Avignon 1714 – Paris 1789)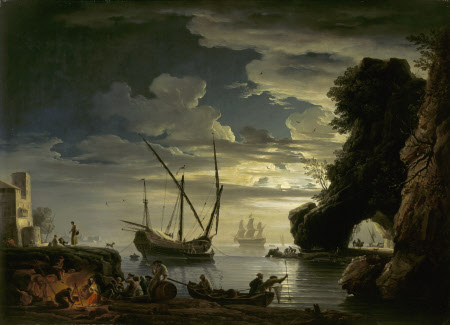 Category
Art / Oil paintings
Date
1751 (signed and dated)
Materials
Oil on canvas
Measurements
991 x 1346 mm (39 x 53 in)
Place of origin
Rome
Order this image
Collection
Uppark House and Garden, West Sussex
NT 138286.1
Caption
Although this set of the Four Times of Day now hangs at Uppark, along with copies of three of them by Lacroix de Marseille, the date of 1751 on both sets indicates that the Vernets were not the ones commissioned by Sir Matthew Fetherstonhaugh in April of that year - which were apparently never executed - but those commissioned the year before by his wife's brother, Benjamin Lethieullier. Night is of a rocky inlet by moonlight, with fisherfolk setting their nets, cooking over a fire, and drinking.
Summary
Oil painting on canvas, Night: Rocky Inlet with Fisherfolk setting their Nets, cooking and drinking by Claude-Joseph Vernet (Avignon 1714 – Paris 1789), signed on stern of rowing-boat: Josph Vernt/f. Romae/1751. The scene shows a seaport by moonlight with figures on the shore in the foreground with some lighting a fire. Ships moored out to sea and a rock in the form of an archway at the right. From the set 'The Four Times of Day. A copy of this by Lacroix de Marseilles is in the Staircase Hall at Uppark.
Full description
Collectors in the eighteenth century, who put paintings to a variety of decorative purposes, liked them in pairs or in sets. The idea of landscapes or marines illustrative of the four Times of Day was thus itself an 18th-century one, which was sometimes even projected back retrospectively onto works of the past - most famously onto the four landscapes (which actually form two pairs of pendants) painted by Claude for Henri van Halmale, Dean of Antwerp Cathedral, now in the Hermitage. Painters in the seventeenth century itself, if they paired landscapes at all - as Claude and Dughet quite often, but Nicolas Poussin and Salvator Rosa more rarely, did - generally preferred to maintain a unity of mood or mode between them. Contrast was less favoured, though Claude sometimes set chill, grey 'Morning' off against balmy, orange 'Evening'; whilst Poussin did on one occasion contrast 'Calm' with 'Storm' , and in his extraordinary swan-song of the four Seasons (Musée du Louvre) he also made each Season a depiction of the corresponding Time of Day. It was the fact that the idea of making sets of the Four Times of Day was in part motivated by the demands of decorative schemes that makes the phenomenon more of an 18th- than a 17th-century one; it was a perpetual plaint of - particularly French - painters in the 18th century, that they were required to paint pictures to serve as overdoors, overmantels, and the like. Vernet was, however, a consummate professional throughout his life, and, if the requirement irked him, he never betrayed it. He had already painted a dozen overdoors for the hôtel in Aix of his patron, the marquis de Simiane, before leaving for Rome (1731-32). When Vernet began his livre de raison in 1735, his commissions were from the first regularly for pairs of pictures; to begin with, mostly for marines, without mention of their character . In this, he was already operating more systematically than his teacher and precursor as a Frenchman painting marines in Rome, Adrien Manglard (1695 -1760) . Interestingly, sometimes just one subject was specified by the client, and the other or others was or were left to Vernet himself: "à ma fentesie [sic]". It was not until 1745 that Vernet records specifically being asked to produce a set of four pictures of the Times of Day - and then, interestingly, it was for an Englishman, "M. Draik Anglois" . This was William Drake (1723 -96) of Shardeloes, who was travelling in a party in Italy in 1744 -45, with the Jacobite scholar, Edward Holdsworth, as his "monitor", and the latter's friend, Dr. Thomas Townson, as tutor to the dissipated James Dawkins; three of whom were painted together in a conversation-piece by the emigré artist and dealer James Russel, in 1744 . Immediately before the commission from Drake, Vernet had recorded another from "M. D'Arquim Anglois", who was none other than Drake's travelling-companion, James Dawkins (1722 -1757). Although he does not say that they were to be of the Four Times of Day, it is clear from their subjects - a pair of marines, representing a [morning] mist and a storm [at midday]; and a pair of landscapes, representing a sunset and a moonlight, that such was the case. Dawkins and Drake's purchases were made in the very year that Vernet married an Irish woman, Virginia Cecilia Parker, daughter of Mark Parker, a captain in the Papal navy, who thereafter sometimes acted as Vernet's agent, and will have helped swell the number of Vernet's British clients. However, the first such commission altogether would appear to have come from a Frenchman, Paul-Hippolyte de Beauvillier, duc de Saint-Aignan (1684 -1776) ; since, though the list of "ouvrages qui me sont ordonnez" in the livre de raison simply says that in 1738/9 Vernet was asked to paint for him: "an overdoor of a moonlight, to make a pendant to the three others that I have already painted for him" [before the livre de raison had been begun], the fact that the three pictures of the same size that were included in Saint-Aignan's anonymous sale in 1776 were of Fishing-boats in a [morning mist], a Storm [at midday], and a Port of Neptune [at sunset] with passengers disembarking ,suggests that the intention was to round off a set of Times of Day. Even more significantly, the Morning Mist was described in the sale as: "the first painting by the Author of this kind" ; which, though it no doubt refers to Vernet's portrayal of this particular atmospheric effect, also almost necessarily implies that it was also the first time that - by broadening his range of effects in this way - Vernet had been able to paint the Four Times of Day. In 1742 he likewise painted for a certain Mme. de Seignon a pair of marines of a Sunset and a Moonlight, as pendants to two other pictures that he had painted previously - either before he had begun the livre de raison, or that he had failed to record . Whilst in 1743 he could paint just two Times of Day for a certain M. Moulon: a [Morning] Mist and a Sunset over a Calm [Sea] . If the British were thus not the first to have commissioned sets of Times of day, they were - with the somewhat sheeplike character noted of those on the Grand Tour - the most consistent in doing so thereafter. Dawkins and Drake in 1745 were followed in 1749 by "Monsieur Wood" (= Robert Wood [?1717-1771], Dawkins's future companion in the 'discovery' of Palmyra), who ordered four oval marines as overdoors on behalf of Joseph Leeson, later Lord Milltown (1701—1783), for Russborough . "M. Bouverie" (= John Bouverie, who in May 1745 had travelled from Rome to Venice with Russel and Dawkins, to meet up with Drake, Holdsworth, and Townson , and who immediately after this commission, was to leave for Asia Minor with Wood and Dawkins, only to die at Magnesia in September) ordered a set of four marines early in 1750, along with two "landscapes with waterfalls &c.". This was evidently the precedent for "M. Latheulier Anglois" later the same year, when he ordered the like - and it is the set of Times of Day from that commission that we have to do with here. 'Latheuilier' was followed in April the next year by "Mons. le chevalier Featherston-Haugh", who ordered a set of four pictures - two marines and two landscapes - whose subjects were left to the artist's "fantaisie", but which he would with pretty fair certainty have similarly executed as the Times of Day . It is here, however, that the patchy and incomplete way in which the over-subscribed Vernet executed his commissions and kept his livre de raison - in which commissions and completions often fail to match - combined with the sparseness of documentation at Uppark itself (even before the tragic fire of 1989), make it difficult to discover exactly what transpired thereafter. "M. Latheulier", and "le chevalier Featherston-Haugh" (the spelling evokes strongly the image of the latter's name being painstakingly spelled out to Vernet - or to his wife - only for him still to get it wrong!) were Benjamin Lethieullier (1729-1797) and his brother-in-law, Sir Matthew Fetherstonhaugh, 1st Bt. (?1714-1774). Each was making the Grand Tour between 1750 and 1752, and they had met up in Rome, in a party consisting of: themselves; Sir Matthew's newish wife and Benjamin's sister, Sarah Lethieullier, Lady Fetherstonhaugh (1722-1788); the younger of the Lethieulliers' two elder half-brothers, whose protégé Benjamin seems to have become, Lascelles Raymond Iremonger (1718/19-1793); Sir Matthew's younger brother Utrick (1717/18-1788); and the future wife of this last, Katherine Durnford. Before leaving England, Arthur Devis had painted two sets of portraits of a number of these, together with further relatives, most probably for Lascelles Iremonger and Sarah Lethieullier, Lady Fetherstonhaugh respectively. In Rome, as well as Vernet being patronised, two further sets of portraits were commissioned, from Batoni - this time probably by Sir Matthew and Benjamin Lethieullier . It is this twinning of commissions, and the fact that Benjamin Lethieullier, being unmarried and childless, seems to have left his pictures to his nephew, that completes the confusion over who was ordering what for whom from Vernet, and what the artist actually painted, before leaving Italy to paint the Ports of France for Louis XV at the behest of Marigny in the autumn of 1753. It is generally assumed that Lethieullier and Sir Matthew was each acting for himself, and that somehow the latter took over his brother-in-law's commissions, when Vernet failed to complete his own before leaving for France. Benjamin Lethieullier was indeed a rich young man, but his particular travelling-companion was then his older half-brother, Lascelles Iremonger; he could therefore (like Wood on behalf of Leeson) have been acting on the latter's behalf when he placed the commission, as he was later to act on his brother-in-law's behalf when placing the commission for the latter's two additional pictures. The fact that Lascelles Iremonger was a younger son, however, makes this unlikely. Lethieullier and Iremonger seem at that point - as they were to be later - to have been travelling independently of the others, and to have arrived at Rome and placed the commissions before Sir Matthew and his party arrived, since - unlike the case of Drake and Dawkins - eight other commissions to Vernet, and several months, came between Lethieullier's and Sir Matthew's. When Lethieullier next placed a commission, however, in March 1752, it was on his brother-in-law's behalf, for a pair of pictures "a ma fantaisie, paysage ou marine" ; no doubt so that Sir Matthew (who had already ordered four pictures for himself), like Lethieullier, would own six pictures by the artist. The last - and only other recorded - payment for a "little picture" was made by "le frere de m. Lathullier" - which must mean Iremonger in person, and was perhaps all that he could afford. There is, indeed, no indication that two sets of Vernets ever actually came into existence. The most plausible explanation for this, and for the simultaneous presence at Uppark of both Vernet's original set of Times of Day and two River Landscapes, and Lacroix de Marseilles' superb copies of three of the former, and of one of the latter, seemed to be Philip Conisbee's: that Vernet's other commitments prevented his even starting on Sir Matthew's commission before he was called away to France in 1753, and that Lacroix was asked to step in to fill the breach. The flaw in this argument is that the four pictures by Lacroix at Uppark (repetitions of three of the Times of Day and of one of the River Landscapes by Vernet) are, or were - for Lacroix's River Landscape was one of the many sad losses of the fire in 1989 - all signed and dated 1751, like their originals - which, indeed, they copy with such consummate fidelity that they would have to have been done directly from them, before their dispatch to England. It therefore looks as if what we have in the Vernets and in the Lacroix copies at Uppark are Benjamin Lethieullier's original commission, together with a partial set of replicas made for his brother-in-law, Sir Matthew Fetherstonhaugh, in immediate substitution for his commission to Vernet, though the latter seems to have continued to think that he would be called upon to fulfil this. There has further been a tendency to assume that the pictures commissioned by Lethieullier in 1750, and completed by Vernet in 1751, hung in the town-house built by James Paine for Sir Matthew in Whitehall in 1754-58 , whereas the Lacroix copies were for Sir Matthew's country house, Uppark. Not only would the hypothesis that is presented here militate against this, since the actual destination of the Vernets would have been one of Lethieullier's houses, Belmont in Middlesex, or Middleton in Hampshire, but so does the testimony of a visitor. For when Horace Walpole visited Uppark on 16 August 1770, he noted: "no tolerable pictures but five or six of Sir Matthew, his wife, & their relations by Pompeio Batoni. Four wax bas reliefs coloured, and done at Naples ..." , which is a strong indication that not even the Lacroix copies were at the house, being the kind of picture that Walpole remarked upon when seen elsewhere. Sir Matthew's pictures - including his set of six Giordanos of The Story of the Prodigal Son, his six Zuccarellis, and other Grand Tour purchases such as a set of four Orizzontes and five Views of Naples by Tomaso Ruiz - were evidently not moved down to Uppark from London until some time after his death, when the London house was sold to the Duke of York in 1787; it may be that - if Vernet ever finally did execute his commission after all - those pictures were then sold (Sir Harry would by that time probably have been aware that he was to inherit his uncle Benjamin's set). A final brief word about Vernet's choice of subjects, and what each represents - not least because some misapprehension as to which scene is which has previously prevailed. The artist's aim was to introduce as much variety as possible into his compositions, and to paint the quintessence of certain types of scenery rather than particular spots (for which there were already plenty of practitioners in Rome and in Naples). The scenes are also all coastal, so as to display the effects of light and atmosphere both at sea and on land. The first scene, Morning, shows the mists gradually lifting, as fishermen haul in their boat after a night's work, and individual anglers make their catches; the 16th-century lighthouse of Naples, known as 'la lanterna del Molo', emerges from the mist. Midday has a sudden storm, of the kind that can unexpectedly develop in the Mediterranean. Evening shows cargo being disembarked from wherries, with spectators come to enjoy the scene and the evening air; the figures, the fortifications, and the grand-ducal crown over the armorial cartouche on these, are all intended to convey a suggestion of Leghorn (Livorno), the port through which most of the British entered Central Italy. Moonlight shows a rocky inlet, with fishermen setting their nets, and others gathered round a fire, or smoking and drinking. These were scenes that Vernet was to paint, with a kaleidoscopic variety of settings and staffage, throughout his career - but rarely again with a more successful combination of freshness and refinement than he has deployed here.
Provenance
Commissioned by Benjamin Lethieulllier; with Fetherstonaugh family at Uppark, and by descent; acquired by HM Treasury in 1965 in part payment of death duties and transferred to the National Trust, September 1990
Credit line
Uppark, The Fetherstonhaugh Collection (National Trust)
Marks and inscriptions
Joseph Vernet f Roma/1751 (signed and dated on back of rowing boat)
Makers and roles
Claude-Joseph Vernet (Avignon 1714 – Paris 1789) , artist
Exhibition history
Turner and the Sea, National Maritime Museum, Greenwich , 2013 - 2014, no.7 In Trust for the Nation, National Gallery, London, 1995 - 1996, no.56d Souvenirs of the Grand Tour, Wildenstein, London, 1982, no.51
References
Turner and the Sea, Royal Museums Greenwich, National Maritime Museum, Greenwich, 22 November 2013 – 21 April 2014 and Peabody Essex Museum, Salem, USA, 31 May -1 September 2014
View more details