The Death of Cleopatra
Pierre Mignard the elder (Troyes 1612 - Paris 1695)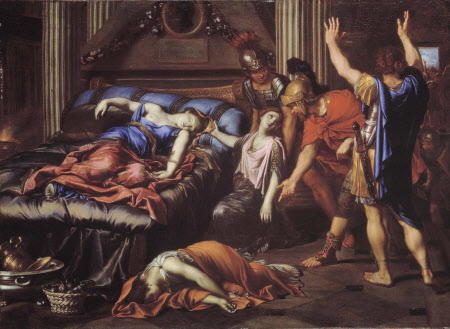 Category
Art / Oil paintings
Date
circa 1635
Materials
Oil on canvas
Measurements
978 x 1340 mm
Place of origin
Rome
Order this image
Collection
Knole, Kent
NT 129988
Caption
Queen Cleopatra of Egypt lies stone dead on her bed, the poisonous asp still wrapped around her arm. One of her maidservants, Iras, lies dying on the floor and distraught Charmian, adjusting her mistress's diadem, is being saved from falling by one of the Roman soldiers who have arrived at the horrific scene. The historical story is related in the biography of Mark Antony in the Greek Plutarch's Lives (44:86) from the late 1st century.
Summary
Oil painting on canvas, The Death of Cleopatra by Pierre Mignard the elder (Troyes 1612 - Paris 1695), inscribed 'DIS MANIBUS / M.ANTONIII.PHILIP / c. ARMENIANII', circa 1635. It was engraved in 1815 as a work by Domenichino. It was recognised as a Mignard by Jean-Claude Boyer, who included it in his 1990 Louvre exhibition on Mignard (for which it was restored). Boyer described the painting as a key work from Mignard's earliest years in Rome. See Jean-Claude Boyer, Le peintre, le roi, le héros: l'Andromède de Pierre Mignard, exhibition catalogue, Paris, Musée du Louvre (Pavillon de Flore), 17 January - 23 April 1990.
Provenance
In 1799 Knole inventory; [...]; purchased by the National Trust from the Trustees of the Knole Second Trust Fund by private treaty with funds provided by a bequest from Mrs Diana Rosemary Wray-Bliss (1933 - 1999), 2006.
Credit line
Knole, The Sackville Collection (National Trust)
Makers and roles
Pierre Mignard the elder (Troyes 1612 - Paris 1695), artist previously catalogued as attributed to Domenico Zampieri Domenichino (Bologna 1581 - Naples 1641), artist
View more details