Realdo Matteo Colombo (1515–1559)
Francesco Salviati del Rossi (Florence 1510 – Rome 1563)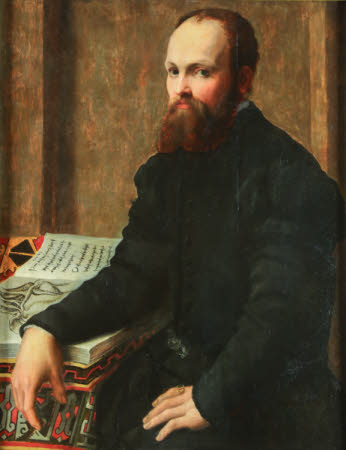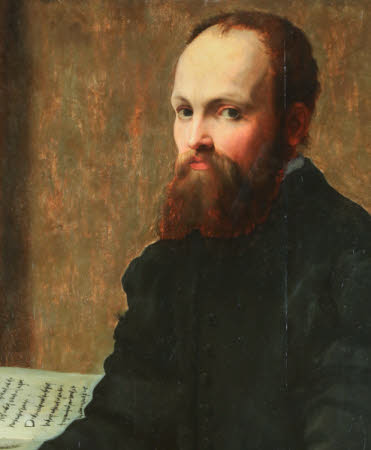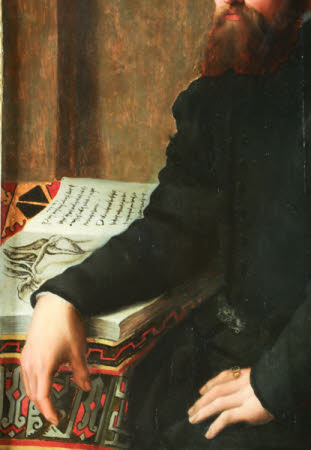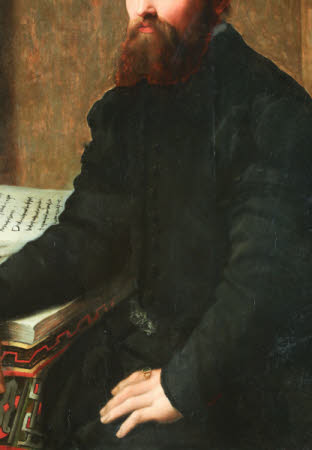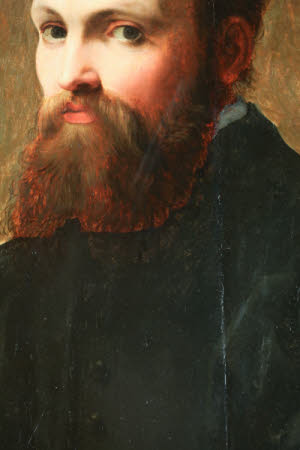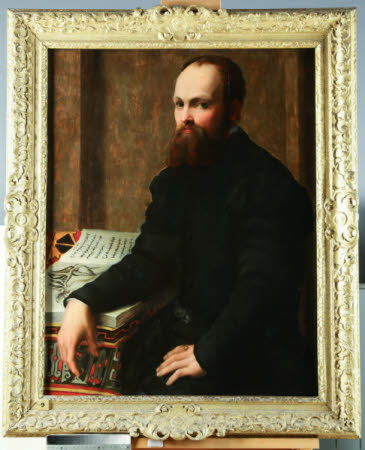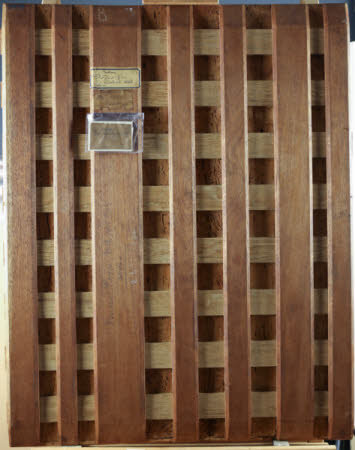 Category
Art / Oil paintings
Date
1530 - 1569
Materials
Oil on wooden panel
Measurements
889 x 711 mm (35 x 28 in)
Place of origin
Italy
Order this image
Collection
Tatton Park, Cheshire
NT 1298173
Summary
Oil painting on panel, Realdo Matteo Colombo (1515-1559), by Francesco Salviati del Rossi, also called Il Cecchino del Salviati or Il Salviati (Florence 1510 - Rome 1563). A three-quarter length portrait of a man with receding auburn-brown hair, moustache and a slightly forked spade beard. The sitter wears a black doublet, black padded hose, a waist belt with silver buckle cast in relief with mascaron, and a gold ring with green jewel on the index finger of the proper left hand. He is seated before an alcove and turned to proper left, looking directly at the viewer. The left hand rests on the lap, the left elbow angled forward, while the right forearm rests on an open book placed on a table covered with an Ottoman rug. The left page of the book shows an anatomical drawing, the right page inscribed with manuscript. Realdo Matteo Colombo was one of the first European scientists to describe pulmonary circulation, or the movement of blood between the heart and the lungs. Born in Cremona in 1515, Colombo was apprenticed to a surgeon before studying medicine and anatomy at the University of Padua in 1540. In 1546 he became the first professor of anatomy at the University of Pisa and later moved to Rome, where he taught at La Sapienza and also served as surgeon to Pope Julius III and physician to the artist Michelangelo. His treatise, De re anatomica (On Anatomy), was published in 1559 and contained original observations on his experiments in vivisection and human dissection. Colombo made several important advances in understanding the pulmonary circuit, the phonatory (voice) system, and the female reproductive system.
Provenance
Bequeathed by Maurice Egerton, 4th Baron Egerton of Tatton (1874 - 1958) to the National Trust with the house, gardens and contents of Tatton Park
Makers and roles
Francesco Salviati del Rossi (Florence 1510 – Rome 1563) , artist previously catalogued as by Italian (Florentine) School, artist previously catalogued as attributed to Italian (North Italian) School, artist
References
Kornell 2022: Monique Kornell et al, Flesh and Bones: The Art of Anatomy, exh.cat. Los Angeles, Getty Research Institute, 2022, p. 126, no. 16, fig. E.
View more details