Sir Francis Blake Delaval, KB (1727 - 1771)
Sir Joshua Reynolds PRA (Plympton 1723 - London 1792) and Studio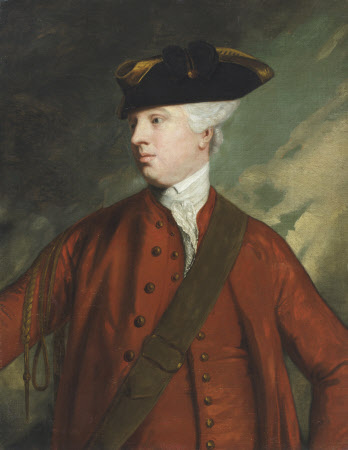 Category
Art / Oil paintings
Date
circa 1759
Materials
Oil on canvas
Measurements
914 x 711 mm (36 x 28 in)
Place of origin
England.
Order this image
Collection
Seaton Delaval Hall, Northumberland
NT 1276714
Caption
This portrait was damaged after a fire at Seaton Delaval in 1822. The quality of the face suggests that it is - at least partly - an autograph work by Reynolds. Sir Francis sat to Reynolds in 1758 and 1759, documented by records in his Pocket Book. The prime version is in a private collection, but it seems possible that other autograph copies were made. Sir Francis was an idle, debauched, rake. He loved the theatre and practical jokes, but he soon accumulated vast debts. He dabbled at being an MP, and his short stint in the army is depicted here. It shows the siege of St Malo in Brittany, after which Sir Francis was awarded a knighthood for bravery for being the first to storm the beach – on which, however, there happened to be no opposition! The conflict in the background of this picture, is therefore, entirely fictional.
Summary
Oil painting on canvas, Sir Francis Blake Delaval, KB, MP (1727 – 1771), by Sir Joshua Reynolds PRA (Plympton 1723 - London 1792), circa 1759. Half-length, standing, facing left, wearing scarlet uniform with regimental facings, cocked hat, musket with bayonet in gloved right hand; in the background, dark smoke, a ship being wrecked and soldiers storming ashore.
Full description
The eldest son of Captain Francis Delaval (1692 – 1752) and Rhoda (d.1759), daughter of Robert Apreece of Washingley, Hunts. Francis was the character behind many of the practical jokes, for which the 'Gay Delavals' were famous. Early on he was lured by London and, according to Walpole, an Italian lady called the 'Tedeschi' (probably the Venetian opera singer, Caterina Tedeschi), although, having found her 'in flagrante', he was driven to horsewhipping her lover. He kept an illegitimate cousin, Betty Roach, as his long-term mistress in London, and she bore him two children, Francis and Frances [!]. She had been sent to Seaton Delaval on the death of her guardians in the hope of a sheltered upbringing. She later married an Irish Baronet, Sir Henry Echlin, but still smitten with Francis, left him, only to spend her later years alone. Francis led an idle life, centred around the theatre and theatrical circles, accumulating vast debts in the process. In order to settle his debts, he married, on 10 March 1750, Isabella, the widowed daughter of 6th Earl of Thanet. Some sixty years of age and going senile, and – more importantly - with a reputed fortune, she was seemingly well-placed to solve his financial problems. Her fortune was not, however, as handsome as he had hoped. Nevertheless, in 'celebration' of the marriage, in 1752 Francis spent £1500 to hire the Drury Lane Theatre, where the Delavals staged a production of Othello, Sir Francis playing the eponymous hero. Isabella later sued Francis for committing adultery with Betty Roach, but lost the case, eventually dying in obscurity. By October 1766 Francis had had his own private theatre in St. James's Street fitted out by Richard Edgeworth. The family staged The Fair Penitent, with the family taking part, as well the Duke of York, who played the seducer, Lothario. He managed to be elected as an MP for various different seats, but did little work. However, in 1758, he enlisted in the army, finding himself part of an expeditionary force ordered to attack the Brittany coast at St Malo. He was the first to storm the beach, but his bravery was not entirely merited – there was no opposition to greet him! For being the first Grenadier to storm the beach he was awarded a knighthood. Having left the army soon after, the story, did however, provide him with a tale to dine out on. He succeeded his father in 1752, at which point he invited some four thousand people to watch fire eaters, rope walkers and conjurers performing at Seaton Delaval. Although he lived in London, he spent considerable time there, especially in 1765 when he rebuilt the stable block, which he had likened to Lord Hoptoun's, with stone divisions of the stalls. Debts continued to amount, such that Francis gave up most of his inheritance in return for an annual allowance, and his brother John was left in control of some of the estates, of which he had entire control by 1770. On 7th August 1771, after a huge meal, he collapsed and died at the age of 44. within hours, creditors were besieging the house. His funeral, at Seaton Delaval, fittingly, became a public spectacle. (for a full biography see M. Green, The Delavals. A Family History, Newcastle, pp.49 ff.) Mannings does not mention the present picture, but the quality of the head is such that it could be a partially autograph version. Probably originally a whole-length, the lower half of the painting is said to have been destroyed in the 1822 fire, which would explain the poor quality of the draperies, which were anyhow probably executed by assistants. Mannings surmises that there were enough sitting appointments in 1759 for more than one version of the whole-length. Could he, however, have produced three? There are various appointments in Reynolds's Pocket Book from December 1758 until February 1759. His name also appears in a list of memoranda, week beginning 24 December 1759, which perhaps indicates the picture was still in progress. Mannings surmises that it may have been passed to an assistant for completion or even sent out to a drapery painter. Waterhouse noted the existence of an undated receipt (Curraghmore): 'Received from John Hussey Delaval Esq the sum of sixty pounds for Sir Francis Delaval's Picture whole length by me, J Reynolds'. Delaval had gone to fight in France as a 'distinguished volunteer', being given a brevet commission for the duration only on 23 May 1758. The portrait commemorates the night of June 7th 1758 and the following day when 'troops burned above 100 sail of shipping, together with a great number of magazines filled with naval stores, at St Servan, and Solidore, a fauxbourg to St Maloes, with a large and open harbour' (A Journal of the Campaign on the Coast of France, 1758, quoted by Carman 1952, 113-14, cited in Mannings, p.164). (Amanda Bradley, 2015)
Credit line
Seaton Delaval, The Hastings Collection (National Trust)
Marks and inscriptions
Frame tablet: SIR FRANCIS DELAVAL, K.B. / of Seaton Delaval and Ford Castle, Northumberland / B.1727. D.1771 / SIR JOSHUA REYNOLDS
Makers and roles
Sir Joshua Reynolds PRA (Plympton 1723 - London 1792) and Studio, artist Sir Joshua Reynolds PRA (Plympton 1723 - London 1792), artist after Sir Joshua Reynolds PRA (Plympton 1723 - London 1792), artist
View more details