Jane Shore (c. 1450 - 1526/7)
British (English) School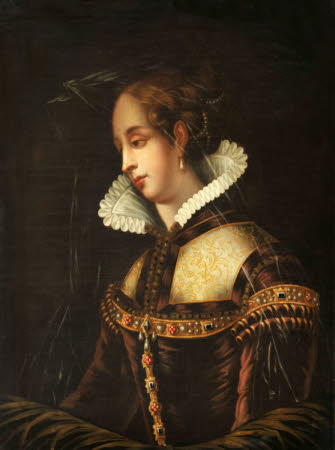 Category
Art / Oil paintings
Date
1700 - 1799
Materials
Oil on canvas
Measurements
749 x 622 mm (29 ½ x 24 ½ in)
Place of origin
England.
Order this image
Collection
Powis Castle and Garden, Powys
NT 1180920
Caption
Jane Shore was one of the many mistresses of King Edward IV of England. Through her liaisons with the king and several other prominent courtiers she became entangled in the political intrigues that led to the usurpation of Richard III and the revival of Civil War in the 1480s. As Thomas More noted in his History of King Richard III (c.1513): "…she delighted not men so much in her beauty as in her pleasant behaviour. For a proper wit had she, and could both read well and write, merry in company, ready and quick of answer, neither mute nor full of babble, sometimes taunting without displeasure, and not without play." Jane later became a recognised penitent, and in the early eighteenth century, the image of her in this guise was a popular subject. There are similar versions of this painting, from the same period, at Penrhyn Castle (NT 1420364) and Chirk Castle (NT 1171107).
Summary
Oil painting on canvas, Jane Shore (c. 1450 - 1526/7), English School, 18th century. A half-length imaginary portrait, to left, in hybrid costume of around 1545/55, in a brown velvet dress and lace collar wearing pendant earings, in the guise of a penitent, looking down, in transparent veil, V-shaped ruff, and dress ornamented with embroidered panels over her upper breast, and with a jewelled band across her breast and shoulders and down her front. She was mistress of Edward IV. Recorded as having been in the front parlour of Clive of India's house in Berkeley Square in 1771.
Credit line
Powis Castle, The Powis Collection (National Trust)
Makers and roles
British (English) School, artist
View more details