Lady Diana Cecil, Countess of Elgin (1596 - 1654)
British (English) School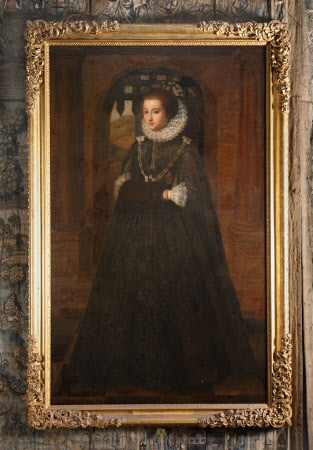 Category
Art / Oil paintings
Date
1624 - 1625
Materials
Oil on canvas
Measurements
2032 x 1213 mm (80 x 47 3/4 in)
Place of origin
England.
Order this image
Collection
Hardwick Hall, Derbyshire
NT 1129100
Caption
The sitter was the daughter of William Cecil, 2nd Earl of Exeter (d.1640) and Elizabeth Drury (1579-1654), his second wife. This picture was formerly attributed to Honthorst, as a portrait of Elizabeth of Bohemia. It has been proposed that that Diana Cecil was painted when her first husband, Henry de Vere, 18th and last Earl of Oxford (1593-1625) was imprisoned in the Tower between 1622 and 1623, to which the portcullis is an allusion. However, they did not marry until January 1624. The landscape seen through the portcullis is probably a symbol of her own feudal seat, not the Tower of London. In 1629, the Countess married Thomas Bruce, 2nd Lord Bruce of Kinloss and 1st Earl of Elgin (1599-1663), whose portrait is also at Hardwick. He succeeded his elder brother in the Scottish barony in 1613 on the death of his father in a famous duel at Bergen-op-Zoom with Edward Sackville, 4th Earl of Dorset (1590-1652).
Summary
Oil painting on canvas, Lady Diana Cecil, Countess of Elgin (1596 - 1654), British (English) School, 1624-1625. A full-length portrait, turned slightly to the left, standing with her hands in a muff, wearing a dark embroidered dress and white lace collar and cuffs; a portcullis gateway in the background.
Credit line
Hardwick Hall, The Devonshire Collection (acquired through the National Land Fund and transferred to The National Trust in 1959)
Makers and roles
British (English) School, artist previously catalogued as attributed to Gerrit van Honthorst (Utrecht 1590 – Utrecht 1656), artist previously catalogued as attributed to William Larkin (London c.1585 – London 1619), artist
View more details