Sir Abraham Hume, 2nd Bt, FRS (1749-1838) (after Sir Joshua Reynolds)
John Jones (London c.1745 – 1797)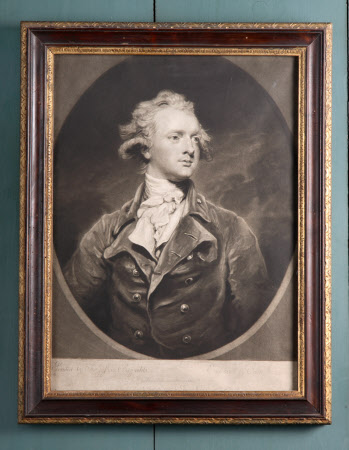 Category
Art / Prints
Date
1783
Materials
Glass, Paper, Wood
Measurements
440 x 345 mm
Place of origin
Great Portland Street
Order this image
Collection
Nunnington Hall, North Yorkshire
NT 979842
Summary
Print, mezzotint, Sir Abraham Hume, 2nd Bt, FRS (1749-1838) (after Sir Joshua Reynolds) by John Jones (London c.1745 – 1797). Engraved and published by John Jones 1783. (For original see 3023224 - Belton) Sir Abraham Hume, 2nd Bt, FRS, FSA (1748-1838) was from an Anglo-Scottish family associated with the East India Co., and was the son of Sir Abraham Hume, 1st Bt., who in 1765 inherited the estate at Wormleybury from his elder brother, Alexander, and had got the Scotsman Robert Mylne to build, and Robert Adam to decorate, his house there. His son succeeded him in 1772; and to the ancestral Berwickshire estate of Fernyside, on the death of his cousin, Elizabeth Robertson in 1785. The 2nd baronet was born at his father's house in Hill Street – also built by Robert Mylne, and to which he was to add a drawing-room designed by Robert Adam – in 1749. He began the conventional way, getting himself elected as M.P. for Petersfield in 1774, but he lost the seat in 1780, and did not succeed in getting back in Parliament until 1807 to 1818, when he sat for Hastings. His earliest interests were in minerals and precious stones, of which he was to make a notable collection, and for distinction in this field he was elected F.R.S. in 1775. When he died in 1838, he was the Royal Society's senior fellow. He became one of the founders of the Geological Society, and served as its Vice-President from 1809 to 1813. He was acquainted with the dilettanti of the day and was an intimate friend of Reynolds, and was one of the founder members of the British Institution in 1805. John, later 2nd Earl Bronlow, married Sophia, his younger daughter, in 1810. Although he had bought a copy of a Titian in 1773, and a Bassano around 1779, Hume's interest in art may have been really awakened by the belated Grand Tour that he made with his wife and their then only daughter, Amelia, in 1786-7. He was, above all, taken by Venice and its painters, and it was there that he formed a relationship of trust with the collector-dealer, Giovanni Maria Sasso, from whom, and on whose recommendation, he was to purchase most of his Italian pictures after his return to England, although he also had a trusted agent in Bologna, Giovanni Antonio Armano, who was a friend of Sasso's. It was then that he bought his first major purchase that we know of, Giovanni Bellini's Portrait of a Condottiere, which is now in the National Gallery of Art, Washington, as well as half-a-dozen other pictures, three of them via Sasso from Florence, and two of them from Bologna. The trip was also fruitful in another way, in that after their return, and following a gap of sixteen years, Lady Hume bore him a second daughter, Sophia, who, twenty-two years later, became the wife of Lord Brownlow, and thus, eventually, resulted in these and all Sir Abraham's other pictures coming to Ashridge and to 8 Carlton House Terrace. Although Hume's collection has largely been dispersed around the globe we not only have a catalogue of it drawn up by himself, with a preface giving some of his thoughts about it, but we also have much of his correspondence with Sasso and Armano, both their letters to him, and copies of his letters to them. This correspondence was given to the National Gallery by the Cust family in 1931.
Marks and inscriptions
Painted by Sir Joshua Reynolds. Engraved by John Jones 1783/(Abraham Hume)/Pub.d as the Act directs Sep.t 13th 1783 by J Jones n.63 Great Portland Street [written in pencil at the foot of the engraving].
Makers and roles
John Jones (London c.1745 – 1797), engraver after Sir Joshua Reynolds PRA (Plympton 1723 - London 1792), artist
View more details