Tester bed
possibly James Paine the Elder (Andover 1717 – France 1789)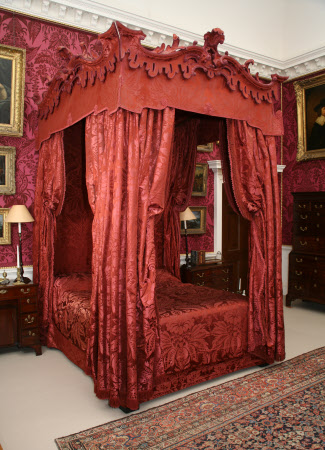 Category
Furniture
Date
circa 1750
Materials
Mahogany, Oak, Beech, Softwood, Brass, Iron, Silk damask, Paint, Gilt
Measurements
317 x 210 x 220 cm
Place of origin
England.
Order this image
Collection
Nostell Priory, West Yorkshire
NT 959765
Summary
A tester bed, English, circa 1750, possibly designed by James Paine (1717 - 1789), possibly re-furbished by Thomas Chippendale (1718 - 1779). With a shallow domed canopy edged with a scrolling and moulded cornice, with a pierced lambrequin fringe and centred to each side by an acanthus spray. The posts turned and fluted and on block feet. Damaged in the fire of 1980, and re-upholstered with modern crimson damask, based on an 18th century pattern. The drapery of the bed, with 'reefed' curtains, is derived from a drawing for the hangings of the bed in the Nostell archives, probably draughted by an upholder in the 1740s or 1750s. The curtains and window cornices to this room - also replaced after the fire - match those of the bed.
Full description
This bed, now in the Crimson Room (once called the Amber Room), is probably one of the many beds referred to in surviving documentation relating to Chippendale's work for Nostell Priory. However, since there are several surviving beds with fluted pillars and carved cornices in the house, it is hard to be sure to which beds the entries in accounts and correspondence refer. However, scholars believe that this bed in the Crimson Room is possibly the subject of two entries. On 30th October 1767, there is an invoice for dying some silk bed hangings and supplying 'A Set of rich carv'd Cornices cover'd and laced' and two fluted mahogany pillars. Another invoice of 22nd October 1767, again refers to dying existing bed-hangings and for supplying two fluted mahogany pillars and 'Covering the old Cornices'. This reference to refurbishing, rather than making new, the bed, is the best fit for a bed which is of an earlier style and actually conforms to designs which survive from the middle of the 18th century, i.e. before Thomas Chippendale is thought to have been supplying furniture for Nostell Priory. There are several surviving sketches for beds in the archives at Nostell, two by James Paine (only one is signed) and one rougher drawing which is anonymous but believed to be by an upholder or upholsterer. The shape or outline cornice of the bed in the Crimson Room is a close match for the cornice depicted in the latter drawing, but its pierced lambrequin fringe is similar to that in the unsigned sketch by James Paine. Thomas Chippendale was involved at Nostell prior to the supply of his first piece of furniture for the house in 1767, however, and the pierced lambrequin fringe to the cornice does conform to designs published in his 'Director', so his involvement in the design of this bed cannot be ruled out.
Provenance
Probably purchased by Sir Rowland Winn, 4th Baronet (1706 - 1765) and thence by descent, and accepted by HM Treasury in lieu of death duties on the estate of Rowland Winn, 4th Baron Oswald (1916 - 1984), 1986.
Makers and roles
possibly James Paine the Elder (Andover 1717 – France 1789), designer possibly Thomas Chippendale (Otley 1718 - London 1779) , refurbisher
References
Jackson-Stops 1974: Gervase Jackson-Stops. "Pre-Adam furniture designs at Nostell Priory." Furniture History 10 (1974): pp.24-37. Boynton and Goodison, 1969: Lindsay Boynton and Nicholas Goodison. "The furniture of Thomas Chippendale at Nostell Priory." Burlington Magazine III June 1969: pp.350-60., p. 360 Boynton and Goodison, 1968: Lindsay Boynton, and Nicholas Goodison. "Thomas Chippendale at Nostell Priory." Furniture History 4 (1968): pp.10-61., pp. 16 - 18, 44 - 45 Gilbert (1978): Christopher Gilbert, The Life & Work of Thomas Chippendale (1978), 2 volumes., Vol. I, p. 186 Chippendale, Thomas, 1718-1779 gentleman and cabinet-maker's director. [1754]., Plate XXXI Chippendale, Thomas, 1718-1779 gentleman and cabinet-maker's director: M DCC LXII [1762]., Plate XLIII
View more details