Court cupboard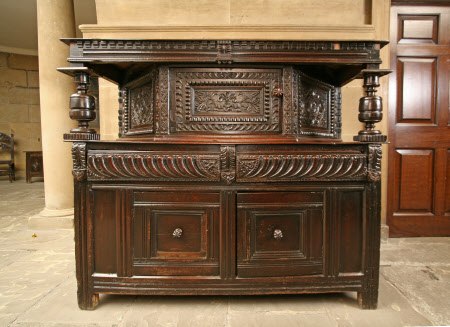 Category
Furniture
Date
circa 1630 - circa 1660
Materials
Carved, turned and joined oak
Measurements
140 x 164 x 59 cm
Place of origin
England
Order this image
Collection
Nostell Priory, West Yorkshire (Accredited Museum)
NT 959679
Summary
An oak court cupboard, English, mid-17th century. With a dentil-applied cornice centred by a leaf-carved corbel, above turned bulbs (now upside-down), flanking a canted, paneled cupboard. Each panel carved with foliage and within a gadrooned surround. The lower section with a gadrooned drawer above a pair of paneled doors within moulded rails and flanked to each side by a slender panel. On stile supports.
Full description
Once thought to have come from the 17th century house at Nostell, surviving bills and receipts suggest that much of the oak furniture at Nostell Priory was in fact purchased by Charles Winn (1795 - 1874), who inherited a house with many rooms unfinished. An interested antiquarian, Winn chose to furnish some of the rooms, such as the Lower Hall, Vestibule and West Passage, with furniture of the 16th and 17th centuries. Payments were made by Winn to E. Terry of Thornes, near Wakefield, for 'sundry pieces of antique oak furniture' in 1834 and to John Swaby, a curiosity dealer of Wardour Street, London, for 'several pieces of old carved wood' in May 1821, some of which were probably used by Winn to reconstruct parts of the interior of Wragby Church. Swaby made frequent buying trips to the Continent, and may well have supplied Winn with pieces like NT 959707, a Continental armoire, and NT 959805, a largely 16th century French cabinet in the manner of du Cerceau. Some pieces, such as NT 959709 (a chair), NT 959708 and NT 959826 (both settles), amongst others, were obviously fabricated in the 19th century, although all such pieces at Nostell do incorporate timber from genuine pieces of early furniture. Much of the oak furniture at Nostell is typically Yorkshire in style.
Provenance
Possibly purchased by Charles Winn (1795 – 1874), thence by descent and transferred from the Treasury in lieu of tax in 2007.
References
Westgarth 2009, M. Westgarth, 'A Biographical Register of Nineteenth Century Antique and Curiosity Dealers', Regional Furniture XXIII (2009), 1 - 205, 17, 35 - 41, 109, 131, 169 - 171, 172 & Plates 21 - 27. This cupboard illustrated Plate 23. Raikes, 2003: S.Raikes. ""A cultivated eye for the antique": Charles Winn and the enrichment of Nostell Priory in the nineteenth century." Apollo 157.494 (2003): pp.3-8., 5 - 6, Figure 6
View more details