The Marriage of Paris and Helen (fragment)
Aubusson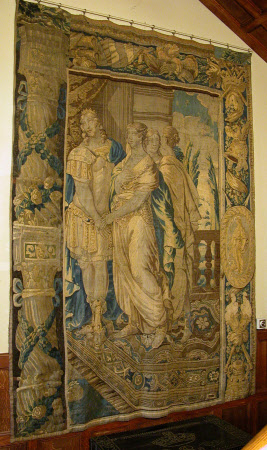 Category
Tapestries
Date
circa 1652 - circa 1670
Materials
Tapestry, wool and silk.
Measurements
2.9 m (H); 2.0 m (W)
Place of origin
Aubusson
Order this image
Collection
Scotney Castle, Kent
NT 792495
Summary
Tapestry, wool and silk, The Marriage of Paris and Helen (fragment), Aubusson, c. 1652-1670. Paris, wearing a crown and armour, stands holding hands with Helen on a decorated carpet. The pair look out of the scene to the left. Behind them on the right there is a female figure with her back to us and a low balustrade with a view to a landscape with trees. At the top and right hand side there is a rich border decorated with military trophies and a large medallion on the right with a female figure. On the left of the tapestry an unrelated border has been attached, with Solomonic columns and bands of leaves twisted around them. There is no lower border.
Full description
The tapestry would once have formed the right hand side of a larger piece representing the marriage of Paris and Helen, with Paris's parents King Priam and Queen Hecuba enthroned in the centre, piles of wedding presents in the foreground and a group of courtiers in the left. The scene is part of a series of eight designs the 'History of Paris and Helen' woven at Aubusson in the second half of the seventeenth century. The design of the series has recently been attributed to Isaac Moillon (1614-1673), and the cartoons were painted by the Aubusson painter François Finet (1636-1706). Archival documents reveal that the series was already in production by 1652 (de Reyniès and Laveissière 2005, pp. 137-157). (Helen Wyld, 2013)
Makers and roles
Aubusson, workshop Isaac Moillon (Paris 1614 - Paris 1673), designer François Finet (c. 1636 - 1706), Cartoon Painter
References
de Reyniès and Laveissière, 2005: Nicole de Reyniès and Sylvain Laveissière, Isaac Moillon (1614-1673), Un Peintre du Roi à Aubusson, Aubusson 2005
View more details