Model junk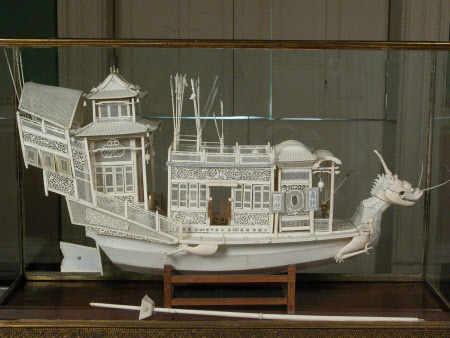 Category
Ivory and bone
Date
1750 - 1775
Materials
Ivory, painted; glass and brass
Measurements
540 x 840 x 330 mm
Place of origin
Guangzhou
Order this image
Collection
Osterley Park and House, London (Accredited Museum)
NT 771742.1
Caption
A Chinese Junk is a type of ship, still in use today. This model 'Royal Junk' was for the Emperor and has a dragon head on its prow.
Summary
Model of a Chinese sampan, one of a pair, painted ivory on wooden bases with glass cover. On the sampan there is a 'house' with a portico in the middle, a second 'house' with a second level at the end, with a dragon head at the front. Spheres and lamps on the roof of the houses in the middle. The vessels were known as 'Royal Junks', the dragon prow was for the Emperor and the phoenix for the Empress. The base is rectangular veneered with walnut, inlaid with stringing lines in a light wood round the edge. There is a brass strip with a guilloche motif along each side and a tapered brass foot at each corner.
Full description
Model of a Sampan with a dragon prow, made in Guangzhou (Canton), circa 1750-75. Canton artisans were skilled in carving ivory imported from South and South-East Asia. Sampan or pleasure boats were a familiar sight to visitors to Canton and these models were made as novel souvenirs for Western visitors. A similar model in the VIctoria and Albert Museum was acquired in Canton by Richard Hall (1764-1834), the 'supercargo' or senior officer in charge of the East India Company's operations in China between 1785 and 1802.It was propelled by a clockwork motor.
Provenance
Child Family Heirlooms. The 1782 inventory records in the [Long] Gallery 'Two India Sandpans[Sampans] of Ivory with Plate Glass Cases in brass frames on two and gold Japanned Tables'.
View more details