Library armchair
manner of Giles Grendey (1693-1780)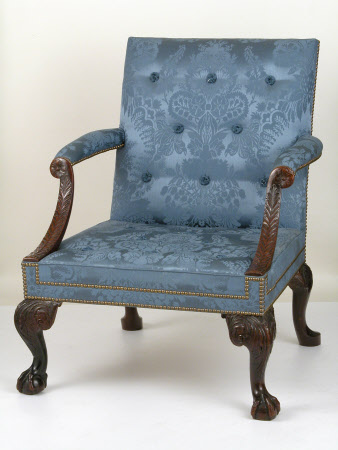 Category
Furniture
Date
circa 1750
Materials
Mahogany, damask
Measurements
95 x 78 x 80 cm
Place of origin
London
Order this image
Collection
Stourhead, Wiltshire
NT 731607.9
Summary
One of a set of sixteen mahogany and upholstered open armchairs or library armchairs, in the manner of Giles Grendey (1693-1780) London, circa 1750 With a buttoned padded back and seat upholstered in a floral patterned blue damask. The padded arms held by acanthus carved, down swept arms with flower head scroll terminals. Raised on four acanthus and scroll carved cabriole legs, the front legs with claw and ball feet, the back legs with pad feet. Brass upholstery studs, some alteration to the beech and deal seat rails.
Full description
These chairs share some characteuristics with examples known to be by Giles Grendey (1693-1780). Although in essence a common format for library armchairs, their carved flower-head arm terminals, acanthus carved arm supports and the overall form of cabriole legs and claw and ball feet, are derived from designs by Grendey. A chair with the flower terminals formed part of the celebrated collection of Percival D. Griffiths at Sandridgebury, Hertfordshire (illustrated in Symonds, op.cit, p.155, fig.102) which was sold as part of the Griffiths sale, Christie's, London, 11 May, 1939, lot 285, and again 7 April, 1983, lot 155. See also: Christie's London, 23 May 2012, lot 279 for a pair of George II mahogany library armchairs, by Giles Grendey, circa 1750. There was certainly a professional relationship between the Hoares and Grendey, British and Irish Furniture Makers online lists various accounts at Stourhead, (Henry Hoare). 1746–56 account book payments, including 29 April 1746 £64 for chairs; March 27 1751, £133 2s 9d; June 24 1752, £10 17s. [Wilts. RO, MS 383/6]. Also Barn Elms, Surrey (Richard Hoare). 1732 bill for chest of drawers, 'Burow Table'. dressing glasses, chimney glasses, 'Wrighting Disk', etc. Total £38 14s 6d; 1732 bill for wall sconces, gold frames for glasses, tables, chest, etc. Total £14 16s 6d; 1737 bill for dressing chair, cabinet with glass doors, etc. Total £21 17s; 1739 bill for alterations to furniture, glass frames, etc. Total £17 6s 6d. [V & A Lib., English manuscripts, tradesmen's bills, Sir R. Hoare, 1731– 54, 86 NN3] The Stourhead chairs listed above are more likely to refer to the set of fourteen dining chairs (NT731628). James Weedon (January 2018)
Makers and roles
manner of Giles Grendey (1693-1780), furniture designer and maker
References
Beard, Geoffrey W. Dictionary of English furniture makers, 1660-1840 1986.
View more details