The Nannau Oak
Sir Richard Colt Hoare, 2nd Baronet (1758-1838)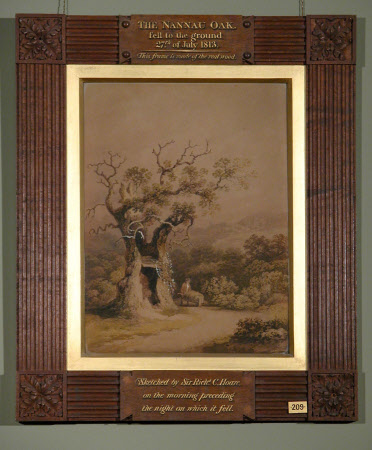 Category
Art / Drawings and watercolours
Date
27 Jul 1813
Materials
Watercolour on paper
Measurements
470 x 349 mm (18 1/2 x 13 3/4 in)
Place of origin
Gwynedd
Order this image
Collection
Stourhead, Wiltshire
NT 730728
Summary
Watercolour on paper, The Nannau Oak by Sir Richard Colt Hoare, 2nd Bt (1758-1838), 27 July 1813. Inscribed on front of frame made of wood from the Nannau Oak : 'The Nannau Oak fell to the ground 27 July 1813. This frame is made of the real wood and on a little wooden label in gold: Sketched by Sr Richd. C. Hoare on the morning preceding the night on which it fell'. The famous tree (Derwen Ceubren yr Ellyll: 'the hollow oak of the demon') in Merionethshire (now Gwynedd) was associated with Welsh mythology. This famous oak tree stood in the grounds of Sir Robert Williams Vaughan's house in Cardiganshire, and according to tradition contained within its trunk the body of a Welsh chieftain, Howard Sele, who had been immured there by order of Owen Glendower (Owain Glyndwr).
Marks and inscriptions
Verso: Framers label: Smith, Picture frame Maker, by Appointment. to his Majesty the King...&c Verso: Inscribed in pencil on verso: MIIB and 17/11 ?
Makers and roles
Sir Richard Colt Hoare, 2nd Baronet (1758-1838), photographer
References
Hoare 1838 Sir Richard Colt Hoare, Inventory of Heir-Looms at Stourhead directed to be taken by the Will of the late Sir Richard Colt Hoare Bart. with the state and condition thereof, no. 1066
View more details