Mercury
William Barret, or George Barret the elder (Dublin 1732 - Paddington 1784) or George Barret the younger (London c.1767 - London 1842)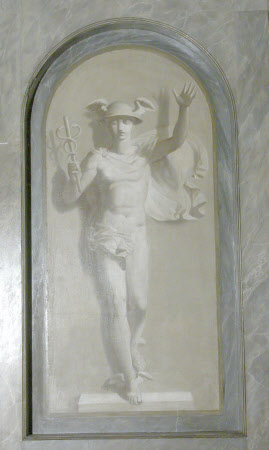 Category
Art / Oil paintings
Date
c. 1812
Materials
Oil on canvas
Measurements
2007 x 927 mm (79 x 36 1/2 in)
Place of origin
England.
Order this image
Collection
Attingham Park, Shropshire
NT 609087
Caption
This is one of three grisailles (monochrome painting simulating sculpture), which were all later additions to the Entrance Hall at Attingham. When the painted marbling of the Entrance Hall was restored, two concealed signatures of W & G Barret were discovered. It is not clear whether these were two sons of the popular Irish-born landscape painter George Barret Senior (1728/32 – 1784), or two decorative painters, of which otherwise nothing is known. Since the feigned sculptures are not signed, it seems fairly clear that they are by the same hand(s) as the marbling. Mercury was one of the twelve Olympian gods, shown here in his role as messenger of the gods, wearing his winged sandals and helmet. He holds a caduceus, a wand with snakes entwined, which had the power to induce sleep.
Summary
Oil painting on canvas, Mercury by William Barret or George Barret the elder (Dublin 1732 - Paddington 1784) or George Barret the younger (London c.1767 - London 1842), circa 1812. Arched grisaille panel with the full-length figure of the Roman god, Mercury standing with his right foot on a plinth, facing, his left hand raised up, his right hand holding a caduceus (the messenger's wand with two entwined snakes) wearing a winged helmet, winged sandals, and a cloak which billows to the right and acts as a discreet covering from the left.
Credit line
Attingham Park, The Berwick Collection (National Trust)
Makers and roles
William Barret, or George Barret the elder (Dublin 1732 - Paddington 1784) or George Barret the younger (London c.1767 - London 1842), artist William Barrett, artist George Barret the elder RA (Dublin 1732 - Paddington 1784) , artist George Barret, the younger (London c.1767 - London 1842), artist previously catalogued as attributed to Robert Fagan (Cork c.1745 – Rome 1816), artist
View more details