Chest of drawers
probably Carlo Randoni (1755-1831)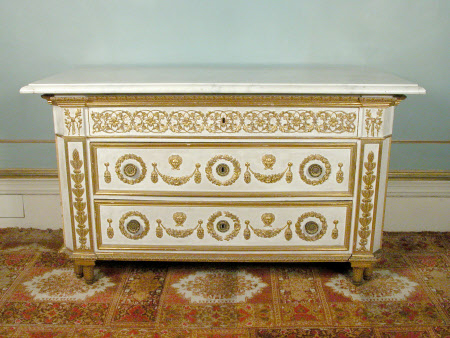 Category
Furniture
Date
circa 1820 - 1827
Materials
Pine, poplar, paint, gilding, metal
Measurements
93.8 x 152 x 69 cm
Place of origin
Genoa
Order this image
Collection
Attingham Park, Shropshire (Accredited Museum)
NT 608152.1
Summary
A chest of drawers, or cassettone, of carved, painted and gilded pine and poplar, probably designed by Carlo Randoni (1755-1831) for Palazzo Tursi, Genoa, circa 1820-1 or circa 1824-7. Topped by an associated slab of grey-veined white marble (NT 608152.2), above an acanthus-carved frieze moulding. The frieze fitted with a drawer, its front decorated with a run of foliate arabesques, above two further long drawers, each decorated with tied garlands of leaves and flowers, individual drops or tassels and circlets of laurel, masks of Apollo and gilt bronze handles and keyhole escutcheons. All between a pair of pilasters, the capitals carved with tied twigs of oak leaves, the shafts with gilt borders and stacked buds. The ends each carved with a mask within an oval wreath. All above a base moulding carved with acanthus and raised on six tapering round-section feet carved with stiff leaves, or laurel.
Full description
This chest of drawers, or, in Italian, cassettone, is believed to have been made for Palazzo Tursi, Genoa, the residence of Vittorio Emanuele I (1759-1824) and Maria Theresa (1773-1832), King and Queen of Sardinia, either during their refurbishment of the palazzo in 1820-1, or during a later phase of works between 1824 and 1827, after the King's death. The design for this chest of drawers has not been found, but it shares features - such as its legs, and the decoration to the drawers - of other pieces of furniture at Attingham (NT 608155 and NT 608156) which have recently been attributed by National Trust furniture curators to the architect and designer Carlo Randoni (1755-1831). This, in turn, strengthens the attribution of the design of a large collection of seat furniture also at Attingham (see, for instance, NT 608166, NT 608157 and NT 608150) to the same source. The general design and proportions of this chest have been found to 'owe much to an engraving of c. 1775 by Juste-Francois Boucher' and it is also comparable to a 1789 drawing 'by Piacenza and Randoni for a chest in the Duke of Aosta's bedroom at Moncalieri.' Its marble top, which extends further than normal at each end, is probably later. After Maria Theresa's death in 1832, Palazzo Tursi was left vacant and its contents dispersed. It is believed that William Noel-Hill, 3rd Baron Berwick (1773-1842) of Attingham acquired furniture, including this chest, from Palazzo Tursi shortly thereafter, since he retired as a diplomat and left Italy via Genoa in 1833. The collection of Italian furniture which the 3rd Baron Berwick brought to Attingham is probably the largest of its kind in the British Isles and certainly 'by far the largest concentration of Italian furniture in any National Trust house'.
Provenance
3rd Lord Berwick collection: William Noel-Hill, 3rd Baron Berwick (1773-1842). Acquired by the 3rd Lord Berwick, who had been in Italy as British envoy and ambassador to the Kingdom of Naples and the Two Sicilies. By descent bequeathed to the National Trust with the estate, house and contents of Attingham by Thomas Henry Noel-Hill, 8th Baron Berwick (1877-1947) on 15th May 1953.
Makers and roles
probably Carlo Randoni (1755-1831), designer
References
Rowell & Burchard 2020: Christopher Rowell & Wolf Burchard, 'Italian Furniture at Attingham Park', Furniture History LVI (2020), 107-176, 127-130; Figure 128 Cornaglia 2012: Paoli Cornaglia, Giuseppe Battista Piacenza e Carlo Randoni: I Reali Palazzi fra Torino e Genova (1773-1831), Turin (2012), pp. 36 & 52; Fig. 2.5 Colle 2001: Enrico Colle, Italian Empire Furniture: furnishings and interior design from 1800-1843 (New York: Rizzoli, 2001), pp. 343-7 Drury, 1984: Martin Drury. "Italian furniture in National Trust houses." Furniture History, vol. XX, 1984., pp. 38-44; p .42
View more details