'The Chicheley Hall Walnuttree & Guilt Seat Furniture'
possibly John Hodson, Upholder and cabinet maker, London (1709-1786)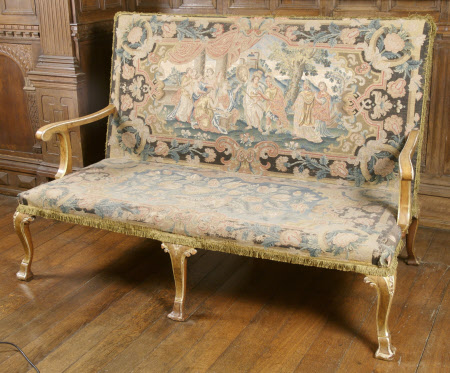 Category
Furniture
Date
circa 1725
Materials
Walnut veneers on beech, parcel gilding, some with oak seat rails, webbing, linen canvas, wool and silk threads
Measurements
119 x 184 x 95 cm
Place of origin
London
Order this image
Collection
Montacute House, Somerset
NT 597537.11
Summary
A settee from a set of parcel gilt walnut and beech seat furniture with a matching four fold room screen, possibly by John Hodson (1709-1786), Frith Street, Soho, circa 1725. The set comprising ten chairs, a settee and a four panel room screen. Having a rectangular back and broadening stuff-over seat covered in contemporary embroidery worked in gros-and petit-point wool and silk. The settee stitched with a figurative scene depicting The Discovery of Achilles. Raised on five angular cabriole legs with husks carved to the knee between leafy brackets. The edges of the legs and feet moulded and highlighted in gilt.
Full description
Almost certainly commissioned by Sir John Chester, 4th Bt. (1666-1726) for Chicheley Hall, Buckinghamshire which he began building in 1719 and furnishing from 1722. Possibly ordered by his younger son, also John (1693-1748) who married Frances Bagot in 1719. Recorded at Chicheley in an inventory taken on 10th June 1755 and listed 'In the Ladys Drawing Room' as '10 Chairs Stuft Backs & seats Coverd with needlework Brass naild & green Serge cases & the legs Walnuttree Gilt. A Large Settee Do & serge Case Do fringd all round...A 4 Leavd Walnuttree needlework Screen Guilt frame Serge Case & green Silk Back'.A very similar set was supplied to Houghton, Norfolk at a similar date and are almost certainly by the same workshop as the Chicheley furniture. A bill exists from a furniture maker named Hodson who supplied seat furniture to Chicheley in 1725 at a cost of £34. This could perhaps be John or Robert Hodson of Frith Street, Soho. In 1736 John supplied mahogany tables costing £44 to Holkham Hall, Norfolk [V&A archives].The embroidered covers are contemporary and probably the originals. The worsted backs surviving to the chairs, but not to the settee or the screen. The chairs and settee retain their original webbing and base cloth. The needlework, which is considered to be either French or English, derives with only a single exception [NT 597537.4] from the writings of Ovid, and the majority from Metamorphoses. The figure compositions derive from engravings by Francois Chauveau and Jean Lepautre in de Benserade's Métamorphoses d'Ovide en rondeaux (1676). Stitched against a black ground with vases, flowers, ruptured fruit and seed-pods. The flowers including daisies, daffodils, carnations, pinks, tulips, ruptured pomegranates and peppers. The figurative scenes are set in strap work cartouches. Each chair is covered in a single length of embroidery, and each leaf of the screen comprises a single canvas. The settee back and seat are covered in separate pieces. Worked in wool and silk on linen canvas, the borders are mostly in cross-stitch, the figurative panels in tent-stich and the noses and eyes are defined in back-stitch. Photographed in the Hall and Billiard Room (the 1755 Great Parlour) in Country Life in 1936. (James Weedon, March 2019) .
Provenance
Probably commissioned by Sir John Chester, 4th Bt (1666 - 1726), for Chicheley Hall, Buckinghamshire. Recorded 'In the Ladys drawing room' there in an inventory taken 10th June 1755. Thence by descent to Major John Greville Bagot Chester, MC (1925 - 2011); on loan to Montacute; accepted in lieu of inheritance tax and allocated to the National Trust for display at Montacute, 2012.
Makers and roles
possibly John Hodson, Upholder and cabinet maker, London (1709-1786), cabinet-maker
References
Dodd, Dudley (2011), 'French and English: Embroidered Furniture at Montacute' in National Trust Historic Houses and Collections Annual (2011) Bowett 2009, Early Georgian Furniture 1715 - 1740 (2009), Illustrated and discussed pp. 173 - 4 and Plate 4:60 Dictionary of British and Irish furniture makers online (1660-1840) FHS 2017
View more details