Table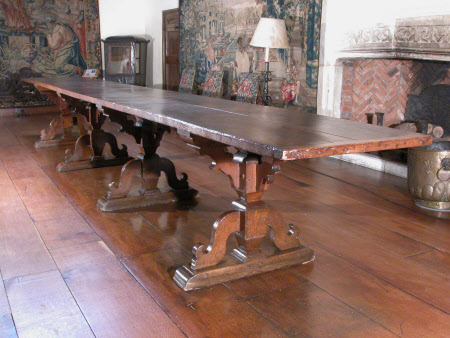 Category
Furniture
Date
circa 1620
Materials
Oak
Measurements
89.5 x 643 x 80 cm
Place of origin
England.
Order this image
Collection
Packwood House, Warwickshire
NT 557678
Summary
An oak long table, English, circa 1620. The twin-plank top with end cleats and raised on four central supports of unusual profile, each with a central column pinched mid-way, the upper section with four angled and shaped arms, the lower section with twin feet of opposing scrolls and standing on a plinth, bearing a paper label to the underside 'Marmion Edw'd Ferrers, Baddesley Clinton' below his coat of arms and motto SPLENDEO TRITUS.
Full description
This may be the table listed in the sparsely furnished Great Hall of Baddesley Clinton, Warwickshire as 'One Long Table' in the inventory taken at the death of Thomas Ferrers (1713-1760). It can also be seen in a painting (NT 343165) of the 'Great Hall at Baddesley Clinton', 1870 by Rebecca Dulcibella Orpen Ferrers (1830-1923). The table is stunning and a rare model. The design of the column supports has some affinity to the drawings of Jan Vredeman de Vries in Architectura: Das Erst Buech, published in Antwerp in 1565 and to a design for a cartouche by an unidentified designer as seen in the overmantel in the Great Chamber at Montacute, Somerset (see Wells-Cole Art and Decoration in Elizabethan and Jacobean England, Yale 1997, fig. 231, 233 and 234). However, these comparisons are tentative and to date it has not been possible to find any directly comparable tables with similar trestle supports. It is illustrated in Apollo magazine 'Packwood House and its Collection' by Margaret Jourdain, January 1946 and in Country Life 'Furniture at Baddesley Clinton', 17 October 1931.
References
Apollo : 1925-, January 1946, p. 3 and 4, Fig. I & III, 'Packwood House and its Collection', Part 1, by Margaret Jourdain Country life. 1897-, 17 October 1931, p. 436, 'Furniture at Baddesley Clinton' Latham, 1908: Charles Latham, In English homes: furniture & adornments of some of the most notable houses of England historically depicted from photographs specially taken by Charles Latham. Vol. 2. London: Country Life, 1908. pp.151-162., 'Baddesley Clinton'
View more details