Heraldic Lion of the Admiralty and Marine Affairs Office
British (English) School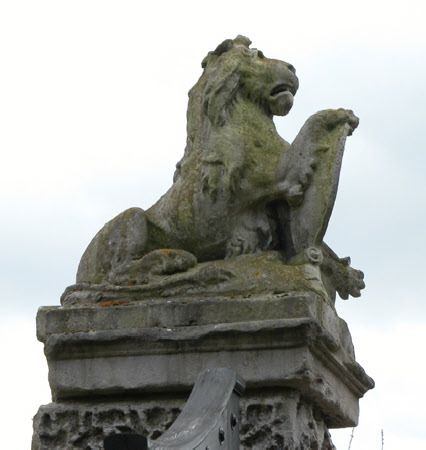 Category
Art / Sculpture
Date
c. 1694 - 1707
Materials
Portland stone
Place of origin
London
Order this image
Collection
Anglesey Abbey, Cambridgeshire (Accredited Museum)
NT 516649
Summary
Portland stone, Heraldic Lion, British (English) School, c.1694-1707. One of a pair of heraldic lions carved of Portland, surmounting rusticated frostwork gate piers (with NT 516650). The lions sejant erect, seated on the haunches, supporting shields with the coats of arms of the Admiralty and Marine Affairs Office (1546-1707), quarterly of France Modern and England.
Full description
The lions support the coats of arms for the Admiralty and Marine Affairs Office (1546-1707), a government office of the Kingdom of England and the English Navy's central command. This office existed until 1707 when the Kingdom of England and the Kingdom of Scotland were unified. The name changed to the Admiralty Department or Admiralty of Great Britain and the arms were also changed. During the reign of William III (1689-1702) Wallingford House, Whitehall, was officially appointed for the Admiralty and Marine Affairs Office. The first Admiralty was built on this site between 1694-5 and was replaced by the Ripley Building in 1726. Therefore the lions likely to date from the first Admiralty, and the latest possible date for their production is 1707. The piers may be contemporary or later. A bronze plaque placed on the inside of one of the piers commemorates this heritage: 'These gate piers and gates were for many years the Admiralty entrance to the Port of London Authority, which was rebuilt in 1913-22. They were placed here in 1926 by Huttleston and Henry Broughton'. The Port of London Authority was established in 1909, its former headquarters built between 1913 and 1922 at 10 Trinity Square, Tower Hill. Alice Rylance-Watson 2019
Provenance
Produced for the First Admiralty, Whitehall, c. 1694-1707; removed from the Admiralty entrance of the Port of London Authority building before 1922; acquired by Thomas Crowther & Son of North End Road, Fulham; purchased from Thomas Crowther by Huttleston Rogers Broughton, 1st Lord Fairhaven (1896-1966) on 11 November 1926, £250; bequeathed by Lord Fairhaven 1966 with the house and the rest of the contents.
Credit line
Anglesey Abbey, The Fairhaven Collection (The National Trust)
Makers and roles
British (English) School, sculptor
References
Gater and Wheeler 1935: G H Gater and E P Wheeler (eds.), 'The Admiralty', Survey of London, vol. 16, St Martin-in-The-Fields I: Charing Cross, London 1935, pp. 45-70. Roper 1964: Lanning Roper, The Gardens of Anglesey Abbey, Cambridgeshire. The Home of Lord Fairhaven, London 1964, p. 29, pl. 1. Christie, Manson & Woods 1971: The National Trust, Anglesey Abbey, Cambridge. Inventory: Furniture, Textiles, Porcelain, Bronzes, Sculpture and Garden Ornaments', 1971, p. 168.
View more details