Term in the form of Hercules
probably British (English) School or French School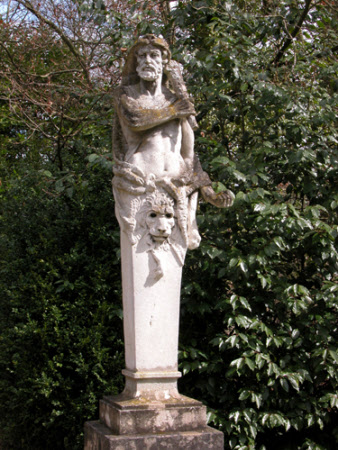 Category
Art / Sculpture
Date
1700 - 1799
Materials
Limestone
Measurements
2134 mm (Height)
Order this image
Collection
Anglesey Abbey, Cambridgeshire
NT 516645
Summary
Limestone, Hercules, probably French School or British (English) School, probably 18th century, after Louis Le Conte, Le Conte de Boulogne (1639-94). A terminal figure in the form of Hercules, wearing a lionskin, the mouth worn over the head as a hood, and with the skin of the Nemean Lion tied around the hip. The proper right arm is drawn across the chest, the proper right hand holding aloft a club. The proper left hand drawn into a fist. The figure terminates in a tapering square pillar. After the term of Hercules by Le Conte de Boulogne, Parterre de Latone, Versailles (MR 1941). Mounted on a stone block. Paired with NT 516646, a terminal figure in the form of Vertumnus.
Provenance
Bequeathed to the National Trust by Huttleston Rogers Broughton, 1st Lord Fairhaven (1896-1966) with the house and the rest of the contents.
Credit line
Anglesey Abbey, The Fairhaven Collection (The National Trust)
Makers and roles
probably British (English) School or French School, sculptor
References
Roper 1964: Lanning Roper, The Gardens of Anglesey Abbey, Cambridgeshire. The Home of Lord Fairhaven, London 1964, p. 30, pl. 78. Christie, Manson & Woods 1971: The National Trust, Anglesey Abbey, Cambridge. Inventory: Furniture, Textiles, Porcelain, Bronzes, Sculpture and Garden Ornaments', 1971, p. 167. Rosasco 2015: Betsy Rosasco, 'The Herms of Versailles in the 1680s',The Princeton University Library Chronicle, vol. 76, no. 1-2 (Winter 2015), pp. 145-175.
View more details