Statuette of Herakles (Hercules)
Etruscan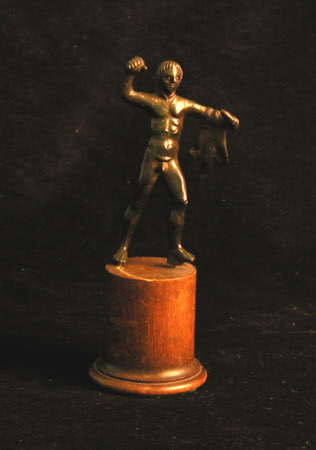 Category
Art / Sculpture
Date
c. 400 BC - 200 BC
Materials
Bronze
Measurements
178 x 75 mm; 63 mm (Diameter)
Place of origin
Italy
Order this image
Collection
Anglesey Abbey, Cambridgeshire
NT 515071
Summary
Bronze; Herakles (Hercules); Etruscan; c. 400-200 BC. An Etruscan bronze statuette of the god Hercules (Herakles), with the skin of the Nemean lion over his left arm, holding in his left hand the horn of Acheloüs.
Full description
The little bronze statuette depicts the classical hero Herakles (Hercules), a popular subject in Etruscan small bronzes. Hercules is portrayed as young and unbearded, with a wreath in his hair. His raised right hand would originally have held a club, whilst over his outstretched left arm hangs the skin of the Nemean lion, which Hercules killed in the first of the Labours assigned to him by Eurystheus, king of Tiryns. In his left hand he holds the horn of a bull, referring to another story, when Hercules fought with the river god Acheloüs, who was one of his rivals for the hand of Deianira. In the course of his wrestling match with Hercules, Acheloüs transformed himself successively into the forms of a bull-headed man, a serpent and a bull. Hercules finally overcame his opponent whilst he was in the form of a bull, ripping off one of his horns, which became the Classical symbol of abundance, the cornucopia. On the underside of Hercules' feet are two integral tangs, which served to fix the statuette to a base, now a modern plain circular wooden socle. Herakles was a popular subject in Etruscan art, as in Greek and Roman a symbol of strength and courage in the face of seemingly impossible odds. He is often depicted in bronze statuettes, many of which may have been made as votive figures, to be offered at a shrine to the deity. They vary enormously in quality, the Anglesey Abbey statuette being relatively crude and provincial. It may be compared to several figures in the British Museum (H.B. Walters, Catalogue of the Bronzes in the British Museum. Greek, Roman & Etruscan, London 1899, nos. 1273-76) or to one formerly with the Royal-Athena Galleries, New York (Jerome M. Eisenberg, Art of the Ancient World. A Guide for the Collector and Investor. IV. Ancient, European, Oriental, Pre-Columbian and Tribal Works of Art, Royal-Athena Galleries, New York/Beverley Hills 1985, no. 182). Jeremy Warren October 2021
Provenance
Bequeathed to the National Trust by Huttleston Rogers Broughton, 1st Lord Fairhaven (1896-1966) with the house and the rest of the contents.
Makers and roles
Etruscan, sculptor Etruscan, 3rd century BC , sculptor
View more details