An Unknown Man in a Black Plumed Hat
Titian (Pieve di Cadore 1488/90 - Venice 1576)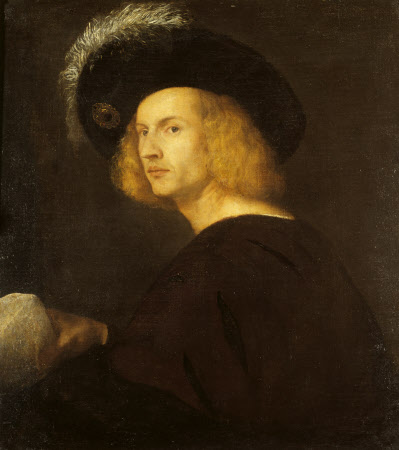 Category
Art / Oil paintings
Date
1515 - 1520
Materials
Oil on canvas
Measurements
705 x 630 mm
Place of origin
Venice
Order this image
Collection
Petworth House and Park, West Sussex
NT 486242
Caption
This is an early portrait of the great Venetian master but its history is not definitely known. It is thought to have been in Van Dyck's collection and probably a painting listed at Petworth in 1671, acquired by Algernon Percy, 10th Earl of Northumberland (1602-1668), the first great art collector associated with the house. It was identified when in the collection of George Wyndham, Earl of Egremont (1751-1837). It is similar in type and date to the 'Interrupted Concert' in the Pitti Palace, Florence and the 'Young Man with Gloves' (Earl of Halifax; on loan to the National Gallery). They share a common placing of the figure in the picture space, as well as colouring and execution. Titian painted a succession of portraits of young men around this time, all with penetrating psychological detail. It has been proposed that they might have been part of his social circle and that he knew them relatively well. It was once thought the sitter was holding a piece of paper but its cleaning in 1954 revealed his hand is resting on a stone, possibly implying that the man was a sculptor.
Summary
Oil painting on canvas, An Unknown Man in a Black Plumed Hat by Titian (Pieve di Cadore 1488/90 - Venice 1576), 1515/20. A head-and-shoulders portrait, turned three-quarters to the left with a stone (not paper as previoulsy though before cleaning) in his right hand. He is wearing a deep copper-brown cloak, a black large brimmed hat with a gold brooch and a white plume; his hair is red-gold and his neck is bare.
Provenance
Possibly a painting acquired by the 10th Earl of Northumberland (1602-1668) and listed at Petworth in 1671 as one of 'Two men's pictures done to wast, one by Jerjone [Giorgione], ye other by Titian'; thence by descent, until the death in 1952 of the 3rd Lord Leconfield, who had given Petworth to the National Trust in 1947, and whose nephew and heir, John Wyndham, 6th Lord Leconfield and 1st Lord Egremont (1920-72) arranged for the acceptance of the major portion of the collections at Petworth in lieu of death duties (the first ever such arrangement) in 1956 by HM Treasury.
Credit line
Petworth House, The Egremont Collection (acquired in lieu of tax by HM Treasury in 1956 and subsequently transferred to the National Trust)
Marks and inscriptions
(on the back a seal with Garter motto, mentioned by Collins Baker, but no longer is to be seen)
Makers and roles
Titian (Pieve di Cadore 1488/90 - Venice 1576), artist
Exhibition history
Titien, l'étrange homme au gant, Musée Palais Fesch, Ajaccio, 2010
References
Remastered - Bosch to Bellotto: An Exhibition of Petworth's European Old Masters (exh cat) (Andrew Loukes) Petworth House, West Sussex, 9 January - 6 March 2016, cat. 18, p. 11
View more details
Related articles