Portrait medal of Rufus Isaacs, Lord Reading
Artur Immanuel Loewental (1879-1964)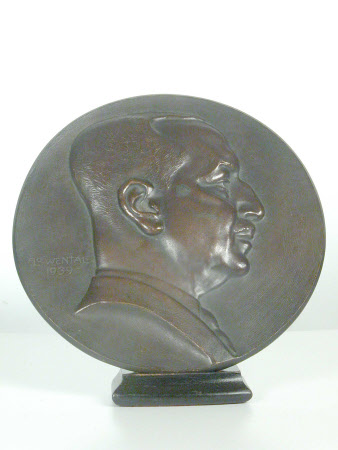 Category
Art / Sculpture
Date
1936
Materials
Bronze
Measurements
232 mm (Diameter)
Place of origin
Great Britain
Order this image
Collection
Upton House, Warwickshire
NT 446628.4
Caption
This bronze medallion was created by the Austrian-born Jewish sculptor and medalist, Professor Arthur Immanuel Loewental. Loewental fled to England in 1934 from Berlin, following the Nazi takeover and increasing Jewish oppression. Lord Bearsted was one of those who helped him to establish himself in England and was instrumental in helping him to obtain British nationality in 1941.
Summary
Uniface bronze medallion by Artur Immanuel Loewental (1879-1964) of Walter Horace Samuel, second Viscount Bearsted (1882-1948), in profile facing right, a small moustache, wearing suit and tie. Inscription to left of head, ALOEWENTAL./1939. Chamfered at edge. Surface carefully finished with comb used across whole surface. Set on a small wooden stand.
Full description
Walter Horace Samuel followed his father, Marcus Samuel, 1st Viscount Bearsted, into the family petroleum business, joining the Shell Transport and Trading Company in 1904. He became a Director in 1907 and from 1921 until 1946 was Chairman of the company. As well as being one of the great collectors of his age, Lord Bearsted was throughout his life a notable philanthropist, supporting Jewish charities as well as many other causes, among them the Ashmolean Museum, the National Gallery and, of course, the National Trust. In the early 1930s he worked to help Jewish people to emigrate from Germany to start new lives in Britain and elsewhere. He would no doubt have been keen to support Artur Loewental, who had arrived in Britain from Berlin in 1934, and commissioned a series of works from the sculptor. Jeremy Warren, 2018.
Provenance
Acquired by Walter Samuel, 2nd Viscount Bearsted, c. 1936; given with Upton House to the National Trust by Walter Samuel, 2nd Viscount Bearsted (1882-1948), in 1948.
Credit line
National Trust Collections (Upton House, The Bearsted Collection)
Marks and inscriptions
Obverse, right of profile: Inscription to left of head, ALOEWENTAL./1939. Obverse, around edge of medal: RVFVS.D.ISAACS.MARQVIS.OF.READING - G.C.B. - G.C.S.I – GC.I.E - G.C.V.O. 1860-1935
Makers and roles
Artur Immanuel Loewental (1879-1964), sculptor
References
Turner 2014: John T. Turner, Artur Immanuel Loewental 1879-1964. A brief introduction to his life and work, together with a select list of his sculpted works, Lincoln 2014, p. 93, no. LOE 207.
View more details