Cabinet on stand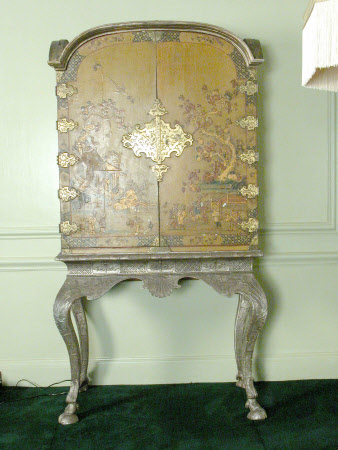 Category
Furniture
Date
circa 1710 - 1730
Materials
Japanning, silvering, gilt metal, softwood carcass
Measurements
181.5 x 96.5 x 52 cm
Place of origin
England.
Order this image
Collection
Upton House, Warwickshire
NT 446499
Summary
A japanned dome-top cabinet on stand, English, circa 1710-1730, with arched moulded cornice to front and sides, applied with giltmetal strapwork hinges and escutcheon, the front decorated with a chinoiserie landscape of buildings and figures within black and gilt diaper borders, prunus blossom to the sides and inside surface of the doors, the interior fitted with twelve drawers similarly decorated in gilt, iron red and polychrome with figures and birds, the silvered stand with a concave frieze and shaped apron centred by a shell, standing on square section cabriole legs carved with shell detail and terminating in hoof feet, bearing a hand-written inventory label 'X4930 one of a pair of cream lac. cabinets Schrager collection', also with two small paper labels 'Lord Bearsted'.
Full description
The japanning on this cabinet is actually blue, but various restoration work together with an application of varnish (probably in the very early 20th century) has meant the cabinet has over many years tarnished to the present surface colour of yellow. Blue Japanning is very rare. The cabinet has a fascinating story behind it, as it featured in the infamous case of Shrager v Dighton in 1923, when Adolphe Shrager sued the antique dealer Basil Dighton. Over a number of years Shrager had spent a huge sum of money with Dighton but also owed him money. After seeking advice, he claimed that a proportion of his purchases were actually fakes. The expert witnesses appointed were Herbert Cescinsky for Shrager and Percy Macquoid for Dighton, both furniture historians and authors. This cabinet, which at the time was one of a pair, was described as both 'utterly genuine' and 'a modern fake'. Shrager lost his case. The following year on 2 May 1924, the pair of cabinets were sold at Puttick & Simpson in London for £147-0-0. They had cost Shrager £1250-0-0. The purchaser was Lord Leverhulme whose collection was later sold in 1927 in New York by Christie's. The pair of cabinets were sold as separate lots, one being purchased by Lord Bearsted for Upton House and the other remaining in America, only to resurface in 1995 at Christie's New York once more. Bibliography: Herbert Cescinsky: The Gentle Art of Faking Furniture, London 1931, illustrated as plate 134. Abigail Harrison Moore: Fraud, Fakery and False Business: Rethinking the Shrager v Dighton 'old furniture case' , USA 2011. The trial reports are held at Brighton Museum.
Provenance
Purchased by Lord Bearsted in 1927 at Christie's New York.
Marks and inscriptions
Inside a drawer: X4930 one of a pair of cream lac. cabinets Schrager collection To reverse: Lord Bearsted
References
Cescinsky, Herbert. The gentle art of faking furniture 1931., Plate 134
View more details