Sedan chair
Holmes of Derby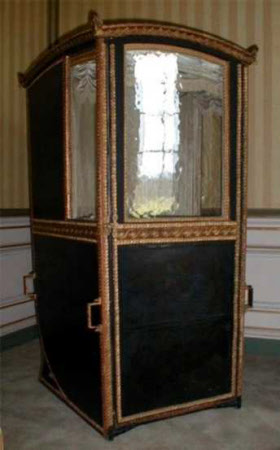 Category
Carriages & other vehicles
Date
circa 1795
Materials
Wood frame with leather panels and silk upholstery.
Measurements
163 x 930 x 780cm (5ft 4 1/4in x 3ft 1/2in x 2ft 6 3/4in)
Place of origin
London
Order this image
Collection
Belton House, Lincolnshire
NT 434881
Caption
Sedan chairs were very often decorated to their owners taste. The very wealthy would commission a sedan to have painted panels or gilt metal decoration. This chair is decorated with chased metal mounts. These mounts are paper thin so as not to add too much weight to the sedan. The owner of a sedan chair would usually employ two chairmen who carried most of the weight through leather straps across their shoulders which were attached to the poles. The very wealthy may have employed four chairmen to carry a very heavy sedan.
Summary
Sedan chair built by Holmes & Griffin of Westminster, London, circa 1795. This sedan was built for a lady in the Westminster arch-roof style. Sedan chair with leather panels, gilt brass decoration and upholstered in white silk.
Full description
A ladies Westminster arch-roof Court sedan chair. The neo-classical ornamentation may typically be viewed on drawings by Robert Adam which were based on monuments of Emperor Augustus in Rome, published in 1775. Previous gilt varnish is presently covered in oxidised 'gilt' style bronze paint. This is one of six arch-roof English sedan chairs in the National Trust. From the time of George I, the Westminster English sedan chair is almost unique in Europe for having sides which taper by up to two inches. This design allows rainwater running off of the roof to miss the window apertures. It also makes life easier for the rear chairman when negotiating narrow doorways as the roof (instead of the pole lugs) becomes the widest part of the sedan. From around 1756 a white fabric interior became the standard colour for British ladies private sedan chairs.
Provenance
Original description: Baroness Brownlow, to build a ladies fashionable court sedan chair, japanned panels, mounted with fancy pattern borders, Vesuvian scroll elbow band all underlin'd with crimson morocco. Inside Lin'd white silk, white silk festoon curtains and fringes. Cypher JB in mantle with coronet, carved coronet and cushion to roof. Poles and straps green baize cover Price 40 guineas.
Marks and inscriptions
On the back panel: Cypher JB
Makers and roles
Holmes of Derby , builder
View more details