Cupboard door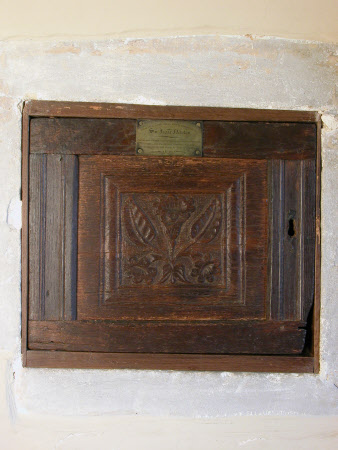 Category
Furniture
Date
circa 1660 - 1690
Materials
Oak, brass
Measurements
36.5 cm (H); 45 cm (W); 3 cm (D)
Place of origin
England.
Order this image
Collection
Woolsthorpe Manor, Lincolnshire
NT 427396
Caption
In 1796 the door to the book press was given to the Royal Society of Edinburgh by Edmund Turnor, the then owner of the Manor. In 1989 the Royal Society presented it back to the Manor as it was was original to the house and used for storing books. Newton's step-father left him over 300 books although his mind was so full of his scientific experiments that it is uncertain whether he ever tidied his books away. The reproduction high chair has a similar pattern on its back.
Summary
A wall cupboard door, English, late 17th century, originally probably part of a press cupboard. With a moulded frame and central panel carved with stylised flowers and leaves. Bearing an engraved brass plaque.
Provenance
By repute the door of a book press which belonged to Sir Isaac Newton presented by the Lord of the Manor of Woolsthorpe to the late Professor Robison AD 1796 and by his son to The Royal Society of Edinburgh AD 1822. Returned by the Royal Society to Woolsthorpe in 1989.
Marks and inscriptions
On a brass plate attached to the front of the door.: Door of a book press which belonged to Sir Isaac Newton presented by the Lord of the Manor of Woolsthorpe to the late Professor Robison AD 1796 and by his son to The Royal Society of Edinburgh AD 1822
View more details