'Gothic Tower at Wimple' [Cambridgeshire]
Unknown artist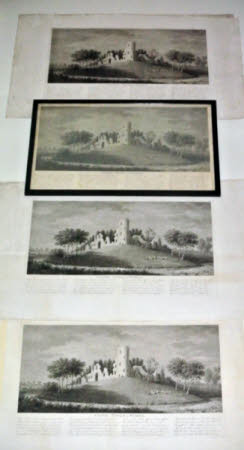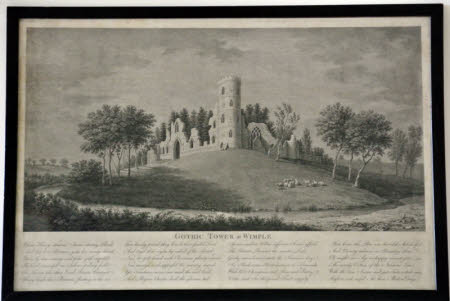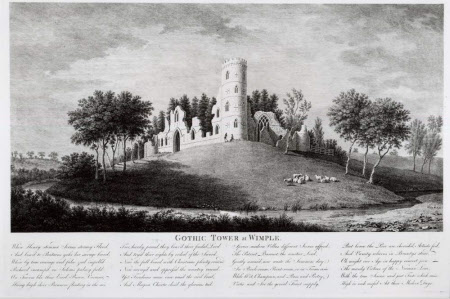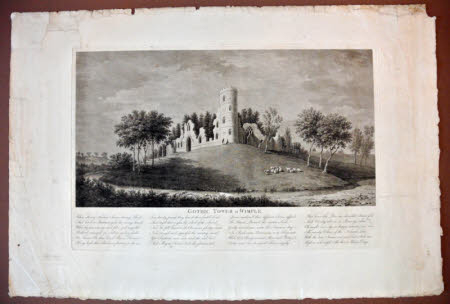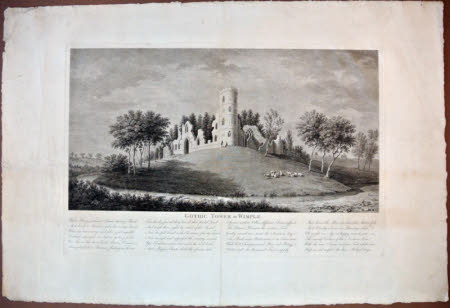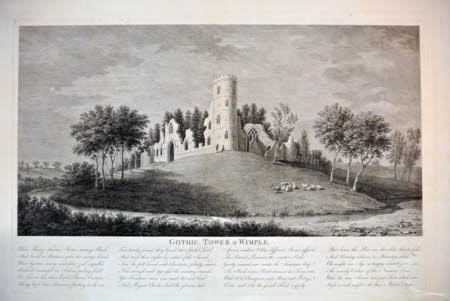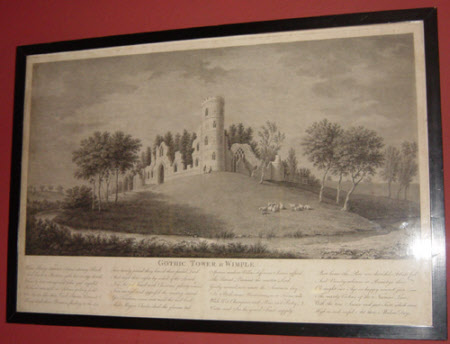 Category
Architecture / Drawings
Date
1777
Materials
Paper and ink
Place of origin
England.
Order this image
Collection
Wimpole, Cambridgeshire
NT 206294
Summary
Anonymous artist. Four copies of an engraving, View of the Gothic Tower at Wimpole after completion, 1777. Inscribed 'GOTHIC TOWER at WIMPLE' and accompanied by a four-stanza verse of twelve rhyming couplets by Daniel Wray (1701 - 83).
Full description
This engraved view shows the completed folly on the brow of Johnson's Hill in the north park. Framed by trees, the folly is backed by a stand of New England pines, and set off by a crescent-shaped ditch filled with water whose size and effect has been exaggerated. The accompanying verse, its meaning opaque in parts and which Jackson-Stops describes as a 'mixture of high romanticism and playful cynicism', was first published in 'The Annual Register [ ...] for the year 1775'. It serves as a mock-elegy for a glorious medieval past in which a chivalrous, provincial nobility struggled for political liberty­ an interpretation that sat happily with Whig ideology and with eighteenth-century notions of associationism. William Hawkes records that a John Jeffreys wrote to Sanderson Miller in November 1777, explaining: 'I have a Print to show you, which will give you pleasure. It is of the ruin at Wimpole done from your old Plan, and finely engraved by Stewart, with a copy of verses under the print written by my brother, Mr. Wray'; Hardwicke sent Sanderson Miller a copy the following month. Miller made his last visit to Wimpole in 1775, and was no doubt delighted to see the ruins finally realized. On 18 February 1778, Hardwicke sent a copy of the engraving to William Legge, 2nd Earl of Dartmouth (1731-1801), then Lord Privy Seal, with the accompanying note: "In return for the marks of affection from you, I beg leave to send your Lordship the print of a Gothic Chateau-a ruin, which I have erected at Wimpole. Perhaps the views may strike you as no bad contrast between ancient and modern times. They are by a friend, I furnished the hint. I am, as a companion to this antique, engraving a modern italian loggia, which I have set up at Wimpole, under the auspices of Mr. Stewart. It shall be sent to your Lordship when finished" A reduced copy; entitled 'GOTHIC FOLLY at WIMPLE', and without the verse, was published by Fielding and Walker in March 1781-presumably as a pendant to Daniel Lerpiniere's engraving of James 'Athenian' Stuart's Hill House. The names of neither artist nor engraver are known. It seems plausible, however, that the Hill House view, is after a lost drawing by Stuart. Might the architect also have drawn, and Lerpiniere engraved, the view of the folly - Jeffrey's witness that it was 'finely engraved by Stewart' perhaps means after Stuart's preparatory drawing? Wray's verse had a second public airing when it was published in The Gentleman's Magazine in 1779. Wray's biographer, George Hardinge, who also reproduces it, noted 'when Mr. Wray wrote the following Inscription I have not ascertained. Short as it is, it makes me lament that so lively a vein has been so negligent of its treasures'. Wray's joke to Miller that he might discover in the poem 'pieces of older and better versifyers' perhaps suggests that this classical scholar, who Hardinge says was 'very fond of quoting Latin verses from classical authors', and who contributed to the Yorke brothers' pseudonymous and fictitious correspondence of the Peloponnesian War, Athenian Letters (London, 1741-3), recycled various lines from ancient poetry; but it has too something of the flavour of Alexander Pope's 'Essay on Man'. Catalogue entry adapted from David Adshead, Wimpole Architectural drawings and topographical views, The National Trust, 2007
Provenance
Bequeathed by Elsie Kipling, Mrs George Bambridge (1896 – 1976), daughter of Rudyard Kipling, to the National Trust together with Wimpole Hall, all its contents and an estate of 3000 acres.
Makers and roles
Unknown artist, artist and engraver Daniel Wray, FRS, FSA (1701-1783), author
References
Adshead 2007: David Adshead, Wimpole Architectural drawings and topographical views, The National Trust, 2007, p.50, no. 72 Menuge & Cooper 2001 Adam Menuge & Anwen Cooper, The Gothic Folly, Wimpole Park, Wimpole, Cambridgeshire, an Architectural Investigation Report, English Heritage, 2001, fig. 4 Adshead 1998 David Adshead, 'The design and building of The Gothic Folly at Wimpole, Cambridgeshire', The Burlington Magazine, vol. CXL, no. 1139, February 1998, pp. 76-84, fig.1 Thomas Cocke 1984 Thomas Cocke, The ingenious Mr Essex, architect, 1722-1784: an exhibition to mark the bicentenary of his death, exh.cat., Fitzwilliam Museum, Cambridge, 1984, cat.68 p. 60 Jackson-Stops 1979 Gervase Jackson-Stops, 'Exquisite Contrivances, The Park and Gardens of Wimpole - I', Country Life, CLXVI, no. 4287, 6 September 1979, pp. 658-61, fig.12
View more details