Collatinus finds Lucretia dying in the arms of her maid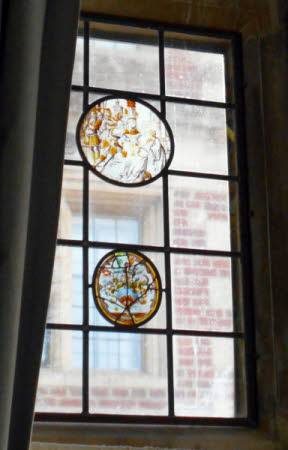 Category
Stained glass
Date
circa 1525 - circa 1540
Materials
Stained glass
Place of origin
Europe
Order this image
Collection
Felbrigg, Norfolk (Accredited Museum)
NT 1399165.3.9
Caption
In the 1840s the Great Hall was radically altered. Heavy oak door-cases were installed, a new ceiling with huge wooden pendants was fitted and these stained glass windows dating from 1450 to the 19th century were added. Today the glass creates beautiful patterns on the walls and floor in the afternoon sunlight.
Summary
A continental stained glass panel from the sixteenth century. Collatinus finds Lucretia dying in the arms of her maid. It is in the style of pseudo-Ortkens. Lucretia, a Roman housewife, was raped by the king's son and her subsequent suicide was the cause of the anti-monarchist rebellion that overthrew the Roman monarchy and led to the creation of the Roman Republic. Her husband, Lucius Tarquinius Collatinus became one of the first two consuls of the Roman Republic. Pseudo-Ortkens is the name associated with a south Netherlands workshop of painters and draughtsmen (fl. c.1500) previously thought to be the work of Aert Ortkens of Nijmegen. Their body of work includes a group of 50 drawings, mostly designs for glass roundels and 20 painted glass roundels including The Tree of Jesse now at St George's, Hanover Square, London.
Provenance
Part of the stained glass collection amassed in the mid-nineteenth century by William Howe Windham (1802-1854) Part of the Windham Collection. The hall and contents were bequeathed to the National Trust in 1969 by Robert Wyndham Ketton-Cremer (1906-1969).
View more details