The Knole Sofa
Unknown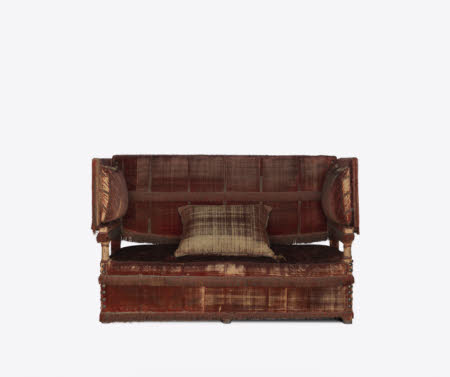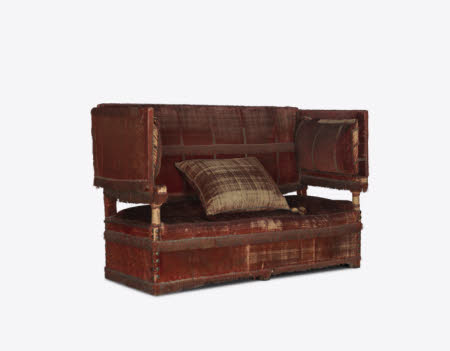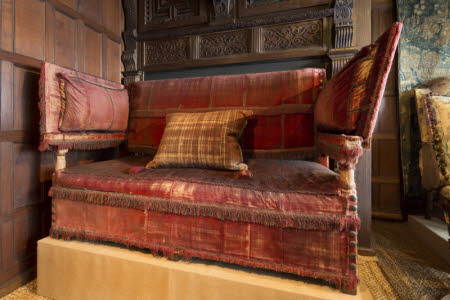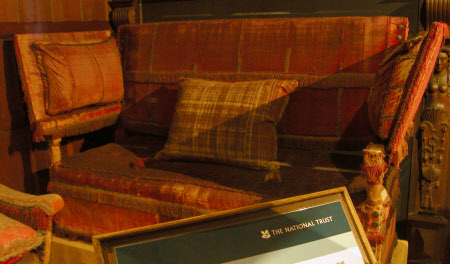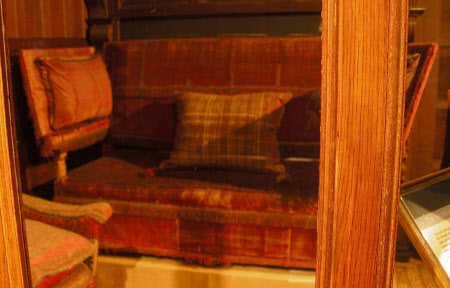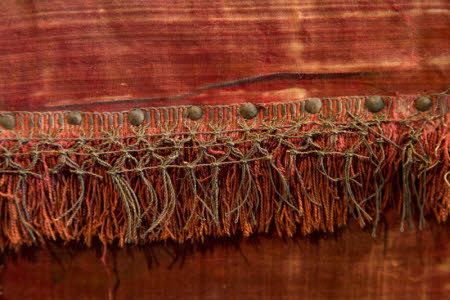 Category
Furniture
Date
circa 1635 - 1640
Materials
Beech covered with silk velvet and passementerie (braid and fringing), iron
Measurements
104 x 172.5 x 56 cm
Place of origin
London
Order this image
Collection
Knole, Kent
NT 129442
Caption
Today a sofa often feels like an essential part of the home, helping us to relax or socialise in comfort. Amazingly, the word (written as 'saffaw') was first used in the 1600s, and the object shown here is one of the earliest surviving examples of an upholstered couch. The design was influenced by furniture from Italy and France, and was originally made for use in Stuart royal palaces. It was covered in crimson velvet and was part of a grand suite of furniture that included two other sofas, six chairs and eight stools. It was probably moved from one of the royal palaces (Hampton Court is stamped under the seat of a comparable chair) to the house of Charles Sackville, 6th Earl of Dorset (1643–1706), at Knole in Kent in the 1690s. The design later became a classic and was regularly copied and reinterpreted, particularly from the Victorian period onwards.
Summary
A state couch, of beech covered in silk velvet, made by unknown upholsterers in London, probably suppliers to the Great Wardrobe, circa 1635-40. With a rectangular, slightly raked back on rectangular-section rear supports and between straight rectangular profile arms, each topped by a padded and cushioned 'wing' or 'rest' which can be inclined or raised on an iron ratchet mechanism. The arms raised on columnar front supports descending to rectangular-section front stiles or legs. The seat padded and rectangular. Covered throughout in crimson silk velvet stamped with a repeating small pattern, fixed with brass dome-headed studs and hung with runs of open-work woven lace and gold and silver thread caul fringe. The rear of the back covered in red wool.
Full description
This unique piece of state furniture survives with its seventeenth-century upholstery, top covers, finials and decorative nailing, albeit with later restorations. Knole contains almost all the upholstered furniture surviving from the seventeenth-century royal palaces. Otherwise, it can only be seen in portraiture. Its presence at Knole is largely due to Charles Sackville, 6th Earl of Dorset (1638-1706), who held the post of Lord Chamberlain (1689-95). He could keep or sell royal furniture which he deemed in need of replacement, acquiring it as a perquisite or 'perk' of office. The Knole Sofa, more properly a state couch – the word 'saffaw' was first coined around 1700 – is arguably the National Trust's most famous single piece of furniture. Its distinctive form has been extensively copied since the nineteenth century. In 1945, the furniture historian R. W. Symonds noted the 'The famous Knole Couch...has been reproduced in tens of thousands by nearly every furniture manufacturer from Victorian to modern times' (Symonds 1945, p. 114). Eddy Sackville-West, 5th Lord Sackville (1901-65), was apparently once asked how he could live 'in that dark old place in Kent with all those old sofas?' To which he replied: 'One sofa!' The couch is part of a larger set of matching crimson velvet seat furniture, now in the so-called Leicester Gallery at Knole. It comprises two further couches (NT 129438.1-129438.2), six chairs (NT 129439.1-129439.6), and eight stools – four high (NT 129441.1-129441.4) and four low (NT 129440.1-129440.4). It is thought that this set would have been arranged symmetrically, probably under a state canopy or canopies. The design of the Knole Sofa derives from Italy and France – indeed R. W. Symonds described the design of the Knole Sofa as 'undoubtedly of French origin' (Symonds 1945, p. 114) – but it was probably made in London, in now unknown workshops which operated as suppliers to the Great Wardrobe.
Provenance
Presumably acquired as a perquisite by Charles Sackville, 6th Earl of Dorset, in his capacity as Lord Chamberlain to King William III. It is thought to belong to a suite of upholstered furniture, the remainders of which were first recorded at Knole in 1706. Knole and the majority of its furniture were accepted by HM Treasury in part payment of death duties and transferred to the National Trust in 1946.
Makers and roles
Unknown , workshop
References
Symonds 1945: R. W. Symonds, 'The Upholstered Furniture at Knole I', Burlington Magazine LXXXVI (May 1945): 110-15 Beard and Coleman 1999: Geoffrey Beard and John Coleman, 'The Knole Settee', Apollo CXLIX / 446 (April 1999): 24-28 Rowell 2006: Christopher Rowell, 'A Set of Early Seventeenth-Century Crimson Velvet Seat Furniture at Knole: New Light on the "Knole Sofa"', Furniture History XLII (2006): 27-52 Porter and Vida, 2019: 'The Knole Sofa', in Nathalie Cohen and Frances Parton, eds., Knole Revealed, London 2019, pp. 116-7. Westman, 2019: Annabel Westman, Fringe Frog & Tassel London 2019, pp. 35-6
View more details