Mary Hawtrey, Lady Bankes (1598-1661) (after John Hoskins)
Henry Pierce Bone (Islington 1779 - 1855)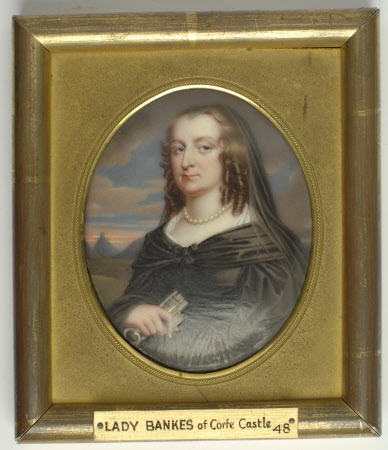 Category
Art / Miniatures
Date
1800
Materials
Enamel
Measurements
102 mm (H)83 mm (W)
Order this image
Collection
Kingston Lacy Estate, Dorset
NT 1250570
Caption
One of a collection of fifty enamel miniatures that were bought by William Bankes at auction in 1836. He gave some to his brother but since 1841 the entire collection has hung in the house.
Summary
Enamel portrait miniature, Mary Hawtrey, Lady Bankes (1598-1661) (after John Hoskins) by Henry Pierce Bone (Islington 1779 - 1855). 1800. Oval. Half-length portrait, turned slightly to left, facing spectator, in a black dress, holding the keys to Corfe Castle in her right hand Original last known in Mrs John Ackland's collection, 1920.
Provenance
The Bone enamels at Kingston Lacy, copied from paintings in well-known houses, were mostly acquired by William Bankes at auction in 1836, from a set of 85 which had been unsuccessfully offered to the nation for £4000 by the elder Bone. William gave the bulk of them to his brother the Rev Edward Bankes. After William's flight abroad in 1841, Edward returned them to Kingston Lacy.
Makers and roles
Henry Pierce Bone (Islington 1779 - 1855) , artist after John Hoskins the elder (Wells c.1590 – London 1665), artist
View more details