Sir Edward Herbert, later 1st Lord Herbert of Cherbury (1581/2-1648)
Isaac Oliver (Rouen c.1565 – London 1617)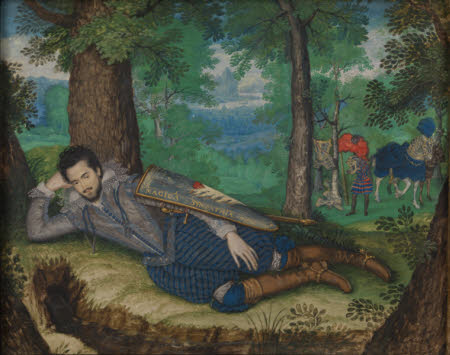 Category
Art / Miniatures
Date
circa 1613 - 1614
Materials
Watercolour on vellum mounted on panel, in a tortoiseshell and ebony frame
Measurements
181 mm (H)229 mm (W)
Order this image
Collection
Powis Castle and Garden, Powys
NT 1183954
Caption
Reclining on a grassy bank beside a trickling stream and looking directly at us, this young man knows how to pose like a poet and lover. As if to underline this, his shield sports a heart engulfed in flames. Sir Edward Herbert (1581/2–1648) was a courtier, soldier, diplomat and man of letters. His sumptuous costume of silver and blue matches the livery of his horse in the distance, and this, along with his shield, suggests he is resting after a royal jousting tournament. Such events were entertainments for the monarch and provided an opportunity for an ambitious courtier to demonstrate his skill and bravery. One of the most charming and beautifully painted portrait miniatures of the Jacobean age, this small picture is by the court artist Isaac Oliver (c.1565–1617), who specialised in such small-scale wonders.
Summary
Watercolour on vellum mounted on panel, Sir Edward Herbert, later 1st Lord Herbert of Cherbury (1581/2-1648), by Isaac Oliver, (c. 1565-1617), c.1613-14. A miniature depicting Edward Herbert with his head resting on his right hand as he lies stretched out on the banks of a stream in a shady forest, with a landscape visible beyond. A shield strapped to his left arm is decorated with a flaming heart and the motto 'MAGICA SYMPATHIAE'. A squire is seen tending to his horse and armour nearby. This miniature is considered to have been commissioned by Herbert himself, along with another miniature held at Charlecote Park (NT 533855).
Full description
Sir Edward Herbert, first Baron Herbert of Cherbury (1581/2–1648), was a philosopher, courtier, soldier, musician, poet and diplomat. This 'cabinet' miniature shows him as a young man reclining in a wood with his head propped on his hand in the pose of a melancholiac. In the background a squire prepares Herbert's horse with jousting gear. Herbert himself, dressed in courtly clothes, is depicted with a jousting shield. It is inscribed with the Latin motto 'MAGICA SYMPATHIAE' and decorated with a motif of a heart and flames. The precise meaning of this 'impresa' shield is now obscure but probably relates to the concept of 'sympathetic magic' which was central to his philosophical writings. Roy Strong dated the work to c.1613-14 based on the cut of Herbert's clothes (Strong 1984, p. 180-4). More recently, Catharine MacLeod has proposed a wider date range between 1610, when the sitter returned from his travels on the Continent, and 1614, when he joined the Dutch army of Maurice of Nassau (1567– 1625) (MacLeod 2019, p. 175). Ever since it was engraved by Anthony Walker (1726–1765) in 1764, the portrait has been attributed to Isaac Oliver (c.1565–1617), the official miniature painter of Queen Anne of Denmark. The sophistication of the perspective in the landscape and the handling of the foliage bear out this attribution although the use of vermillion pigment in the flesh tones is not typical of Oliver (Kimbriel 2016, p. 19). Herbert's autobiography documents a keen interest in his own portraits making it likely that he commissioned this miniature himself. Herbert has been considered to have commissioned another miniature, currently held at Charlecote Park (NT 533855). This miniature was probably passed down through the family and came to Powis Castle when the Herberts of Cherbury intermarried with their cousins, the Herberts of Powis, in the 18th century. Its early provenance may mirror that of the manuscript of the autobiography which was discovered in 1737 with 'some books, pictures and other things' at the family's house, Lymore Hall in Montgomery (Walpole 1764, unpaginated introduction).
Provenance
Presumably commissioned by the sitter and thence by descent; on loan to the National Trust from 1952; purchased by the National Trust by private treaty, with the help of grants from the National Heritage Memorial Fund, the Art Fund, a fund set up by the late Hon. Simon Sainsbury and a bequest from Winifred Hooper, 2016. Recorded at Powis Castle in Montgomery Collections Vol VI P.148 in 1873.
Makers and roles
Isaac Oliver (Rouen c.1565 – London 1617)
Exhibition history
Elizabethan Treasures: Miniatures by Hilliard and Oliver, National Portrait Gallery, London, 2019 Loan of Powis miniature to National Museum of Wales, Amgueddfa Cymru - National Museum Wales, Cardiff, 2017 - 2018 Shakespeare: Staging the World, British Museum, London, 2012
References
Walpole 1764: Horace Walpole (ed.), The Life of Edward Lord Herbert of Cherbury, Written by Himself, Strawberry Hill 1764 Auerbach 1961 Erna Auerbach, Nicholas Hilliard, London, 1961, pp.251, 331, no.259 Strong 1964 Roy Strong, 'The Elizabethan Malady: Melancholy in Elizabethan and Jacobean Portraiture', Apollo 79, 1964, pp.264-9 Shuttleworth 1976 J.M. Shuttleworth (ed.), The Life of Edward, first Lord Herbert of Cherbury, written by himself, London, New York, Toronto, 1976, pp.60-1 Finsten 1981 Jill Finsten, Isaac Oliver: Art at the Courts of Elizabeth I and James I, New York, London, 1981, vol.2, pp.91-3 Artists of the Tudor court: The Portrait Miniature Rediscovered, 1520-1620 (exh cat) (ed. Roy Stong), Victoria and Albert Museum, London, 9 July - 6 November 1983, pp.164-5 Strong 1984 Roy Strong, The English Renaissance Miniature, 1983, revised edition, 1984, p.180-4 The Treasure Houses of Britain: Five Hundred Years of Private Patronage and Art Collecting (exh cat) (ed. Gervase Jackson-Stops) National Gallery of Art, Washington, 2 November 1985 - 16 March 1986, p.118 Hearn 1995: Karen Hearn (ed.), Dynasties Painting in Tudor and Jacobean England, 1530-1630 (exh. cat.), Tate Gallery, London, 12 October 1995 - 7 January 1996, p.139, no.86 Green and Watts 2016 Elizabeth Green and Siobhan Watts, '"Sure Adam sinn'd not in that spotless face": The Isaac Oliver miniature of Lord Herbert of Cherbury', Arts, Building, Collections Bulletin, National Trust, Autumn 2016, pp.14-15 Kimbriel 2016: Christine Kimbriel, Report HKI, no.3120, 21 November 2016, Hamilton Kerr Institute Chu 2018 John Chu, House of Portraits: Powis Castle, Swindon, 2018, pp.39-45 Chu 2018 John Chu, 'Magic and Mystery: the Secret Conceit of a Jacobean Cabinet Miniature', 2018, National Trust Collections Website MacLeod 2019: Catharine MacLeod (ed.), Elizabethan Treasures: Miniatures by Hilliard and Oliver, exh.cat., National Portrait Gallery, London 2019, pp.174-175
View more details