The Six Children of Charles John Herbert (1785-1823) and Louisa Middleton (1796-1828)
Richard Rothwell (Athlone 1800 – Rome 1868)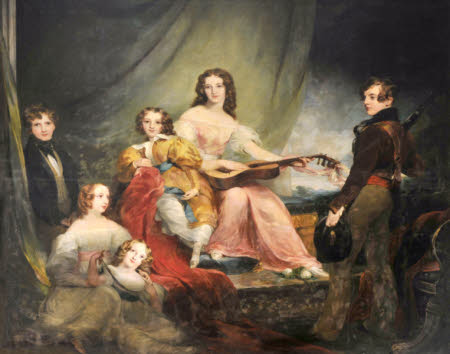 Category
Art / Oil paintings
Date
1828 - 1831 (exh at RA)
Materials
Oil on canvas
Measurements
2286 x 2540 mm (90 x 100 in)
Place of origin
Great Britain
Order this image
Collection
Powis Castle and Garden, Powys (Accredited Museum)
NT 1180954
Caption
Charles John Herbert and his wife Louisa lived at Muckross Abbey, Killarney. After Charles' early death at the age of 37, in 1823, Louisa took the children to live at her family home at Bradford Peverell, in Dorset. However, she died soon after in 1828, when Richard Rothwell began work on this group portrait. The painting was exhibited at the Royal Academy in 1831, shortly after its completion. As a depiction of six orphaned siblings, Rothwell's sentimental rendering of the Herbert children would have been all the more poignant for visitors to the exhibition.
Summary
Oil painting on canvas, The Six Children of Charles John Herbert (1785-1823) and Louisa Middleton (1796-1828), by Richard Rothwell (Athlone 1800 – Rome 1868). The children are Henry Arthur Herbert (1815-1866), standing half turned, Louisa Anne Herbert seated in pink dress, guitar on lap, Emily Herbert, in yellow dress with blue sash and Charles Herbert standing, leaning against a pillar; Jane Herbert, seated at her sisters knee, holding ribbon in her right hand. Six children, a girl with a violin in the centre; a youth with a gun at the right; and four other children grouped at the left are from left to right top row: Henry Arthur (1815-66) who married in 1837 the amateur artist Mary Balfour of Whittingshame [1817-93] and was Chief Secretary of Ireland between 1857-66), Louisa Anne Herbert (wife of the Reverend Edward Stewart), Emily Herbert (wife of Colonel Lang), Charles Herbert (reputedly killed by a cricket bat at Eton) and the bottom two: Maria Herbert (d.1872) and the posthumously-born Jane Herbert (d.1898) (wife of William Henry Hare Hedges-White, 3rd Earl of Bantry).
Provenance
By descent at Muckross House, until this was sold in 1899 to Sir Arthur Guinness, Baron Ardilaun, whose wife, née Lady Oliva Hedges-White, was a granddaughter of C.J. Herbert; bequeathed to the Earl of Powis in 1926 by Lady Ardilaun (cf. codicil to her will in Rothwell cat.inf.file); thence by descent;accepted by HM Treasury on 21st March, 1963 in lieu of tax and conveyed to National Trust ownership on 29th November 1963.
Credit line
Powis Castle, The Powis Collection (National Trust)
Makers and roles
Richard Rothwell (Athlone 1800 – Rome 1868), artist
References
Steegman 1957 John Steegman, A Survey of Portraits in Welsh Houses, Vol.I: North Wales, Cardiff, 1957, no. 71
View more details