Commode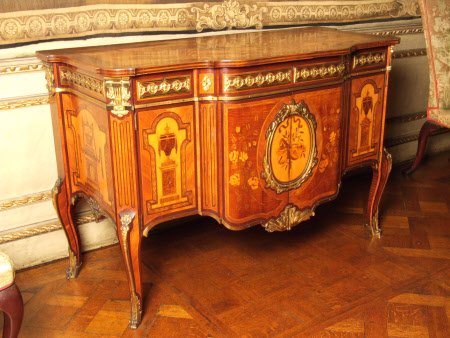 Category
Furniture
Date
circa 1772
Materials
tulipwood, kingwood, purpleheart, sycamore, satinwood, ash, rosewood and stained wood parquetry and marquetry veneer, gilt bronze mounted
Measurements
88.9 x 138 x 64.6 cm
Place of origin
England
Order this image
Collection
Ham House, Surrey
NT 1140073
Summary
A breakfront commode, circa 1772-73, probably English, in the French Transition style. The marquetry top depicting a large trophy consisting of open sheet music, musical instruments, books, writing implements and a flowering branch. The frieze opens with three drawers and is mounted with a piasters' frieze, above a pair of doors revealing an interior fitted with two drawers veneered with Hungarian ash. The two shaped doors are divided into three decorative divisions : the central section is decorated with a marquetry medallion centred by a musical trophy, within a gilt bronze ribbon-tied surround, flanked by floral branches, flanked to each side by Grecian urns on pedestals. The canted corners headed by neoclassical capitals, above four cabriole legs with acanthus leaves to the knees and terminated by foliate cast sabots. The maker of this commode has not been identified. The date and the reason for its commission cannot be ascertained from Ham House's records. The commode first appears at Ham House in the 1844 inventory, recorded in the Breakfast Room (the Withdrawing Room) as "a very curious inlaid and gilt pier commode". Lars Ljungström states that the most likely candidate for the commode commission is the Hon. Wilbraham Tollemarche the 6th Earl of Dysart and younger brother of the 5th Earl. The commode is of a French design, comparable to a few Parisian examples made in the late 1760s, notably a commode by Pierre-Antoine Foullet delivered to the Garde-Meuble in 1768 for the bed chamber of Mme Victoire at Versailles (Château de Versailles, on loan from the Louvre museum). Despite its French appearance, the marquetry top (instead of a marble), the restraint aspect of the gilt bronze mounts and the side marquetry panels of Neoclassical vases on pedestals suggest an English origin. Previously attributed to a London craftsman of Swedish origin such as Georg Haupt, Lars Ljungström demonstrates that the author of the commode was probably an immigrant previously active in Paris (the commode is constructed with a double top as to take the weight of the marble).
Provenance
First recorded in the 1844 inventory of Ham House. Acquired in 1948 by HM Government when Sir Lyonel, 4th Bt (1854 – 1952) and Sir Cecil Tollemache, 5th Bt (1886 – 1969) presented Ham House to the National Trust, and entrusted to the care of the Victoria & Albert Museum, until 1990, when returned to the care of the National Trust, and to which ownership was transferred in 2002.
References
Ljungström Lars 2013 "After a Fashion French: An English Commode at Ham House and it's Stylistic Implications" in Rowell Christopher, Ham House: 400 Years of Collecting and Patronage, Yale, pp.348-359.
View more details