A "Dolphin armchair"
possibly Jean Poictevin (fl.1677)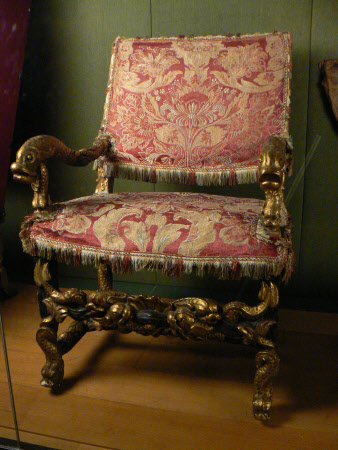 Category
Furniture
Date
circa 1673
Materials
Carved, gilded and painted beech, silk brocaded brocatelle case covers
Measurements
100 x 65 x 71 cm
Place of origin
London
Order this image
Collection
Ham House, Surrey
NT 1139893.1
Summary
A so-called "Dolphin armchair", circa 1673, one of six, from a larger set including six chairs (NT 1140042.1-6), carved, gilded and painted beech, the rectangular back is raised from the seat with short uprights carved with a stylised flower, issuing scrolling arms, each carved with a dolphin, the head on a small dolphin's tail support, above carved legs with interlaced dolphins and shells, joined by a similarly carved fore-rail and H stretcher. The back and seat have kept their original covers, similar to contemporary French and Italian examples. The silk brocaded brocatelle case covers had a complex colour scheme with red, green, white, pale pin, salmon pink, cream, pale blue, yellow, light brown and dark brown that have faded beyond recognition. They were trimmed with two lengths of matching multi-coloured silk fringe with a strip of floss-silk-covered parchment threaded through the heading. This was a highly expensive set of top covers. A bill from Jean Poictevin dated 14 may 1673 for having supplied "six chairs and six armchairs sculpted and covered with red stuff at ten shillings each" could refer to this set (BPA 911).
Provenance
The Ham House's inventory of 1677 lists in the North Drawing Room: "Six Arme chaires with carved and guilded frames covered with Brocade with changeable cessnutt [sarsnet] cases. six back stooles of ye same". As can be seen in a watercolour by H.W Brewer, the "Dolphin armchairs" were in the Long Gallery in 1886 (private collection). Acquired in 1948 by HM Government when Sir Lyonel, 4th Bt (1854 – 1952) and Sir Cecil Tollemache, 5th Bt (1886 – 1969) presented Ham House to the National Trust, and entrusted to the care of the Victoria & Albert Museum, until 1990, when returned to the care of the National Trust, and to which ownership was transferred in 2002.
Makers and roles
possibly Jean Poictevin (fl.1677), upholsterer
References
Westman 2013: Annabel Westman, 'New light on the textiles at Ham House" in Christopher Rowell (ed.), Ham House 400 Years of Collecting and Patronage, Yale, 2013, pp.248-261.
View more details