Lady Arabella Stuart, later Duchess of Somerset (1575 – 1615), aged 13 1/2
British (English) School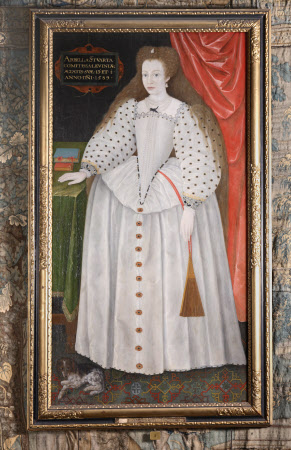 Category
Art / Oil paintings
Date
1589 (inscribed) - 1599
Materials
Oil on oak panel
Measurements
1613 x 838 mm (63 1/2 x 33 in)
Place of origin
England
Order this image
Collection
Hardwick Hall, Derbyshire
NT 1129095
Caption
The inscription on this painting identifies the sitter as Lady Arabella Stuart, aged 13 ½. It was once thought that the initials 'CVM', which can be found beneath the tablecloth were those of the artist Carel Van Mander, to whom this picture was once attributed. It is more likely, however, that they are the remaining portion of a word like 'TECUM.' The sitter was the daughter of Charles Stuart, Earl of Lennox (1555-1576) and Elizabeth Cavendish (1554-1582). Her engagement to William Seymour (1587-1660) was considered by James I to be a threat to the throne, and she was confined to the Tower. Having agreed to end the engagement, she was released, but she resolved to marry him in secret, resulting in their re-imprisonment. Her attempts to flee were foiled, and she died, having had a mental breakdown, in 1615.
Summary
Oil painting on oak panel, Lady Arabella Stuart, Duchess of Somerset (1575 – 1615), aged 13 1/2, British (English) School, inscribed in cartouche: ARBELLA • STVARTA • / COMITISSA • LEVINIÆ • / ÆTATIS • SVÆ • 13 • ET • 1/2 • / ANNO • DNI • 1589 • And inscribed between bottom of tablecloth and stretcher of table: CVM, the remaining portion of a word like TECUM ('with you') rather than initials of Carel van Mander to whom this portrait was once attributed. A full-length portrait, standing, turned slightly to the left in an apartment, wearing a white dress with spotted puffed sleeves and white brocade, studded with dark jewels, and embroidered cuffs of a darker colour. Her light brown hair, frizzed in front, is allowed to fall, maiden-fashion, on her shoulders and around her neck is a pearl necklace and other ornaments with a fan hanging from her left. Her right hand is resting on a table covered in a green fringed cloth and a dog is lying in the left foreground and a red draped curtain is on the right. In 1859 a commentator in the Athenaeum wrote: "The pale blue eyes and melancholy features have a decided Stuart character. The face closely resembles that of her father in the Hampton Court picture." In Miss Bradley's 'Life of Arabella Stuart', 1889, she wrote: "Daughter of Charles Stuart, Earl of Lenox (brother to Lord Darnley, the husband of Mary Queen of Scots) by his wife Elizabeth Cavendish, daughter of Sir William Cavendish, and Elizabeth Hardwick, his wife. Born at Chatsworth 1575. Her father died 1576; her mother in 1582; so left an orphan when six years of age. Was brought up at Hardwick; was taught modern and classical tongues. Many projects of marriage proposed - with Lord Denbigh, son of Earl of Leicester; James VI of Scotland, the 1st of England; with son of Duke of Parma; with Esme Stuart, Duke of Lenox; with Henry IV of France. Lady Arabella was at one time next heir to the throne of England and Scotland after James I; as his family increased her chances decreased. In the year 1610, without consent of the king, the Lady Arbella became engaged in marriage to William Seymour, second son of Lord Beauchamp and grandson of Earl of Hertford. He at this time only twenty-three, she thirty-five. At once sent to prison, and only released on the promise the engagement should cease. An alliance between a Stuart and a Seymour - both English born, whilst he only a Scotchman, and counted, at his accession, as a foreigner, boded no good to his throne, as he reasoned. The marriage, however, solemnised on June 22, 1610: and on July 8 both again in prison. Was placed under the care of Bishop of Durham, and left London for the North. Escaped in man's clothes to Blackwall. Started in boat for the Continent, but was caught, brought back, and lodged in the Tower, never again to know freedom. Lingered there four years, till her mind became unhinged. Died 25 September, 1615. Her history is a sad one, and her end will ever remain an indelible blot on the cold, unfeeling character of James I."
Provenance
In inventory of the contents of Hardwick Hall made in 1601 and attached to the will of Elizabeth Hardwick, Countess of Shrewsbury (c.1520-1608) as "In the Gallerie...The Ladie Arbella"; given away before 1811, or by the 6th Duke of Devonshire, to Cribb, the picture restorer, from whom it was bought back by the 7th Duke; and thence by descent until, following the death of the 10th Duke of Devonshire (1895 - 1950), Hardwick Hall and its contents were accepted by HM Treasury in part payment of death duties and transferred to the National Trust, in 1959
Credit line
Hardwick Hall, The Devonshire Collection (acquired through the National Land Fund and transferred to The National Trust in 1959)
Marks and inscriptions
Recto: Inscribed between bottom of tablecloth and stretcher of table: CVM [=TECUM?] Verso: Labels: reapplied to the back of the frame: A cutting from The Athenaeum for 12 February 1859: "A portrait of Arabella Stuart, precisely similar to the one belonging to the Duke of Portland, which went from Bolsover to Manchester in 1857, and which is now, we believe, at Welbeck, has recently gained notoriety among portrait hunters in consequence of some extensive restorations applied to it, enhanced still further, it may be, by the mention in other quarters of a presumed likeness of the same lady to which no satisfactory proof could be attached. The picture we now speak of belonged to the Duke of Devonshire, and was discarded from either Haddon or Hardwick as too far gone and worthless. Modern industry has, however, by dint of unveiling, replacing, and high varnishing, made a rotten picture sufficiently presentable to claim a place on the high walls from which it had been driven. At all events, it should not now be thrown away. A tablet on the background to the left is inscribed, "Arbella Stuarta, Comitissa Leviniæ, ætatis suæ 13 et ½, Anno Dñi. 1589." The colouring of the figure, as in the Welbeck admirably preserved duplicate, is very pale and grey. The dress is white, studded wit ssquare [sic: with square] black jewels; and her light brown hair treams [sic: streams] over her shoulders and broad white sleeves. The pale blue eyes and melancholy features have a decided Stuart character. The face closely resembles that of her father in the Hampton Court picture." A label [from what exhibition?] of the Academy of Arts, Newcastle-upon-Tyne, 18?? [belonging to the Duke of Devonshire, but with the return address given as the South Kensington Museum (cf. HHE.P.11)] Stuart Exhibition, The New Gallery, London, 1888 (lent by the Marquess of Hartington).
Makers and roles
British (English) School, artist previously catalogued as attributed to Karel van Mander (Meulebeke 1548 - Amsterdam 1606), artist possibly Rowland Lockey (c.1565 – London 1616), artist
View more details