The Farnese Hercules
probably British (English) School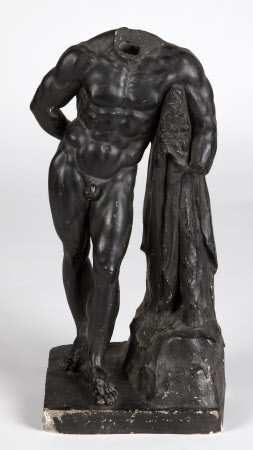 Category
Art / Sculpture
Date
circa 1750 - 1799
Materials
Bronzed plaster
Measurements
470 x 210 x 160 mm
Place of origin
Great Britain
Order this image
Collection
Kedleston Hall, Derbyshire
NT 109023
Summary
Bronzed plaster, the Farnese Hercules, after John Cheere (1709-87) c. 1750-1799. A plaster cast of the Farnese Hercules after John Cheere, painted to look like bronze; the head and part of the proper left forearm has broken off. A weary Hercules leans on his club which is draped with the pelt of the Nemean Lion; killing the beast was the first of his Twelve Labours. With his proper right hand he holds the golden apples of the Hesperides behind his back, a reference to the eleventh Labour.
Full description
The Farnese Hercules is a monumental marble statue made for the Baths of Caracalla, Rome (216 AD). Signed by a Greek sculptor named 'Glykon', is most likely a copy or a version of a lost Lysippan bronze (4th century BC). According to the French antiquarian Jean Matal (1517-97) the statue was discovered in the Baths of Caracalla in 1546, its head found six years before the body in a well in Trastevere. By 1556 the marble was in the collection of Cardinal Alessandro Farnese (1520-89) and displayed in the Palazzo Farnese. It was restored in 1787 and by 1792 It had been moved to Naples, displayed in the Museo degli Studi (later Museo Borbonico, now the Museo Archeologico Nazionale). Owed to its original prominent position in the Baths of Caracalla, a number of ancient Roman copies of the Farnese Hercules exist in marble and bronze including a 3rd century BC or Imperial Era bronze statuette excavated at Foligno, now in the Louvre (inv.no. Br 652). For a discussion of copies and reductions of this universally-admired statue see Haskell and Penny 1981, pp.230-32. See also a small bronzed plaster cast, finer than this example, made by John Cheere (1709-87) for the Hoares of Stourhead (NT 732900). Alice Rylance-Watson March 2019
Provenance
Purchased in 2002 from Neales Attic Sale.
Credit line
Kedleston Hall, The Scarsdale Collection (acquired with the help of the National Heritage Memorial Fund and transferred to The National Trust in 1987)
Makers and roles
probably British (English) School, caster
References
Haskell and Penny 1981: Francis Haskell and Nicholas Penny, Taste and the Antique, The Lure of Classical Sculpture 1500 - 1900, New Haven and London, 1981, pp. 229-32, no. 46, fig. 118
View more details