Sofa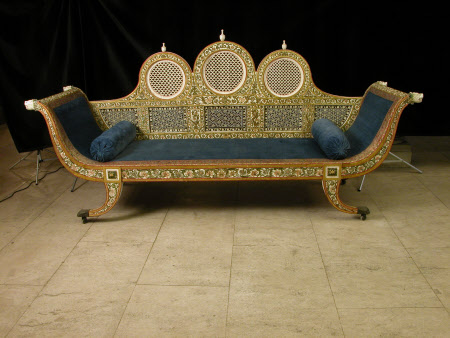 Category
Furniture
Date
circa 1825 - 1850
Materials
Ivory, paint, gilt, hardwood, ebony, cane, bronze, velvet
Measurements
124.0 x 260.0 x 77.0 cm
Place of origin
Varanasi
Order this image
Collection
Kedleston Hall, Derbyshire
NT 107722
Summary
An ivory-veneered, painted and parcel-gilt upholstered sofa, Varanasi (Benares), Uttar Pradesh, India, circa 1825-50. Part of a group of ivory-veneered furniture at Kedleston, including four open armchairs and two footstools (NT 107717) and a further pair of open armchairs (NT 107716). The shaped back fitted with eight fretwork ivory panels; three circular panels, each with a toprail fitted with a spire-turned ivory finial, above five rectangular panels. The seat covered in (probably original) blue velvet edged with flower-embroidered ribbon (also from Varanasi) and with upswept ends, each fitted with a pair of tiger's heads. The legs of rectangular-section tapering sabre form, and fitted with metal tiger paw-cast caps and castors. Decorated throughout with ivory veneers carved and polychrome-painted with abundant flowers and leaves.
Full description
Even before this furniture arrived in England, it, and its then owner, George Nathaniel Curzon, 1st Viscount Scarsdale (1859–1925), were the subject of hostile questions in the House of Commons. On 27 July 1903, John Gordon Swift MacNeill (1849-1926), MP for South Donegal, asked 'whether, in view of the fact that the Governor-General of India has obtained from the Maharajah of Benares a suite of ivory furniture presented to a former Maharajah by the British Government ​for services rendered in the Indian Mutiny, and which has been regarded as an heirloom in the Maharajah's family, and that in exchanged for this gift the Governor-General gave the Maharajah a rifle of the value of about twenty guineas, he will state whether this furniture, which was sent from Benares to Calcutta by the Maharajah at his own expense to Lord Curzon at Calcutta, was, in accordance with practice, deposited in the Tosha Khana or Treasure House, and after a time sold in accordance with law by auction, the proceeds being credited to the British Treasury, or is in the possession of Lord Curzon'. The Secretary of State for India replied that he had ascertained from Curzon that the 'ivory furniture in question, which was said to have belonged to a former British resident, was lying in an unoccupied house in a very dilapidated condition. The Viceroy, having ascertained that the Maharajah took no interest in it, offered to buy it. The Maharajah declined the offer and said he would present it, but the Viceroy explained that according to Tosha Khana rules he could not accept a present. Having ascertained that the Maharajah, who was fond of sporting weapons, would like a first-rate rifle, the Viceroy ordered one at a cost of £81, which he exchanged for the furniture. The furniture, after it had been restored at a cost of £30 by the Viceroy, was valued by an expert as worth £100' [Hansard]. This account of the provenance of this furniture - that it was commissioned by British colonialists in India for an Indian ruler - goes some way to account for its highly unusual form and manner of decoration, both of which are uncharacteristic of furniture made in India in the 19th century. Indeed, it has been said that this furniture is the only known painted ivory furniture made in India in this period [Jaffer]. It is said to have been exhibited by Iswari Narain Singh (1822-1889), Maharajah of Varanasi at the Calcutta Exhibition of 1883-4, and was given to Curzon by his nephew and successor, Prabhu Narayan Singh (d. 1931). George Nathaniel Curzon, 1st Viscount Scarsdale (1859–1925), served as Under-Secretary of State for India in 1891 and Viceroy of India from 1899 to 1905. During his tenure, he made many reforms, but he opposed demands from Indian nationalists for greater participation in government. The aid offered by Curzon's administration during the famine of 1899 and 1900 was inadequate, and it is estimated that the famine resulted in more than one million deaths. On his return from India in 1905 he was appointed Foreign Secretary, a position he held until 1924. Whilst in India, he amassed a private collection gathered from across China and southern and western Asia. The collection was originally loaned to the Victoria and Albert Museum (although this furniture is thought to have furnished his London residence in Carlton House Terrace) but it was arranged at Kedleston in 1925 in the 'Eastern Museum', which is currently the subject of a re-presentation and interpretation project. Two pairs of chairs from this group have been sold at auction by Christie's (1996 & 2001).
Provenance
Iswari Narain Singh, Maharajah of Varanasi (d. 1889), by 1883 when exhibited at the Calcutta International Exhibition.Prabhu Narain Singh, Maharajah of Varanasi (d. 1931).From whom acquired by George Nathaniel Curzon (1859-1925), 1st Marquess Curzon of Kedleston, and probably at Carlton House Terrace, London from 1905-1925.Removed to Kedleston Hall, Derbyshire in 1925 after the death of George, 1st Marquess Curzon and by descent at Kedleston.Purchased in 1987 by the National Heritage Memorial Fund from Francis Curzon, 3rd Viscount Scarsdale (1924-2000). On loan to the National Trust from the National Heritage Memorial Fund 1987-1988. Gifted to the National Trust in 1988 by the National Heritage Memorial Fund.
References
Great Britain. Parliament Parliamentary debates : 1892-1908 Jaffer 2001 : Amin Jaffer, Furniture from British India and Ceylon, a catalogue of the collection in the Victoria and Albert Museum and the Peabody Essex Museum, London, V&A publications, 2001. Jaffer, 1998: Amin Jaffer and Deborah Swallow. "Curzon's ivory chairs at Kedleston: a puzzle of patronage in Anglo-Indian furniture." Apollo 147.434 (1998): pp.35-39.
View more details
Related articles